We're head-over-heels for Spring!
The sun is out, and the tulips are blooming. We're falling in love with every tender spear of asparagus and every round-headed artichoke that we run into. Yes, it's time to break out the sparkling wine... winter is over!

---
A LETTER FROM SAN FRANCISCO CHEF ANDREA FRONCILLO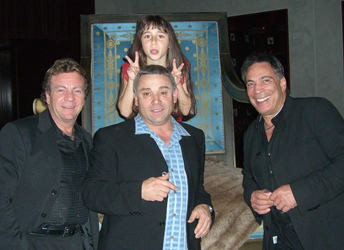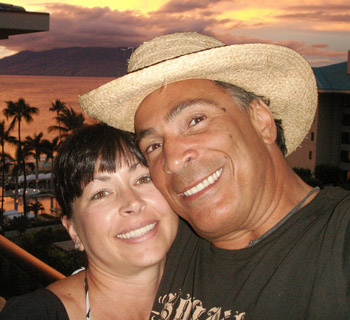 It has been a while since the last newsletter ~ how has everyone been?

For those of you who e-mailed me expressing concern and wondering if you had missed a newsletter, I'd like to apologize for the long delay. I'm glad to know that there are a lot of you who actually do look forward to receiving the newsletter; because of you, I'll do my best to send it out more regularly.

You see, when life gets busy, and you're not sure which of all the things you're doing really have an impact, you have to start cutting certain things out to make time for more important things. It's just that sometimes it's hard to tell which is which. So thank you for letting me know that we were missed - knowing that you care will help us get the newsletter done even when life gets busy.

So here I am, back again, to share some more stories and recipes that I hope will make your day a little easier and more enjoyable.

It just so happens that the past few months have been packed with projects - as I've mentioned before, the biggest "project" of them all is my wedding, which is less than one month away. Can you say "stress?" But I'm not complaining.

I've been working a lot at The Franciscan Crab Restaurant on Pier 43 1/2; we've been making more adjustments to the menu and lots of design changes. It looks "hot," as they say, and I'm happy to report that Fisherman's Wharf is that much better now, for both locals and tourists alike.

I've also been finishing my second cookbook; this one is called "CRAB: Cooking, Cracking & Eating" and it should be out in September. I've included a couple of recipes for you here - I think they're perfect for spring, and I hope you'll enjoy them.

But all work and no play makes this boy restless, so I've also been out checking out new restaurants (Perbacco is so good that I keep going back...), and catching up with friends. In the picture above, that's me with my good friends Mario Ascione and his daughter Izzy (Mario owns Cafe Macaroni in North Beach), and Giovanni (of Bistro Don Giovanni in Napa). We're in the lobby at Asia de Cuba, goofing off after dinner.

I'll leave you with a few thoughts that I've been having about relationships. If you've managed to find happiness with another person, don't start thinking that something or someone else could be better – embrace what you have; enjoy the person you are with. Whatever you do, have fun; live in the moment. Love the experience, with all of its ups and downs, and don't forget to say "I love you." The little gestures of affection really do count - they are always noticed, and they add up from day to day. The greatest thing that you can do is to love someone else, every single day, over and over again. Try that, and you'll be happy.

Cheers!

Andrea
---
Taqueria Style Crab Enchilada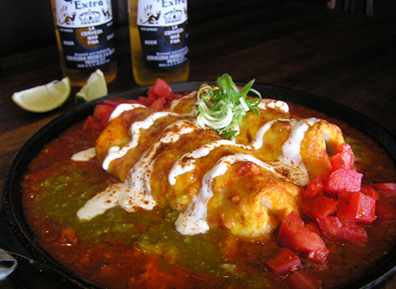 Crab Enchilada

This is a recipe I created several years ago, for the Crab House on Pier 39. Years later, it is still one of my favorites. In the cookbook, the recipe will be for quesadillas, but I wanted to share the original recipe with you. It does take a lot of crab, so it's a "splurge" dish, but believe me: it's worth it.

- 1 pound tomatillos, husks removed
- 1 teaspoon salt
- 1 teaspoon pepper
- 4 8-inch flour tortillas
- 24 ounces (1 1/2 pounds) crabmeat
- 2 tablespoons sour cream
- One bunch green onions, chopped
- 1 teaspoon cumin
- 1 teaspoon cayenne pepper
- 2 teaspoons chili powder
- One 7-ounce can peeled whole green chilies
- One head romaine lettuce, chopped
- 2 cups shredded yellow or white cheddar cheese
- One 15-ounce can crushed tomatoes, drained
- 1/2 cup sour cream

Preheat oven to 350 F.

In a large pot of boiling water, blanch the tomatillos for 3 to 4 minutes, or until the skins appear tight and shiny. Remove from heat. Drain. Place the tomatillos into a blender and blend on medium speed for about a minute, or until they are smooth, with few chunks. Season with salt and pepper.

In a bowl, mix the crab meat with sour cream, half of the green onions, cumin, cayenne pepper, and chili powder.

To assemble the enchiladas, lay the flour tortillas out on a flat surface with all of your ingredients within close reach. Spread 1/4 of the crab down the middle of one tortilla; lay one green chili over the top. Top with 1/4 of the shredded romaine and 1/4 cup of the grated cheese. Roll the tortilla into a burrito. Repeat with the remaining tortillas.

Place enchiladas into a lightly oiled baking dish, seam side down. Ladle the tomato sauce over the top of the enchiladas. Ladle the tomatillo sauce on the sides. Top with remaining grated cheese.

Bake for 15 minutes, or until the cheese is bubbly and melted. Remove from heat. Pipe the rest of the sour cream over the top; sprinkle with remaining green onions. Serve immediately. Serves 4.

---
Crab Frittata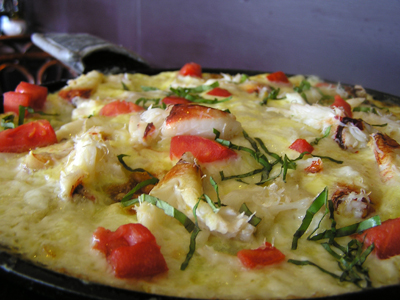 The next time you have a lazy weekend morning, pull out this recipe for a delicious, eggy brunch dish that you can whip up in just a few minutes. I love to serve this with a bottle of chilled sparkling wine and a bowl of fresh fruit.

Crab Frittata

- 6 large eggs
- 1/4 cup milk
- 1 teaspoon salt
- 1 teaspoon freshly ground black pepper
- 1/2 cup grated white cheddar cheese
- 6 ounces fresh crabmeat
- 1/4 cup chopped Roma tomatoes
- 1/4 cup thin asparagus tips (about 2 inches long)
- 2 tablespoons freshly chopped basil

Lightly oil a medium (6 or 7-inch) oven-safe skillet, and place it on the stove over medium-high heat until the surface of the skillet becomes hot.

In a bowl, whisk together the eggs with the milk, salt, and pepper. Pour into the hot skillet and turn heat down to medium. After one minute, sprinkle the grated cheese, crabmeat, tomatoes and asparagus over the top. Cook for another couple of minutes, until the edges just begin to set.

Remove the skillet from the stove and place it in the oven beneath a pre-heated broiler for 4 to 5 minutes, or until the cheese is melted and bubbly, and the edges of the eggs are firm. The eggs will keep cooking after you have removed the skillet from the oven, so the middle should be just slightly underdone.

Remove from the oven and gently slide from the skillet on to a large plate. Garnish with basil. Serve immediately.

Serves 2 to 4.

---
For the Special Person in your Life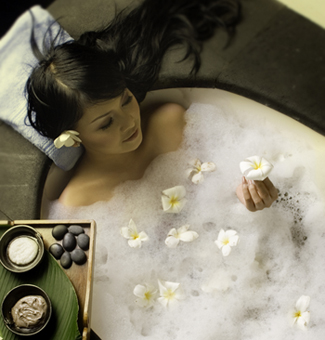 Sometimes, it's fun and decadent to take a bath with your partner. Other times, it's even nicer to run a bath for that special someone, and let him or her relax in private. When they emerge from their quiet time, they're warm and rested and grateful. And that might mean that the fun is just beginning!

Recipe for a Blissful Bath

- A tub full of fresh, hot water
- Bath salts or bubble bath in a soothing scent
- Thick, soft towels
- Candles
- A CD of the bather's favorite music (Billie Holiday is nice in the bath...)
- Fresh flowers
- A sponge or loofah
- A neck support
- NO interruptions!

To prepare: Arrange the towels in a convenient spot near the tub. Arrange the flowers, light the candles, and put on the CD. Place the sponge and neck support next to the tub. Tun the bath and add the bath salts or bubble bath.

Escort your sweetie into the bath... and then leave. Shut the door behind you. This isn't about you... yet. That part comes later.

Yields: one warm, contented sweetheart.

---
Look Who's Coming to the Wedding...
My friends Angelo and Lina are from my hometown in Napoli, where they operate a gorgeous fruit and fine foods shop. Here's a photo of it, on the left, taken when I was traveling in Italy last summer. On the right, that's me with Angelo and a young visitor to Napa.

Angelo & Lina are going to be coming to the wedding, along with other friends and family from Napoli.


---
Just for Fun: Nine Important Men in a Woman's Life

1. THE DOCTOR: because he says, "Take your clothes off."
2. THE DENTIST: because he says, "Open wide".
3. THE HAIRDRESSER: because he says, "Do you want it teased or blown?".
4. THE MILKMAN: because he says, "Do you want it in the front or the back?".
5. THE INTERIOR DECORATOR: because he says, "Once it's in, you'll love it!".
6. THE STOCK BROKER: because he says, "it will rise right up,fluctuate
for a while, and then slowly fall back again."
7. THE BANKER: because he says, "If you take it out too soon, you'll lose
interest.
8. THE HUNTER: (our favorite) because he goes deep in the bush,
shoots twice, and always eats what he shoots.
9. THE TELEPHONE GUY: because he says, "Would you like it on the
table or up against the wall?"

---
You are receiving this email because you're a fan of food and romance...You think life is a sensual adventure, and you hope to nibble and sip your way to bliss. We hope this helps. If you're hungry for more, head straight to our web site.

Copyright 2006 : Sex and the Kitchen, Inc. : All Rights Reserved.
---