Valentines Day: do you love it or hate it?
Most of us have strong feelings about Valentines Day; we either look forward to it or despise it, usually depending upon our relationship status. Why not do something different this year? If someone special isn't going to send you flowers, send them to yourself! Use this day as an excuse to pamper yourself: book a spa treatment; have a long, leisurely lunch with a friend; splurge on a nice bottle of wine. The love starts with you.
---
A LETTER FROM SAN FRANCISCO CHEF ANDREA FRONCILLO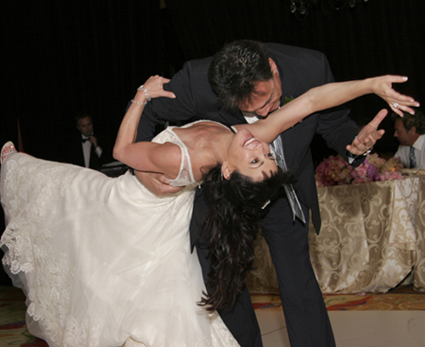 It's hard to believe, but it's true...

Nutcracker Ballet, Christmas tree, silver and black balloons and noisemakers... all put away. One year has passed, and new one is beginning. Promises made, resolutions to fulfill (or not). Goodbye, 2007! Welcome, 2008. Last year came and went so fast, but here we are in a new one, and the first month of it is already gone.

We're just around the corner from another holiday - probably the most wonderful one of them all, especially if you're in love!

(And I am... in love with life, and my wife, and every fabulous moment...)

Happy Valentine's Day!

Love is what keeps us going. That heart-pounding feeling is why we tolerate every other frustrating thing in life. Even the fun things - wealth, travel and toys - don't fulfill us nearly as much as that toe-tingling, mesmerizing feeling we have when we're falling in love. The animal instinct - good old fashioned human chemistry - is the best part of that process. So dive into it! Live life to it's fullest and fall in love! Don't be afraid.

When you hesitate to fall in love because of past failures, just remember: when it happens, the rewards make the risk worth taking.

Valentine's Day originated in Roman mythology, celebrating the occasion when Cupid (the son of Venus, goddess of love) fell in love with a mortal, Psyche. Alas, their love was doomed... but Cupid's love became legendary, and now he is known as the sprite who shoots the arrow of love into the hearts of unsuspecting people. People lucky enough to be hit with one of Cupid's arrows turn to each other and fall in love at first sight!

Of course I don't recommend that you sit around and wait for luck or Cupid - your destiny is up to you!

Don't have a date? Come on, boys and girls - get creative! Don't even think about moping around alone on the 14th. The best present you have to give is yourself. So get out with friends. Celebrate and enjoy life. Whether or not you're in love, you already have a "special someone" in your life - YOU.

My best advice is to call your friends - or your sweetheart - and make a reservation to eat IN. The best table in town is in your own home, right? Go shopping... splurge a little. Buy a nice bottle of wine, and set the scene. Put your favorite music on, the kind that makes you want to dance around a little. Make dinner together and take your time enjoying it.

If the night is going to be romantic, don't forget to set up the bath for a nice relaxing soak after dinner... candles are a must. Oh, and don't forget to buy eggs and coffee - you just might end up making breakfast "the morning after!"

Here's to you -

XOX,

Andrea

P.S.: Have you seen my new cookbook? "CRAB: Buying, Cooking, Cracking" is full of great recipes. It's crab season! Eat up.
---
Tips for Valentines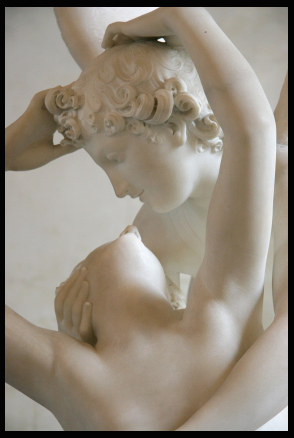 Is love on your menu in 2008? Whether you've been with your sweetheart for a long time, or you're hoping for something new, we've created a list of reminders. Because everyone needs a refresher course in matters of the heart every now and then...

1. Make sure you're not the only one who feels a connection. If you're embarking on a new relationship, it's important to make sure that both parties have the same interest level and want similar things. It saves a lot of time (and tears) to figure this out sooner rather than later.

2. Act with confidence. If you've got your eye on someone special, go for it. Send that flirty text message or email. Ask him (or her) out. Why not?! There's a big difference between confidence and arrogance, so make sure you've got one and not the other.

3. Study the art of seduction. The concept of "dating" seems corny, but seduction is an art. What do you know about it? How can you become better at bringing creativity, excitement and romance into your dates? Remember: practice makes perfect, and studying hard has delicious rewards.

4. Be a good listener. The minute you think you know everything about your sweetie is the minute your love life becomes boring. There is always more to learn about the person you adore. Be curious; ask questions. Practice listening and then act on what you hear.

5. Don't talk about your ex. There is nothing more depressing than someone who carries on and on about an ex. That's what friends and therapists are for - so please don't unload your sad story on your date.

6. The details matter. Opening the car door, helping your lady into her coat, helping your man out of his coat - a caring touch is remembered for a long time, and the little things count for more than you might think.

7. The way to the heart is through the stomach. You already know how we feel about the power of food... and cooking together... but of course we're going to say it again. Food, when well made, plays an important part in joy and in matters of the heart.

8. Follow the chemistry. When you have chemistry, go with it. There's nothing better than having a mutual "on fire" moment when you can't wait to be alone and rip each other's clothes off. You can get started in the elevator (or the car, or the lobby)...

Here's wishing you a deliciously steamy February!
---
One Slinky Cocktail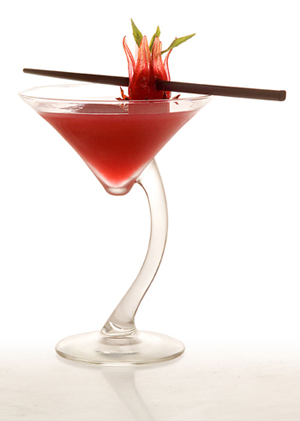 I took one look at this cocktail at the Fancy Food Show in San Diego and fell in love. Dreamed up by a company called Wild Hibiscus, these gorgeous flowers are preserved in a delicious syrup that tastes like ripe raspberries with a nice hint of tartness. Here in the San Francisco area, they can be purchased at Whole Foods in the wine section. Hand one of these to your Valentine for a perfect start to the evening...

One Slinky Cocktail

- 4 ounces premium vodka
- Juice of 1 lime
- 2 tablespoons hibiscus syrup (from Wild Hibiscus)
- dash cranberry juice
- dash Cointreau

In a cocktail shaker, combine all ingredients and fill to halfway with ice. Shake vigorously. Strain into two chilled martini glasses. Garnish with a hibiscus flower skewered with an elegant chopstick or other skewer. Enjoy immediately.

Serves 2. Purr.

Hibiscus Champagne Cocktail

- 2 chilled champagne flutes
- Your favorite Champagne or sparkling wine
- 2 Wild Hibiscus flowers, with a drop of syrup

Drop one flower into the bottom of each chilled flute, allowing the syrup to pool into the bottom. Fill with Champagne. Enjoy!

Serves 2. Oh la la.
---
Soft Burrata Cheese on Crostini with Crab, Smoked Salmon & Avocado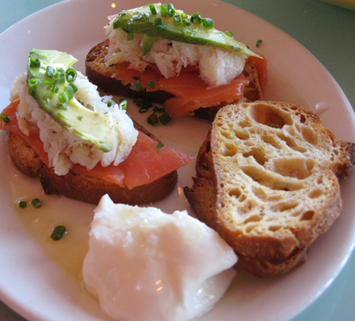 These beautiful bites are a perfect way to begin a special evening. Soft cheese, creamy avocado, indulgent fresh crab... if that's not decadent, we don't know what is! Even better: they only take moments to put together.

Soft Burrata Cheese on Crostini with Crab, Smoked Salmon & Avocado

- 8 ounces burrata cheese - make your own or buy from a gourmet cheese counter
- 8 slices good-quality bread (we like Acme sourdough)
- 4 ounces smoked salmon
- 4 ounces fresh crabmeat
- 4 slices avocado
- 2 tablespoons thinly sliced green onions
- Coarsely ground salt
- Extra virgin olive oil

Brush bread lightly with olive oil and place on a baking sheet. Toast beneath the broiler for 30 seconds -1 minute, or just until golden brown and crisp on top. Remove and cool.

Lay four crostini on a serving platter; atop each, place one piece of smoked salmon, followed by crab. Top with avocado slice; sprinkle with green onions. Place burrata on the serving platter, and drizzle both the crostini and cheese with olive oil; sprinkle with sea salt. Serve with extra crostini.
---

---
Seared Scallops with Pesto & Tomatoes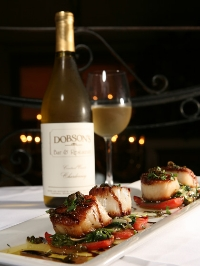 This dish was inspired by Insalata Caprese, the famous Italian salad "in the style of Capri" made of tomatoes, basil and fresh cheese. Scallops are seared and placed atop slices of ripe tomato, with fresh pesto drizzled over the top.

- 1 cup fresh basil leaves
- 1/4 cup pine nuts
- 3/4 cup extra virgin olive oil
- 1/4 cup finely grated Parmigiano-Reggiano cheese
- Kosher salt and freshly ground pepper

- 6 large scallops
- 2 tablespoons olive oil
- 2 tablespoons non-pareil capers

- 1 large heirloom tomato, cut into 6 slices
- 2 tablespoons shaved Parmigiano-Reggiano cheese

Begin by making the pesto:

Place the basil and pine nuts into a blender or food processor; pulse slowly until a rough paste is formed. Add the olive oil in a steady drizzle, keeping the blender on low. Add the cheese. Pulse until blended. Season with salt and pepper.

To prepare the scallops:

Pour the oil into the bottom of a cast-iron skillet, tipping the pan to evenly coat the bottom. Place the skillet over high heat. When the skillet is hot, sear the scallops for 1-2 minutes on each side, until a golden crust is formed. Remove from heat. While the skillet is still hot, add the capers and fry quickly, about 2 minutes, until hot and crisp. Remove from heat.

To plate:

Divide the tomato slices between two serving plates, laying three slices on each plate in a single row. Drizzle 2 tablespoons of pesto over the tomatoes. Place one scallop on top of each tomato slice; drizzle with more pesto. Garnish with capers and shaved Parmigiano-Reggiano. Serve immediately.
---
A Sweet - and Happy - Ending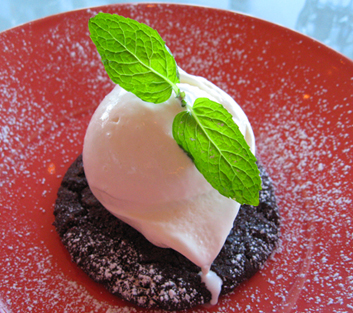 What I love about this dessert is that it is both simple and incredibly indulgent. Who doesn't love warm cookies with ice cream? Now that's what I call a happy ending.

Warm Chocolate Cookies topped with Creamy Vanilla Gelato

- 2 1/2 cups all purpose flour
- 1/2 cup cocoa powder
- 3/4 cup sugar
- 1 1/2 teaspoon baking powder
- 1/4 teaspoon salt
- 3 eggs, beaten lightly
- 2/3 cup raw almond, roughly chopped (if desired)

Preheat oven to 400 F.

Grease and flour a baking sheet. Alternatively, you could line it with parchment paper.

In a bowl, combine the flour, cocoa powder, sugar, baking powder, and salt. Stir. Add the eggs, stirring gently to combine. Fold in almonds.

On a floured work surface, roll out the dough until about 3/4-inch thick. Using a 3-inch round pastry cutter, cut rounds out of the dough to form cookies. Place on the baking sheet and bake for 30 minutes, or until a crust forms on the top, and the cookies are cooked through.

Transfer to a wire rack; cool for about 30 minutes. Place back in the oven to "crisp" for another 5 minutes, if desired.

To serve, place the cookie on a plate and top with your favorite gelato or ice cream; sprinkle with confectioner's sugar and garnish with a sprig of mint.

If you're in the Bay Area, you've got to try Ciao Bella gelato - smooth, creamy and decadent, it tastes like the Italian gelato that I loved as a kid (and still do)!

---
To My Valentines

1) Even though I don't get to see my Mama on Valentine's Day, I keep her close to my heart always. For all of you out there with moms, don't forget her on this special day! A phone call or a special gift will show her that you care.

2) Hi, Anaef! It was fun to see you in Italy on Valentine's Day last year... hope you're having a great one !

---
You are receiving this email because you're a fan of food and romance...You think life is a sensual adventure, and you hope to nibble and sip your way to bliss. We hope this helps. If you're hungry for more, head straight to our web site.

Copyright 2008: Sex and the Kitchen, Inc. : All Rights Reserved.
---