Oh, Summer. How we love it.
It's summer as usual in San Francisco - a mix of dazzling bright sunny days and cool, socked-in foggy ones. Oh, but we're not complaining... how could we, when this is one of the most beautiful, magical cities in the world?
---
A LETTER FROM SAN FRANCISCO CHEF ANDREA FRONCILLO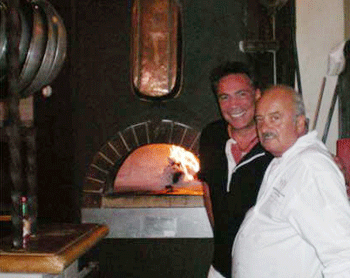 First, a little update on what I've been up to over the last few months:

Back in May, to celebrate my one-year anniversary and my birthday, Tracy and I flew to Puerto Vallarta for a week of relaxing fun. What a treat. We stayed in the old part of the city, at the Villa Premiere Hotel, so that we could enjoy the real Mexico, away from the touristy area with all the other Americans. We ate huevos rancheros, fish tacos and blue shrimp, all washed down with cold beers. It was marvelous to get away…
As I often do on the 4th of July weekend, I left San Francisco for a serene place where I can simply relax. This year I went again to the Kenwood Inn just outside of Napa – and let me tell you, at least once in your life you have to make that trip – it is unbelievable! The setting is magical, and the rooms are pure luxury. If you have the chance to go, be sure to ask Renzo (the chef, pictured with me at left) if he'll pick some wild arugula from the kitchen garden and serve it with fresh squeezed lemon. Unbelievable.
Finally, during the last weekend of July, I traveled to Gilroy for the annual Gilroy Garlic Festival. It was the Festival's 30th Anniversary, and they sure did it right. There were over 200,000 people in attendance, all enjoying garlicky treats and entertainment, including my cooking show based on The Stinking Rose Garlic Restaurant Cookbook.

What have YOU been up to this summer?

Has it been something exciting? Luscious? Sexy? Naughty? I wouldn't want it any other way. I hope you've also taken the time to get away and refresh. I want you try and take it slow; enjoy the best possible experiences any chance you get. Life is TODAY - yesterday is gone and tomorrow you can't worry about (unless you live in a country where it is already tomorrow - ha!). See and do as much as you can. I suggest that you see these places I go to so that you can experience them as well.

I think of summer like no other season...

Autumn is busy with activity - wearing the flannels and preparing for winter. Winter is cozy togetherness, family affairs and holidays. Spring is feisty – like a bear coming out of hibernation, when we start to get fit again, wear lighter clothes and lighter colors.

But summer: summer is the awakening. Everything goes – short dresses and bikinis, long walks on beaches and dreamy nights kissing someone you love – under the stars with the bright, dreamy moon overhead.

People don't often think that San Francisco has 4 seasons, but it most certainly does. We get to experience 4 seasons all year around. Hot days, cold nights, springy afternoons - one day it feels like summer and the next day like winter. God wanted it to be like this everywhere... well, like I often say - only in San Francisco.

Yes, we have it all! The bridges, the hills, the 4 seasons – all within a short drive. And of course, we have a predisposition to have fun and be fun.

Oh yes, the fog rolls in and back out – how perfect! Hot and cold, sweet and sour, slow and fast – if you don't love this city, you must be one-dimensional. Wake up and smell the coffee (Hills Bros Coffee, that is - they started in San Francisco in 1878). Everything comes full circle here in San Francisco – passion, beauty, controversy and great food. They say you either love it or hate it - but how could you hate a place with no equal anywhere else? Go ahead - live it up.

We've been blessed, that's for sure. God was really trying to show off when it came to San Francisco. Love it, enjoy it and when possible, share it – no one else can claim to be able to kiss his bella under the arch of the bridge every night. Now that is awesome.

Now I'd like to entice you in the preparation of some summer's most delicious staples made with the most loved fruit – and yes, it is a fruit – the tomato. Heirloom, toy box, cherry, Roma or vine ripened – whichever you like best. This is the season for tomatoes – you can find ripe juicy ones ready at your produce store during the months of July, August, September, and part of October. Buy fresh and local when you can - that's when they taste the best.

Have fun - eat well! Enjoy the last few weeks of summer.

XOX,

Andrea
P.S.: If you didn't make it out to Gilroy for the festival, you can still pick up a copy of "The Stinking Rose Restaurant Cookbook." It's full of garlicky recipes, from 40-clove garlic chicken to garlic-roasted crab. Hungry yet?

---
Heirloom Tomato Martini with Bloody Mary Spiced Ice Cubes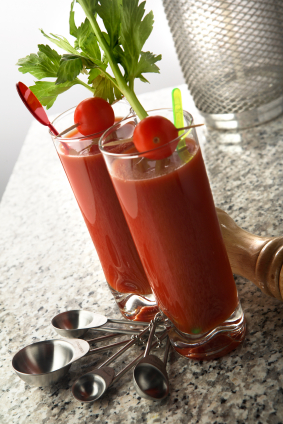 This is a delicious combination of Bloody Mary and Martini. First you create spicy ice cubes using heirloom tomato juice; then you mix up a martini, and pour it over the top. They go down easy... enjoy.

Bloody Mary Spiced Ice Cubes

- 1 1/2 pounds heirloom tomatoes, peeled and chopped
- 1 tablespoon Worcestershire sauce
- 1 teaspoon horseradish
- 1 teaspoon Tabasco sauce
- 1 teaspoon grated ginger
- Juice of one lemon
- 1 1/2 cups water

Press the chopped tomatoes through a fine sieve to remove seeds and other stringy bits. In a blender, combine tomato pulp with Worcestershire sauce, horseradish, Tabasco sauce, ginger, lemon juice, and water. Blend until smooth. Pour into ice cube trays; freeze.

Heirloom Tomato Martini

- 4 ounces vodka
- Splash olive juice

Combine the vodka & olive juice in a cocktail shaker with regular ice cubes and shake well.

In two tall glasses, place 3-4 of the Bloody Mary Spiced Ice Cubes. Strain martini over the top. Garnish with cherry tomato and celery stick, if desired.
---
Creme Fraiche Frittata with Berries Jubilee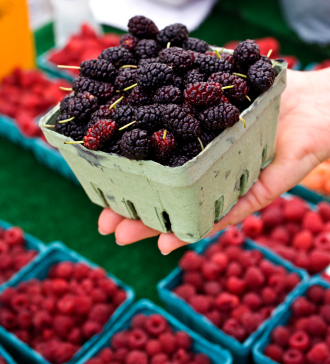 This is an incredibly decadent recipe - tangy crème fraiche adds a whole new level of flavor to this classic egg dish, and the addition of warm berries spiked with Grand Marnier makes this way more than just breakfast...

Crème Fraiche Frittata with Berries Jubilee

- 2 tablespoons granulated sugar
- 2 tablespoons butter
- 1 cup mixed berries (blueberries, blackberries, raspberries, etc)
- 1 teaspoon vanilla
- 1 shot Grand Marnier
- 1/4 cup heavy whipping cream
- 4 eggs
- 1/2 teaspoon salt
- 1/4 cup crème fraiche
- 1 tablespoon powdered sugar
- Fresh mint leaves for garnish

In a saucepan, melt the butter over medium heat and add the sugar; allow the mixture to lightly caramelize, but watch it closely so that it doesn't burn. Add the berries and vanilla; heat for about 2 minutes, or until the berries begin to soften. Add the Grand Marnier.

In a mixing bowl, beat the cream lightly, then add the eggs and salt; keep mixing until well blended. Add the crème fraiche; stir to combine. Pour the mixture into a lightly oiled 8-inch cast iron skillet and place over medium heat.

After about 2 minutes, pour the berry mixture over the top of the frittata. Cook for another 3 or so minutes. When the edges of the frittata begin to puff up lightly, but while the middle is still wobbly, place the skillet beneath the broiler for 2-3 minutes, or until the middle begins to firm up and the edges turn a light brown color.

Remove from oven; sprinkle with powdered sugar and garnish with mint leaves. Cut into wedges and serve.

Serves 2.
---
Canellini Bean & Zucchini Pancakes with Spicy Heirloom Tomato Sorbet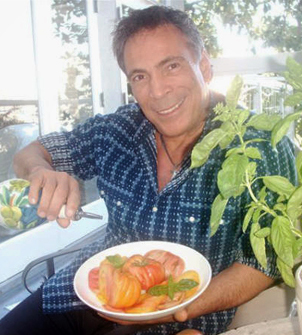 These aren't like any pancakes you've had before - creamy cannelini beans and zucchini make a savory pancake that works perfectly for brunch. With a scoop of heirloom tomato sorbet, they're even a little bit glamorous.

Cannellini Bean & Zucchini Pancakes

- 1 15-ounce can cannellini beans, drained of can juices
- 2 medium-sized zucchini, diced
- 2 tablespoons olive oil
- 1 teaspoon garlic salt
- 1/4 cup 2% milk
- 1/4 cup grated Parmigiano-Reggiano cheese, plus 2 tablespoons for garnish
- 1/4 cup all-purpose flour
- 1 tablespoon freshly chopped basil
- Heirloom Tomato Sorbet (recipe below)

In a blender, combine the beans and zucchini with 2 tablespoons olive oil; blend on medium speed until a soft paste forms. Add the grated cheese, garlic salt and milk; blend again to combine. Scrape the mixture into a bowl and add flour, mixing well to break up any lumps. The mixture should be the consistency of pancake batter; if it seems too thin, add another tablespoon or two of flour; if too thick, add a splash of milk.

Warm a small amount of olive oil in a cast iron skillet, and drop small ladlefuls of the mixture (about 1/8 cup) into the oil; fry until golden brown on each side. Continue until all batter is gone. Remove the pancakes and place on a plate; sprinkle with grated cheese and basil leaves. Serve each pancake with a small scoop of heirloom tomato sorbet.

Heirloom Tomato Sorbet

- 2 pounds very ripe heirloom tomatoes, peeled and roughly chopped
- 1/2 teaspoon salt
- 2 cups ice water
- 2 1/2 tablespoons lemon juice
- 1 1/2 tablespoons granulated sugar

Pass the tomatoes through a sieve with large holes. Stir the salt into the strained tomatoes, then place into the center of a large (12-14-inch) piece of cheesecloth. Tie the ends of the cheesecloth together to form pouch and suspend over a bowl at room temperature. The tomato water will begin dripping into the bowl. Every 10-15 minutes, give the cheesecloth pouch a gentle squeeze. In about 2 hours, most of the liquid will be extracted. There should be about 1 cup of tomato water.

In a bowl, whisk the tomato water together with the ice water, lemon juice and sugar, stirring until the sugar dissolves into the liquid. Transfer to an ice cream machine and follow the manufacturer's instructions until frozen. Store in the freezer until just before the pancakes are ready.

Makes about 2 cups.

P.S. It's Heirloom Tomato Week in San Francisco! Andrea has contributed a dish via the Franciscan Crab Restaurant. If you're local, don't miss it!
---
Toy Box Tomato & Arugula Salad with Sliced Filet Mingon & Blue Cheese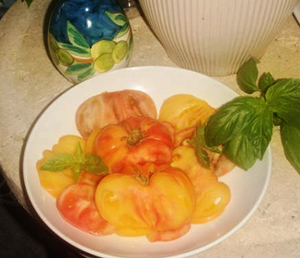 This is one of my favorite salads - simple yet sophisticated. Peppery arugula and juicy cherry tomatoes pair perfectly with slices of filet mingon and creamy blue cheese. Makes a great weekend lunch.

Toy Box Tomato & Arugula Salad with Sliced Filet Mingon & Blue Cheese

- 1/4 cup olive oil
- 3 tablespoons balsamic vinegar
- 1 tablespoon orange juice
- Coarsely ground salt and pepper to taste
- 1/2 pint toy box (cherry) tomatoes, cut into halves
- 2 cups baby arugula
- 1/4 cup crumbled blue cheese
- 1 8-ounce filet mignon, seasoned and cooked medium-rare, thinly sliced

First, prepare the vinaigrette by combining the olive oil, balsamic vinegar, orange juice, salt and pepper in a small bowl. Next, cut the tomato into cubes about 1/2 inch thick. Pour the vinaigrette over the tomatoes and let sit for about 10 minutes.

Divide the arugula between two plates, and spoon the tomatoes & vinaigrette over the top. Place the sliced filet mignon on top and sprinkle with blue cheese. Serve immediately.

Serves 2.
---
Photo Album

From left: Tracy & Andrea celebrating their anniversary in Puerto Vallarta; Andrea on his birthday in Puerto Vallarta; Andrea with Philip DuBose from Asia de Cuba in the Clift Hotel.
Villa Premiere Puerto Vallarta
---
You are receiving this email because you're a fan of food and romance...You think life is a sensual adventure, and you hope to nibble and sip your way to bliss. We hope this helps. If you're hungry for more, head straight to our web site.

Copyright 2008: Sex and the Kitchen, Inc. : All Rights Reserved.