"Sharing food with another human being is an intimate act that should not be indulged in lightly." Oh, what a delicious thought. We hope you're indulging in intimate acts with great frequency this month... because spring, as you must know, is the best time of year to fall in love.
---
A LETTER FROM SAN FRANCISCO CHEF ANDREA FRONCILLO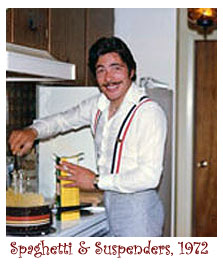 We are happiest when we are well fed and well loved. I dare say that we're even happier when feeding and loving are combined... and while I can't improve your bedroom technique, I can help you with the well fed part. The recent rash of warm weather here in San Francisco inspired me to experiment with fresh spring ingredients and flavors...

I love cooking with fish - shellfish, freshwater fish, fish from the ocean - I rarely meet a fish I don't like. Maybe that's because I grew up in Napoli, a town set against the ocean, where many afternoons we grabbed our fishing poles and headed out the door to catch dinner! This time of year, I enjoy mild white fish such as tilapia. Tilapia is a farm-raised fish with soft flesh and a tender-sweet flavor. Interestingly, tilapia is the cousin of Nile Perch, which may have been the fish that Jesus miraculously multplied so many years ago. Personally, I'm more fond of his other miracle, that of turning water into wine. Hey! That sounds like some of the liquor distributors that I've worked with over the years! Hmm...

I've developed a couple of simple tilapia recipes for you that will take under 20 minutes to make, and two equally simple recipes for vegetable dishes to serve alongside the fish. When you're cooking with someone as a romantic activity, you don't want anything too complicated to interfere with the fun. So pop open up a bottle of wine or champagne and enjoy the process!

I've also been experimenting with fresh fruit crepes - tender sweet crepes with fresh strawberries and whipped cream tucked inside - and playing with variations of tiramisu. But I can only put so many recipes into one newsletter, so you'll have to e-mail me if you want the others.

I always like to let you know what my friends are up to, especially those in the restaurant business. On one of my recent escapes to Napa, I dropped by Bistro Don Giovanni and discovered that Giovanni has just released a new wine of his own - just a few hundred cases of a special Cabernet. The only place to find it is at the restaurant. He sent me home with two bottles. I haven't cracked one open yet - I'm saving it for something special - but I hear it's exceptional.

The Onion is back! My good friend Mario Ascione, who owns Cafe Macaroni & Macaroni Sciue Sciue in North Beach, has re-opened the famed comedy club, The Purple Onion, on Columbus Avenue across from Francis Ford Coppola's building. Back in the day, the club featured greats like Lenny Bruce and Phyllis Diller, but the lights have been out for years. A few months ago, Mario renovated the space with a large stage, plush booths and lots of extra seating, and he's booking all kinds of fantastic talent, including Tim Bratt singing Sinatra and Father Guido Sarducci of Saturday Night Live fame. Be sure to get there early: the response has been so terrific that some nights Mario has to turn people away... For more information, check out: http://www.purpleonioncomedy.com

I'll make it to Italy yet. The last time I talked to my mother and told her I was delaying my trip yet again, she said, "Maybe I won't be here by the time you finally make it." Just a miffed mama, but enough to make me buy a ticket in a hurry.

So we're 3 months into the new year, and may I ask: What happened to your resolutions? Have you jumped into bed more often with the person you're crazy about? Well...? If you haven't: shame on you!

Which reminds me...I've got no shame, and there are a couple of sweeties on my speed-dial... Ciao!


---
---
TENDER WHITE FISH: two delicious ways!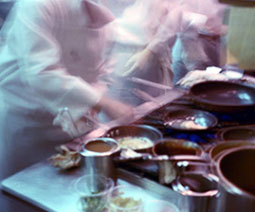 Spring is the perfect time for light flavors and subtle but savory dishes that are simple to prepare. We love tilapia, a white fish that is tender and light without being either too oily or too dry. Ask for it at your fish counter!

1. POACHED TILAPIA w/ PARSLEY + LEMON

• 2 6-7 oz. pieces tilapia
• 2 small cloves garlic
• 3 Tblsp. freshly chopped parsley
• Juice of one lemon
• 4 Tblsp. Extra Virgin Olive Oil
• Salt + Pepper to taste

In a heavy-bottomed pan, poach the tilapia by covering it with cold water and bringing the water to simmer. Poach for 7-10 minutes or until the fish is cooked through. In a small bowl, crush the garlic cloves into the olive oil, and stir to break up the pieces. Mix in parsley and lemon juice. Remove the fish from the pan with a slotted spoon and place on serving plate. Drizzle with the garlic-parsley sauce. Salt and pepper to taste. Serve with a fresh vegetable (see recipes below) and a light, fruity white wine.


2. SAUTEED TILAPIA w/ TOMATOES + KALAMATA OLIVES

• 2 6-7 oz. pieces tilapia
• 2 medium plump tomatoes, diced
• 1/2 cup sliced Kalamata olives
• 2 Tblsp. capers
• 2 Tblsp. fresh basil, chopped

In a cast-iron skillet, saute the tilapia with a splash of olive oil. When the edges are just crispy, remove to a plate. Moving quickly, toss the tomatoes, capers and olives into the skillet. Saute until hot, 1-2 minutes. Spoon over the top of the fish. Sprinkle with fresh basil. Serve with a salad and hot, crusty bread and a medium-bodied red wine, such as a Pinot Noir.
---
---
SPRING VEGGIES: herby vegetable toss + fresh tomato salad
Two more scrumptious recipes, made with vegetables that you can find at your farmer's market. Feel free to substitute whatever is fresh and local to you. Eat up!

1. HERBY VEGETABLE TOSS

• 1/2 cup fresh broccoli florets
• 1/2 cup fresh cauliflower florets
• 1/2 cup sugar snap peas
• 2 cloves garlic, slivered
• Fruity green extra virgin olive oil
• 1/2 lemon
• 1 bunch fresh basil, chopped into ribbons
• Freshly ground salt and pepper to taste

Gently wash the vegetables and pat dry. Fill a saucepan with cold water and bring to a boil; toss in the broccoli and cauliflower for 7-8 minutes. Add the snap peas during the last four minutes. Remove from heat and immediately plunge all the vegetables into a bowl filled with ice.

When the vegetables have cooled, place a skillet on the stove and saute the garlic slivers in a splash of olive oil until translucent; add the vegetables and saute for 2-3 minutes, until crispy-tender. Remove from heat and squeeze the half lemon over the mixture; add the basil ribbons; toss. Season with salt and pepper.


2. SPRING TOMATO SALAD

• 1 pint basket mixed color cherry tomatoes: red, orange + yellow
• 1/2 sweet white onion (Maui or Vidalia), sliced into thin rings
• 1 bunch springy baby greens: arugula, watercress or spinach
• Fruity green extra virgin olive oil
• 1/2 lemon
• 1/2 orange

Cut cherry tomatoes in halves. In a bowl, toss tomato halves together with sweet onion slices and baby greens; drizzle with olive oil. Squeeze the lemon and orange over the top; toss again. Salt and pepper to taste. Serve immediately.


---
You are receiving this email because you're a fan of food and romance...You think life is a sensual adventure, and you hope to nibble and sip your way to bliss. We hope this helps. If you're hungry for more, head straight to our web site.

Copyright 2003 • Sex and the Kitchen, Inc. • All Rights Reserved.
---