Can you hear those sleigh bells jingling?

The sun is shining brightly here in the City by the Bay, but we're in the holiday spirit nevertheless. The tree at Union Square is all lit up with sparkly lights, and we've already started to celebrate. We hope you're making plans to spend these special weeks with people you love, and that you have a warm hand to hold and someone to squeeze you tight when 2007 becomes 2008!
---
A LETTER FROM SAN FRANCISCO CHEF ANDREA FRONCILLO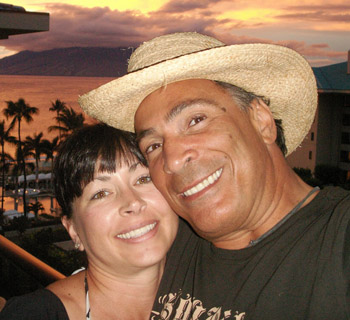 Ho, Ho, Ho... Happy Holidays!

As I sit here writing this, it's hard to believe that Thanksgiving is already over. Tracy and I shared a wonderful meal with good friends of ours in North Beach , Mario and Stephanie Ascione, and other people we hold near to us. It was a great way to ease into the holiday season. I feel surprised every December that another year is almost gone. How does it go so fast?

Many of you are probably scrambling around, feeling stressed, trying to go to all of the expected events and find the right gifts.

Please don't forget: this is supposed to be a relaxing, joyous time spent with loved ones.

You already know that happiness isn't found in giving or receiving the right present (though it helps!), or eating great food, or going to fun cocktail parties. All of those things are great, but the simple act of spending quality time with the people we love is the best feeling there is. Knowing that people love and cherish you, and expressing your love to them is what matters. Everything else is just "window dressing" as they say; it's like putting on a beautiful suit. You might look good, but do you FEEL good?!

Gifts are simply tokens of appreciation, ways to tell someone that they mean the world to you. Remembering what someone likes, or something they need is a message of love and consideration. It shows that you've been listening and paying attention to his or her needs... and THAT is the spirit of the holidays.

So take the time to show how you care this year. Don't take the special people in your life for granted; when you do, it sends the message that they're no longer needed, and not a priority any more. Sleep close to the one you want to wake up with, and you'll sleep well. Anything else is a miserable farce, and you might as well sleep alone.

I'd like to share with you a few special recipes that you can make and enjoy with your friends and loved ones over the holiday season. Make them as a token that you care. At a time when most people don't take the time to cook, making something yourself as a personal touch that goes a long way. A homemade meal is one of the best presents you can give!

Be merry... be happy...be honest and good and generous with those you say you love...

Ciao until 2008!

Andrea

P.S.: Have you seen my new cookbook? "CRAB: Cooking, Cracking & Eating" hit the shelves just a few weeks ago! Hint: it makes a great gift!
---
The Best of 2007!

From LEFT: Andrea with Giada De Laurentiis; Andrea with Martin Yan of Yan Can Cook!; Andrea with Angleo (formerly from Valentino) and Gary (from Emporio Rulli)

Here's to many more great moments and wonderful people in 2008!!



---
Home for the Holidays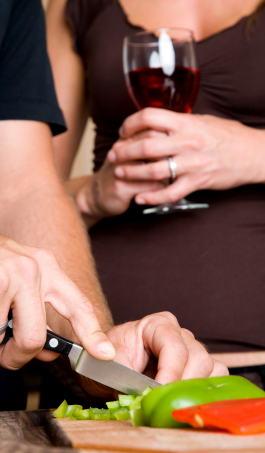 Pay attention, boys and girls! I have a little assignment for you. I know... it sounds like work, and it is a little bit of that, but it's fun work, and the payoff can be huge. Ready to get started?

1. Dream. Choose one or more of the recipes below that you'd like to make.

2. Plan. Copy down or print out the ingredients that you need.

3. Shop. Make your shopping list! I know that some of the recipes call for special ingredients, so it might take a little extra time, but it's worth it. It is the holidays, after all!

4. Ask. Call your sweetie and tell him or her that the two of you have a "reservation" at your house for dinner.

5. Arrange. The night of your dinner, make it special - light the candles, put on the music... you know the drill!

6. Cook! Cook together - or just pour a glass of wine for your sweetie while YOU do the cooking.

7. Savor. Take it easy. Enjoy the evening.

8. Dine. Eat slowly. Take the time to taste, and listen.

9. Play. Giggle, nibble, stroke... relax and see what happens.

10. Enjoy. Whatever the outcome... it's all good.

The nice thing is, there are no neighboring tables - nobody is watching - so you can get into each other. If it gets a little steamy, all the better!

I recommend a bubble bath for "dessert." Preferably with champagne on ice, fresh fruit and melted chocolate to dip it in.

That will probably be the moment when you realize that it was all worth it... the shopping, the cleaning, the cooking... and hopefully you'll decide to do it again sooner rather than later.

Hey, what are you waiting for? Pick up that phone and start dialing!
---
Souffle di Patate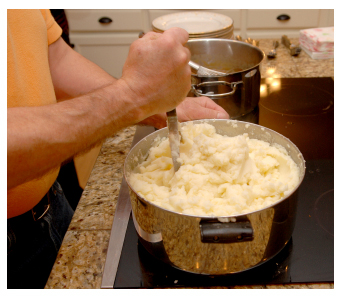 "Souffle di Patate" is the Italian name for a simple yet incredibly delicious potato souffle. You're allowed to splurge a little this time of year, and this recipe contains butter, cheese and egg yolks... for a gorgeously rich, creamy dish that will disappear minutes after it hits the table. Mmmm!

Souffle di Patate with Creme Fraiche &Chives

- 1 pound potatoes, peeled and quartered
- 1 stick (1/2 cup) butter
- 1 cup milk
- Salt & freshly ground pepper to taste
- 1/2 teaspoon freshly grated nutmeg
- 1/2 cup freshly grated Parmigiano
- 3 egg yolks
- 1/2 cup creme fraiche
- 1/4 cup finely chopped chives

Preheat oven to 400 F.

Boil potatoes in salty water for about 35 minutes, or until they are soft enough that a paring knife slides through to the middle. Remove from heat and drain. Mash with butter, allowing the butter to melt into the potatoes. In a small saucepan, heat the milk, but do not allow it to boil.

Add the warmed milk into the potatoes and stir to create a soft, loose puree. Season to taste with pepper and salt. Add the nutmeg and the grated cheese.

Beat 2 of the the egg yolks with a fork and stir into the potato mixture with a wooden spoon. Pour into a buttered 8-inch ceramic souffle dish and smooth the top with a wooden spoon to create an even surface. Beat the last egg yolk and brush lightly over the surface of the potatoes.

Bake for 20-25 minutes, or until it turns golden brown and slightly crisp on the top. In a small bowl, stir the creme fraiche together with the chives. Cut the souffle into wedges garnish with chive creme fraiche. Eat while hot.
---
Need to Get Away? How about Hawaii?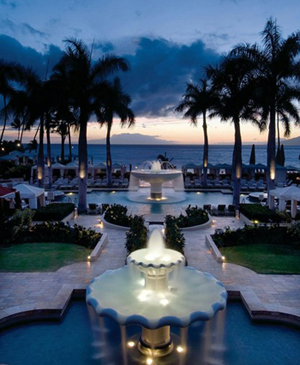 When Tracy and I took off for Maui in November, I didn't expect to be impressed with the food. All I was hoping for were white sandy beaches, warm breezes, and a gorgeous change of scenery. I got all of that... and great food too.

Hawaii is known as a honeymoon destination, or the place to go for a relaxing escape. Whatever the reason, it is both magical and casual. Everything moves at a slower pace, especially when you factor in the time difference (2-3 hours behind the US, depending on where you live) and realize that you arrive almost before you left!

I resisted a trip to Hawaii for years - I always thought it would be too slow - but our week there was relaxing and enchanted... a truly romantic vacation. We stayed at the Four Seasons Maui, and the only negative thing I can say is that the trip was too short!

I highly recommend a trip if you need a restful, healing time for both mind and body. And hey, if you're worried about sharks (not usually an issue in Hawaii), just stay on the beach with a drink in your hand!

While we were on Maui, we ate at a couple of romantic restaurants. Here are my favorites:

Capische, Sansei (for fabulous sushi with great views), Sarentos, Postrio, Due and Ferraro (yes, and the food was excellent for hotel restaurants!).


---
Challah for Chanukah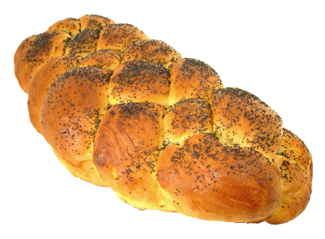 This year, I wanted to include a special recipe for my good friend Stephanie. She said to me recently: "Andrea, you often include recipes inspired by many different cultures... but never one for me!" And so this one's for you, darling. Happy Chanukah, with much love.

Challah for Chanukah

- 3 packages (1/4 ounce each) active dry yeast
- 1-1/4 cups warm water (105-115 degrees F)
- 1/4 cup sugar
- 5 1/2 cups all purpose flour, plus a bit more for kneading
- 2 teaspoons kosher salt
- 2 eggs
- 1/4 cup vegetable shortening
- 2 tablespoons cornmeal
- 2 tablespoons poppy seeds
- 1 egg yolk
- 1 tablespoon water

Pour the warm water into a large mixing bowl, and stir in the sugar. Sprinkle the yeast on top, stirring gently to combine. Let stand 10 minutes, or until the surface begins to get foamy. In a separate mixer bowl, combine 4 cups of the flour and the salt. Blend at low speed, and add the water-yeast mixture in slow stream. Add 2 of the eggs, then add the shortening. Mix until blended.

On a floured surface, knead dough until smooth and elastic, about 8 minutes. Incorporate the remaining flour until the dough is firm and springy, not overly sticky. Place in greased bowl, turning dough to grease top. Cover and let rise in warm, draft-free place until doubled in bulk, 1 hour.

Preheat the oven to 375 F. Butter a baking sheet and sprinkle cornmeal over the top in a light layer. Punch down the down; place on a lightly floured surface and knead briefly. Divide dough into 6 equal pieces.

Roll each piece into a 12-inch-long rope. Place 3 ropes side by side on cookie sheet and braid together; tuck ends under. Repeat, braiding remaining three ropes. In a small cup, beat egg yolk together with 1 tablespoon of water; brush over tops of loaves. Sprinkle with poppy seeds. Cover and let rise 30 minutes.

Bake loaves 25 to 30 minutes or until the tops are golden brown. Cool on wire rack. Makes 2 loaves.

---
A Special Hello to Susie & Jim

In the last newsletter, I shared with you how I danced with my mother at my wedding earlier this year to the tune "What a Wonderful World" by Louis Armstrong. It really is a wonderful world... and a small one besides!

After the wedding, Tracy and I escaped to one of our favorite spots, The Kenwood Inn in Sonoma. There were a few other couples there, but we were mostly focused on each other, relaxing and resting after all of the excitement.

In early November, we took a trip to Maui (see more details above).

While we were there, we were approached by a couple who said: "We saw you at the Kenwood Inn a couple of months ago!"

But what I want to know is, who was following who??!!

Wherever in world you are now, you two... Happy Holidays! Give a call if you ever come to San Francisco!


---
Sexy Holiday Gift Ideas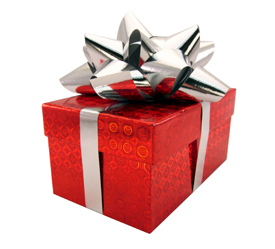 Still looking for a gift for the person you love?

Maybe this will help!

- A cozy wrap or robe from Kashwere for lazy Sunday mornings and evenings in front of the fireplace.

- Something nice & naughty from Agent Provocateur.

- A picnic basket... for the promise of a date when the weather turns warmer!

- A flimsy, flighty piece of lingerie from Jezebel: how about a scandalous lace bra?

- A purple hatbox of luscious couture caramels from Vosges Haut Chocolat.

- Gift certificates for a pedicure or facial from her favorite spa.

Just remember: the best gift you can give is yourself!

---
Crepes Suzette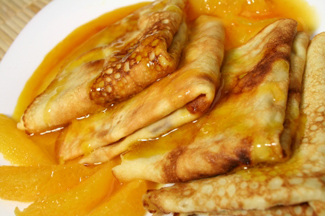 This is a classic dish that is easy to prepare, but oh-so-glamorous. It makes an indulgent dessert or a wonderful Sunday brunch - or better yet, breakfast on Christmas morning.

- 2 cups flour
- 1/2 teaspoon salt
- 1 tablespoon sugar
- 1 egg
- 1 teaspoon vanilla
- 2 1/2 cups milk
- 1 1/2 tablespoons vegetable oil

- 1/4 cup orange juice
- Grated rind of 1/2 orange
- Grated rind of 1/2 lemon
- 4 tablespoons sugar
- 4 tablespoons butter
- 1 shot Grand Marnier
- Powdered sugar, for garnish
- Lemon rind, for garnish

To make the crepes:

In a mixing bowl, combine the flour, salt, sugar, egg, and vanilla. Mix on low speed until combined. Add the milk in a slow stream, while mixing on medium speed. Let it rest for 1/2 hour.

Pour the oil into the bottom of a skillet, tipping it to coat the bottom completely. Place the skillet over high heat. When the skillet is very hot, remove from heat and pour 3 tablespoons of crepe batter into the pan. Swirl to spread evenly over the bottom of the pan. After 30 seconds, return the pan to the heat. Flip crepe to the other side and cook for one minute. Remove from pan; repeat.

To make the sauce:

In a saucepan, combine the orange juice, orange rind, lemon rind, sugar, butter. Place over medium heat until butter is melted; stir in Grand Marnier. Remove from heat.

To serve:

Drizzle each crepe with a tablespoon of the orange syrup mixture; fold into a triangle. Repeat with all crepes. Sprinkle with powdered sugar and orange rind.


---
Baked Seasonal Fruit topped with Crema Pasticciera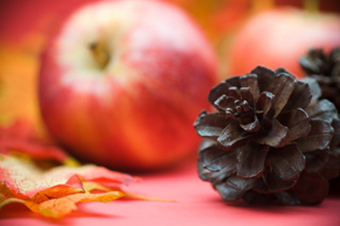 Not many people take the time to bake anymore, but there is nothing like warm baked fruit topped with delicious pastry cream for an after-dinner treat.

Baked Seasonal Fruit topped with Crema Pasticciera

Crema Pasticciera

1 pint whole milk
1 vanilla bean or 1 tablespoon vanilla extract
4 egg yolks
3/4 cup white sugar
1 cup + 2 tablespoons flour

In a heavy-bottomed pan, bring the milk to a boil and add the vanilla. Remove from heat.

In a small bowl, beat together the sugar and the egg yolks, until a viscous mixture is formed. Add the flour, whisking to create a silky texture. Add the hot milk in a slow stream, whisking to combine. Place the mixture back into the pan and cook over low heat, stirring constantly, until the grainy texture of the flour is completely dissolved and the mixture is smooth. Remove from heat; cool.

Makes about 1 pint.

Variations: stir in 1 shot Kahlua; or 1 shot of espresso; or 1 heaping tablespoon Nutella.

Baked Seasonal Fruit
I like apples, persimmons, pears, cranberries and dried cherries this time of year...

1 pound seasonal fruit, peeled, pitted and chopped
1/2 cup sugar
1/4 cup whipped cream
1 shot Grand Marnier
1/2 cup Crema Pasticciera (above)

Preheat oven to 350 F. In a bowl, toss the fruit together with the sugar. In a separate bowl, fold the whipped cream into the crema pasticciera. Add the Grand Marnier.

Pour the fruit into a 9-inch pie pan, and top with the cream mixture. Bake for 10 minutes, then place under the broiler for another 2-3 minutes, or until the top turns golden brown.

Serve immediately.
---
Follow The Leader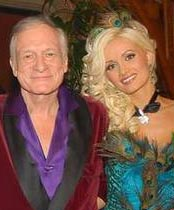 As you know, I'm a partner in several restaurants in LA and San Francisco; sometimes celebrities come into the restaurants, and we always treat them with the greatest care and discretion. But when Hugh Hefner sent us a fax before he came to dine, we had to laugh. Here's the scoop!

The Hef has his own menu!
Yes, it's true... before Hugh comes to a restaurant, he faxes over a "menu" that describes exactly what he wants, in just the way he wants it cooked. The man may not be a dream diner, but he certainly knows a thing or two about romance...

Hugh Hefner's Lamb Chop Dinner

- 4 fresh French cut lamb chops (from 3 pound rack)
- 1/2 tablespoon olive oil
- 1 tablespoon seasoning salt
- 1 tablespoon ground white pepper

- 1 can Campbell's Beef Broth
- 1 cup cold water
- 1 sprig fresh rosemary, 4 inches long
- 1 1/2 tablespoons Swiss Chalet Pro-Thick Vegetable Starch Thickener

Trim the lamb chops of all excess fat. Trim should include the bone to the eye of the chop. Season the chops with salt and ground white pepper. Place the olive oil on a plate; dip the chops on both sides until they are dark brown. Three minutes per side. Cover pan and let chops sit on a low flame for an additional two minutes.

The fourth lamb chop is for the cook to eat and determine if it is tender and tasty. If it is acceptable, serve the remaining three to Mr. Hefner. If it is not tender or tasty, start the process again by cutting from another rack of lamb.

To make the sauce, combine the beef broth and water. Whisk in the Pro-thick and return to a simmer. Add the rosemary sprig and cook for only 20-30 seconds. Remove the rosemary sprig from the sauce. Keep the sauce warm.

To prepare the baked potato, wash three 90-count sized potatoes. Wrap in foil and bake in oven at 350 degrees for 90 minutes, or until done. Remove from oven and place in warmer until dinner is requested. Choose the best potato; remove foil and place on plate.

To prepare the peas, open one can of Le Sueur Early Peas and heat in a skillet. Season lightly with a pinch of fine sea salt and 1 teaspoon of salted butter when heating. Serve about one-third of the peas in a side bowl when dinner is served.

Cut from the center of a beefsteak tomato two slices of tomato 1/2-inch thick. Place the slices on a small side plate that has been lined with the top half of a washed leaf of romaine lettuce.

Plate Presentation: Place the three lamb chops on a warm HMH dinner plate. The bones should be pointing to the center of the plate. Spoon a little of the sauce over each chop and allow some to flow slightly onto the plate around each chop. Place the baked potato next to the chops with no sauce touching it. No butter is put into the potato. Real butter (not margarine or butter substitute) and salt should be served on the side. The peas and apple sauce are placed in small bowls on the side.

When Mr. Hefner calls for his dinner, everything should be ready before cooking the chops. When the chops are completed, a Butler should serve the meal immediately.

...No, I'm not making this up. This is actually what Hefner faxed one of our restaurants before he stopped by.... all I can say is: WOW. I want to be like that guy when I grow up!
---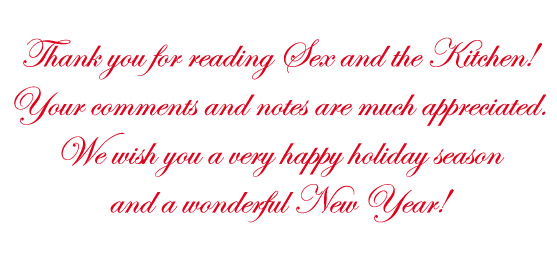 ---
You are receiving this email because you're a fan of food and romance...You think life is a sensual adventure, and you hope to nibble and sip your way to bliss. We hope this helps. If you're hungry for more, head straight to our web site.

Copyright 2007 : Sex and the Kitchen, Inc. : All Rights Reserved.
---