It's summer time, even in San Francisco, and we hope you're making the most of it. Don't waste away the sunshine by spending all day trapped inside of an office! Invent an excuse... get out... kick your heels up... arrange an impromptu rendezvous. Your life is only as exciting as you make it!


---
A LETTER FROM SAN FRANCISCO CHEF ANDREA FRONCILLO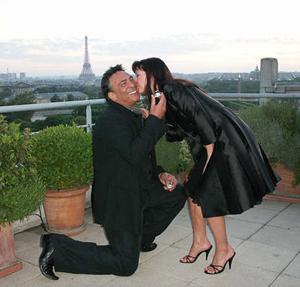 I have a lot to tell you about this month... Before the last newsletter, I mentioned that I was flying home to Italy for a little vacation. I may not have mentioned that the trip started in Paris and ended on Capri Island. I can think of many special places to visit, but I can't think of a better combination than than the two of them.

What can I say? This trip was by far one of the most memorable trips that I've ever taken. I've been to both Paris and Capri before, but this time was special. Tracy and I started out at the Hotel Meurice in the City of Lights. Paris inspires the romantic in everyone, and we totally relaxed and let the days flow, beginning with a champagne dinner on a boat as we drifted down the Seine, continuing through an afternoon walk through the Louvre and a leisurely breakfast at Laduree. We had dinner at La Trouffiere, a gorgeous old cave-like restaurant where they don't have a wine list, they have a wine book of nearly 10,000 wines. We held hands over the flickering candlelight and felt like we had been transported into another century.

After a couple of days, my heart felt young and I was so fully of joy that I couldn't help but to get down on one - or maybe both - knees and ask the magic question: "Will you marry me?" I truly believe that when it is asked at the right time, with the right person, in the right place, it all makes sense. I felt like I was lifted to a "high" - the high of love, life, and the dream of what is to come...

So there you go: I did it. I asked, and she said yes, and now everything seems clear and it all makes sense. We were born to have a companion, and I believe that the reason why they call it the "better half" is because the other person makes you want to be a better person. Of course, even with the "right" one, a relationship is still a lot of work, but it's nice when you know that the other person is working on it, too.

The saddest moment is when we lose someone dear; the happiest moment is when we find love. I'm glad, I'm happy and I'm blessed. Thank you, Baby. I love you. Now give me my damn rib back!

We had a wonderful time visiting my family in Napoli. It is always so good to be surrounded by brothers and sisters and nieces and nephews, listening to all of their plans and hopes. And of course, eating Mama's cooking!

Now I'm back to the normal pace of life. Ha... whatever that means...! It my not be as glamorous as the days we spent in Paris, but it isn't bad! San Francisco is such a beautiful, exciting city that I feel lucky to live here. There is almost no need to travel when you live here. And Italy won the World Cup! So really: I am blessed indeed!

I have a crazy busy schedule this month with promotion for The Stinking Rose Restaurant Cookbook. I'll be going to the Gilroy Garlic Festival at the end of the month, and doing radio and television interviews in the meanwhile. I've started practicing my signature, and I'm getting good at signing those inside covers!

I hope you'll take some time to experiment with some of the recipes below. Have a fantastic summer! And for all of you who have someone special in your life: please, pause and take a second to give a big hug and kiss to that person to remind them of what they mean to you. Just because! We never show our appreciation enough. Remember, your life is better than you think it is...

Ciao for now!

XOXO,

Andrea

---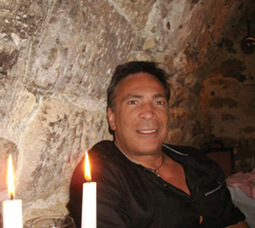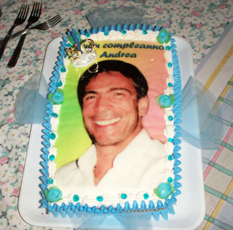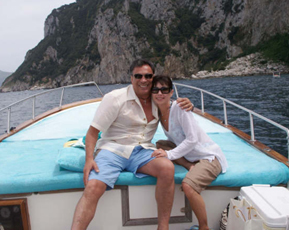 Scenes from Europe
From left to right: Me at La Trouffiere, beneath the old stone wall; my 50th birthday cake; Tracy and I on a boat cruising around Capri Island.
Discover Capri!
---
A Taste of Paris

While we were in Paris, we ordered foie gras at every restaurant we went to. It was rich and silky and utterly addicting. And it's going to be illegal here pretty soon. I can't possibly print my exact feelings about this travesty, but I will say this: make it while you can, boys and girls. And enjoy every bite.

Foie gras is duck liver, often from Mallard or Muscovy ducks. It is a salmon-pink color, and it quickly turns grayish tan on the surface as soon as it is exposed to air. As it ages, and the meat becomes further oxidized, a slice of foie gras looks like it has a band of gray followed by a band of pink. It should smell like liver, but shouldn't smell rank or rancid. Foie gras is graded as to its color and texture, A being the "finest" and C having a slightly mottled or "bruised" surface. You can order it online from the Hudson Valley Company out of New York or from Caviar Russe, who carries a gorgeous assortment of products.

Foie gras torchon is a recipe that was developed many years ago by French chefs, and is something of a French classic. The word "torchon" means "dish towel" in French, and here it refers to the method of preparation. It is a multi-step dish that is best done over a period of about three days, so you'll have to be patient and let the anticipation build. Gentlemen, if you serve this to your lady friends, they'll make sounds that you only wish you had heard before. Worth it? You tell me.

The order of the recipe is as follows: first, the foie gras is carefully cleaned and packed with a mixture of salt, crushed peppercorns, and herbs, and chilled for at least 24 hours. Next, it is pressed into the shape of a log and tightly wrapped in several layers of cheesecloth. Finally, the torchon is simmered very quickly in broth and then sliced and served with brioche toasts, cornichons, and a mixed green salad tossed with vinaigrette.

The steps are too long to be contained here in the newsletter, so I've posted the entire thing on my blog. Check it out!
---
Pasta di Frutti di Mare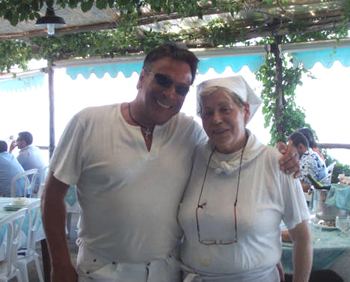 Since Capri Island is naturally surrounded by water, the menus there overflow with offerings from the sea. This recipe was inspired by a pasta dish I had at Add'o Riccio in Anacapri. The photo to the left is me with the chef at the restaurant, a lovely woman who knows her way around the kitchen! There are several different shellfish in this recipe; if you can't find them all, simply use more of one or use something else that is fresh and local to you. Enjoy with a dry white wine or sparkling lemonade.

Pasta di Frutti di Mare

- 1/2 pound Manila clams (or other small variety)
- 1/2 pound black mussels (PEI or otherwise)
- 1/2 pound sea snails
- 1 pound spiny lobster (can substitute langoustines or large prawns)
- 1 pound fresh linguine
- 3 tablespoons olive oil
- 3 garlic cloves, slivered
- 1 teaspoon chili flakes
- 2 tablespoons chopped Italian parsley
- 1/2 cup dry white wine
- 1 pint cherry tomatoes, cut in half
- 1 8-ounce can clam juice
- 1 tablespoon unsalted butter

Clean and rinse the clams. Clean, rinse and de-beard the mussels. Gently crack the lobster shell so that it will cook appropriately.

Boil the linguine noodles in a large pan of salted water just until al dente. Drain and toss with 1 tablespoon of olive oil. Cover to keep warm.

In a large skillet, heat the remaining olive oil and gently saute the garlic slivers for 2 to 3 minutes, until they turn translucent. Stir in the chili flakes, half of the parsley, and the white wine and cherry tomatoes. Pile the seafood into the skillet, and pour the clam juice over the top. Simmer for about 2 minutes or until the mussels and clams begin to open. Add the butter and toss a couple of times to coat the seafood with the sauce.

Remove from heat. Discard any mussels or clams that did not open up. Scoop the warm linguine into serving bowls, and ladle shellfish and sauce over the top. Sprinkle with remaining parsley, and serve at once.

Serves 2.
---
Pana Cotta w/ Rasberry Coulis & Espresso Foam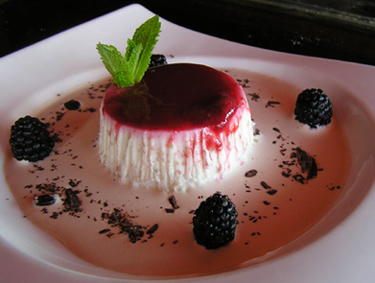 This is a lovely panacotta topped with a sweet-tart raspberry coulis and surrounded by espresso foam. It makes a perfect end to a meal during these warm months; it isn't too rich, and not too time-intensive, and it's even better when you're spoon-feeding it to the person beside you!

Panna Cotta with Raspberry Coulis & Espresso Foam

-1/2 pint raspberries, plus a few extra for garnish
-1 tablespoon fresh lemon zest
-1/4 cup sweet wine (a late-harvest Sauvignon Blanc would be ideal)
-1/4 cup cold water
-2 1/2 teaspoons unflavored gelatin
-3 cups heavy cream
-2/3 cup sugar
-1/2 vanilla bean, split lengthwise
-2 shots espresso
-1/8 cup heavy cream
-Chocolate shavings for garnish (if desired)
-Mint sprigs for garnish (if desired)

In a small bowl, crush the raspberries and lemon zest together with the sweet wine until a thick, juicy sauce is formed. Pass through a fine-sieve strainer to remove the seeds. Set aside.

Pour the water into a very small saucepan, and sprinkle the gelatin over the top. Let it stand for about 3 minutes to allow the gelatin to soften. Heat over low heat for 3 to 4 minutes, stirring with a wooden spoon, until gelatin is thoroughly dissolved. Remove pan from heat.

In a medium-sized heavy-bottomed saucepan, combine the cream and sugar. Scrape in seeds from vanilla bean; add the bean. Bring to boil over medium heat, stirring often. As soon as the mixture comes to a boil, remove from heat and add gelatin mixture. Stir until blended.

Set out four ramekins or custard cups, and spoon just enough of the raspberry sauce into the bottom to cover the bottom surface. Tip the cup to ensure an even layer. Pour the cream mixture over the top, stopping about 1/2 inch from the surface of the cup. Cover tightly with plastic wrap and chill until cold. Chill at least 2 hours, or up to overnight.

Just before serving, make the espresso foam: whip together the espresso and heavy cream until a light, foamy consistency is reached. Don't get too aggressive here ~ you don't want whipped cream!

To remove the custards from their containers, dip them one at a time into a bowl of hot water for 3 to 5 seconds. Run a thin knife around the edge of each ramekin and quickly invert over the center of a serving plate. Surround with espresso foam. Garnish with extra raspberries and mint sprig, if desired.

Makes 4.


---
If you're ever in Capri...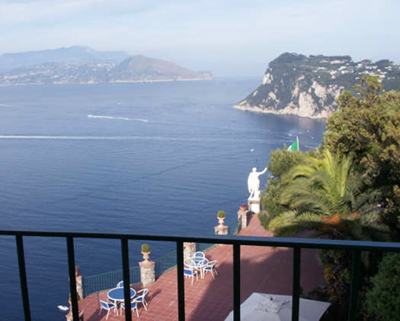 Obviously, Capri Island is one of my favorite places in the world. This last visit, I stayed at the Caesar Augustus Hotel on Anacapri, which is simply the name for the part of the island that is slightly set above the rest of Capri).

Words can't describe how breathtakingly beautiful it was. We had a view of nearly 360 degrees, with gorgeous blue water as far as we could see. The room was plush and luxurious, and we wished we could have stayed for a week. We took the photo on the left from our deck, so you can see how high up we were. We felt like the King and Queen of Capri!

If you happen to be going to Capri, be sure to check it out.... and book your room well in advance, as they can be hard to get, especially during the summer months.
---
You are receiving this email because you're a fan of food and romance...You think life is a sensual adventure, and you hope to nibble and sip your way to bliss. We hope this helps. If you're hungry for more, head straight to our web site.

Copyright 2006 : Sex and the Kitchen, Inc. : All Rights Reserved.
---