One month down, eleven to go!
I was recently informed that 2005 is the Year of the Rooster. It reminded me of a farmer I once met. I asked him: how can you tell the difference between a rooster and a hen? That's easy, he said. The rooster says: "Cock-a-doodle-doo!" while the hen says: "Any-ole-cock'll-doooo!"

Here's wishing you a year to crow about...
---
A LETTER FROM SAN FRANCISCO CHEF ANDREA FRONCILLO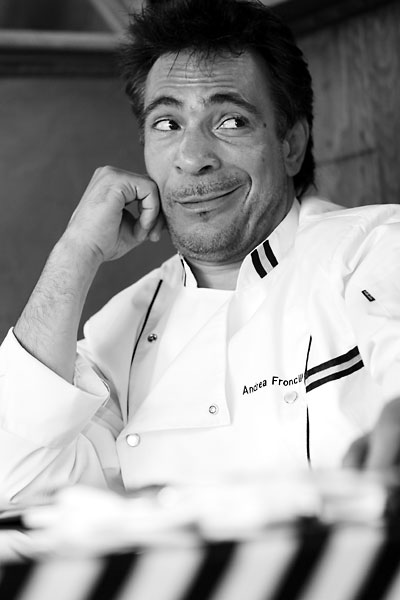 Ahh, yes. The first newsletter of 2005! Well, I guess it's better late than not at all...

As you know by now, Las Vegas is one of my favorite cities. Tracy and I spent a whirlwind Christmas there, and spent Christmas evening at Picasso in the Bellagio Hotel. Julian Serrano prepared an incredible 7-course white truffle dinner to die for - and all I had to do was show up! For a guy who is usually going mad in the kitchen, that sounded like a good deal to me... and it was. We ate until we couldn't eat any more, and in my mind, that's the perfect way to spend Christmas Day. But just to let you know: yes, we did cook together in our own kitchen on other days throughout the holiday season, and had a wonderful time doing it!

Vegas is celebrating its centenary year in 2005 - can you believe that it was 100 years ago when the town officially came into existence? And just to think that it might have all ended when, in 1910, a strict anti-gambling law was passed that forbid so much as a coin toss. The newspapers reported that gambling was stopped "forever."

In Vegas, "forever" apparently means "three weeks," because that's how long the the gambling tables remained quiet. And that little story demonstrates the main reason why I love Sin City: people are determined to have a ball without hurting anybody else. It's come one, come all, and do whatever makes you happy. Nobody asks you to put out your cigarette or tells you that you've had your last drink. It's a city for adults, and I like that.

During the holidays, I happened to catch an episode of Gordon Ramsey's hit show in which he "schools" restaurants on everything they're doing wrong; it reminded me of the book "Kitchen Confidential" by the ever-so-bad Anthony Bourdain. It always amazes me how many people run around and tell other people how to run their businesses and their lives...

In some ways, Ramsay seems like a pampered chef with big backing who runs around and scolds those who are trying their best to make something happen with limited resources. A sharp script and a good producer sure do make things look easy... Ramsay (who is an excellent chef, but that's beside the point) tries his hardest to make the chef feel like a complete ass. Thanks, Mr. Ramsay, but the marketplace generally does that job quite nicely; either people come and the place survives or they don't come and the doors shut. Either way, lessons are learned without the extra bonus of the chef being publicly humiliated.

Mr. Bourdain made a big splash with "Kitchen Confidential" by revealing the "inside" secrets of the restaurant industry, telling tales of a chef making it with the new bride over the back freezer, and the so-called "fishy" fish on Mondays. Woo-ee.

As for hanky-panky in the kitchen, we all know it happens; every single person who has spent more than a couple of weeks in the biz has heard a tale or two of certain shall-we-say exploits. In my upcoming memoir: "Under the Counter and Over the Top" I recall lots of spicy moments in countries and kitchens all over the world... But the business is full of professionals, too, who come to work to get the job done.

A restaurant that serves bad fish any day of the week won't be in business for long no matter how much "special sauce" is poured over top. Any good chef knows how much food to order based on the average cover count of the restaurant, and they generally don't have a lot of exta sitting around. And if that chef is worth his or her salary, he won't gamble the future of the restauarant on trying to stretch out old or questionable ingredients to save on food cost.

I think the reason Bourdain felt at liberty to make such blanket statements is that he has never owned a restaurant. He's always been the guy on salary who can crack (Oops! Line 'em up, Tony!) shots at the owner without risking his own investment. When I read his description of the rich guy who hired him as an "idiot," I thought - well, yeah - since he hired you. Sure, go ahead and make people feel queasy about what comes out of the kitchen - why do you care?

I wouldn't serve anything that I wouldn't eat myself. I think it comes down to that - a restaurant won't stay open for more than a few months if the chef doesn't have the pride of ownership. Flash-in-the-pan restaurants don't last, Ramsay or no Ramsay. In answer to Bourdain's fearmongering, yes - perhaps there are places who do serve old fish (like the ones Bourdain worked at). But any chef who has pride in his or her work not only knows how old the fish is, but also what it ate for its last supper... of course, controversy drives up book sales, but why would you eat and shit in the same plate or bite the hand that feeds you?!

So please! Let's see fewer Monday-morning quarterbacks and more people who are focusing on creativity, the fun and excitement of the restaurant industry and - most important of all - how we can take better care of the people who effectively pay our salaries by dining at our tables. As Howard Cosell would have said: "Put up or shut up!"

And now, having said all of that, I'll close. I want to offer my condolences to anyone whose loved ones were affected by the tsunami in Asia. I sincerely wish all of you a safe, happy and loving year. I promise to do my part in helping that happen by sending you lots of recipes and ideas for ways in which you can cook to your heart's content! Since Valentine's Day is only a couple of weeks away, you can expect a special edition of this newsletter in just a week or so!

Ciao for now!
---
SWEET POTATO GNOCCHI w/ BROWN BUTTER & BASIL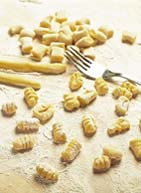 Sweet potatoes make these gnocchi slightly heavier than the traditional ones made with regular potatoes. They have a rich, mellow sweetness that is perfectly offset with browned butter and crispy fried basil leaves.

Sweet Potato Gnocchi w/ brown butter & basil

• 2 large yams
• 1 cup unbleached white flour
• 1 1/2 sticks (3/4 cup) unsalted butter
• 1/2 cup + 2 tablespoons grated Parmigiano cheese
• 1/2 cup crumbled blue cheese
• 10 small basil leaves, plus 2 tablespoons chopped basil
• 1/2 teaspoon grated nutmeg
• Salt and freshly cracked black pepper

Preheat oven to 375 degrees (Farenheit). Wrap yams in aluminum foil and bake for 1 hour and 30 minutes, or until the middle is soft when pierced by a fork. Remove foil and let them cool for 10 or so minutes. Peel and discard skins. Place the yam flesh in a bowl and mash with a heavy fork.

Melt 1 stick (1/2 cup) of butter in a microwave or a small saucepan over low heat. After butter is completely melted, cool for 3 to 4 minutes; pour over the mashed yams. Stir. Sift flour over the top of the yams; stir slowly to incorporate. Add 1/2 cup of parmesan and all of the blue cheese. Season with salt and pepper.

Cover bowl and place in refrigerator to cool the mixture completely, one to two hours.

Lightly flour a smooth, solid work surface. Separate the yam dough into three pieces. With floured hands, roll each piece out into a rope-like strip about 3/4 inch in diameter. With a sharp knife, cut along the strip every 1 inch to make gnocchi. Press the pad of your thumb into the middle, or use the tines of a small fork to make indentations along the middle. Each gnocchi should look like a miniature rectangular dumpling.

In a heavy saucepan, heat water to boiling; add gnocchi and cook for 2-3 minutes or until they begin to float. Don't overcook! Remove and drain quickly.

In a skillet, brown the remaining 1/4 cup butter over medium heat, stirring carefully as the butter begins to bubble. Sprinkle the basil leaves over the surface of the butter; they will become crispy within about 30 seconds. Add nutmeg. Add the gnocchi to the pan and gently toss to coat. Remove from heat.

Sprinkle with remaining parmesan and fresh basil strips. Serve immediately.


---
SALAD OF ENDIVES with BLUE CHEESE, TOASTED HAZELNUTS & GRAPES

Endives have a refreshing, watery crunch; when paired with the bitter edge of radicchio, sweet grapes and creamy blue cheese, it makes a delightful winter salad.

• 1 head Belgian endive
• 1 head Vicenza radicchio (the long, narrow ones)
• 3 tablespoons crumbled blue cheese
• 2 tablespoons whole toasted hazlenuts
• 1/4 cup red or white seedless grapes, rinsed and patted dry
• Extra virgin olive oil
• 1/2 Meyer lemon
• Salt and freshly cracked black pepper
• Fresh organic rose petals (optional, for garnish)

With a sharp knife, cut the end off of the endive and radicchio and separate the leaves. Arrange on a large salad plate. Place the grapes on top of the leaves and sprinkle with toasted hazlenuts. Drizzle olive oil over the salad; squeeze the lemon half to distribute the juice amongst the leaves.

Sprinkle the blue cheese over the top. Season with salt and freshly cracked black pepper. Serve immediately.

Of course we recommend that you pick up the endives like miniature boats and feed them to each other... mmm!

---
You are receiving this email because you're a fan of food and romance...You think life is a sensual adventure, and you hope to nibble and sip your way to bliss. We hope this helps. If you're hungry for more, head straight to our web site.

Copyright 2004 • Sex and the Kitchen, Inc. • All Rights Reserved.
---