But they all answer to Mamma
She is "Haha" in Japan, "Madre" in Mexico and "Mut" in Egypt, but no matter what name she answers to, she just may be the most important person in the world. In honor of Mother's Day, we dedicate this issue to those brave, wonderful women who gave birth to us.
---
A LETTER FROM SAN FRANCISCO CHEF ANDREA FRONCILLO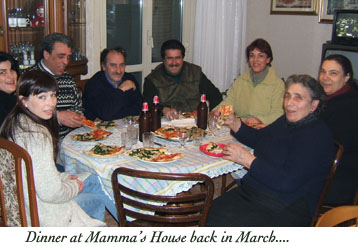 Happy Mother's Day to all of you mothers out there! This is the designated day when each of us can fully express our love and appreciation for being in this world to the person who has been with us through it all. For those of you who don't have something nice to say, just shut your trap already! I don't understand people who blame their mothers for problems in their lives; to those people, I say: "Loser!"

The best thing you can do on May 8th is to express to this most dear and caring person how much she is loved and appreciated all year around. If you're lucky enough to live near your mother, find a creative way to show her how much you care... sprinkle some rose petals in the sink where she washes her face in the morning, and place a little note and a gift where she can find it; hopefully later you will be treated to the sight of her smile, and a big, heart-pounding hug.

A lot of women have come and gone throughout my life, both as friends and lovers, but the one that has always remained constant is my mother. She has stuck by me no matter how much trouble I've gotten into. So for her, I have this message: Mamma, ti voglio tanto tanto bene che duole! (translation: Mom, I love you so much that it hurts...)

I've prepared a menu for a special Mother's Day Brunch- be sure to check it out. For those of you guys who are married with kids, don't forget to celebrate this day for your wife, too! She has a difficult job. I know how intimidating it can be to cook for a wife or mother - after all, they're usually the ones that work so hard to feed us - but these recipes are easy to prepare, and they taste delicious (don't let the Italian names scare you!) and after all - doesn't she deserve to have someone else do the cooking for once? And hey, don't forget - you get to do the dishes, too. So what are you waiting for? Pick up the phone - Mother's Day Brunch is at your house this year!

Here in San Francisco, I've been working on finishing my first cookbook - The Stinking Rose Restaurant Cookbook, with all of the recipes on the menu and a few more besides. It will be available next spring. After that one is done, I have four more cookbooks to work on! No rest for the weary, as they say. To read a new excerpt from my memoir, Under the Counter and Over the Top, go here: Froncillo Excerpt

I've also been working on some ideas for a Sex and the Kitchen reality show, which has been attracting interest from press and producers. With San Francisco as the backdrop, the show would feature couples who are either trying to fan the flames with a new love interest or re-kindle sparks in their existing relationships by heading to the kitchen! Food and romance -what better combination is there?! If any of you have suggestions or feedback that you'd like to share, don't be shy about it! Let me know. If you don't tell me what you think, I'll feel like I'm talking to myself! You can e-mail me here: andrea@sexandthekitchen.com.

Besides Mother's Day and the promise of spring on the horizon, the other reason wny I love May is that it's the month I was born! That's right, I'm a bull... watch out. On the 15th, I'll be just one year shy of half a century. Where did all those years go? Oh, I remember...

Many of those years were spent traveling around the world and hunting for adventure. My first job on an American cruise ship was quite an experience. I could hardly say the word "Hello" and here I was in the dining room trying to explain the night's menu to tables full of people. I couldn't keep certain words straight: "kitchen" and "chicken", for instance, stumped me for the longest time.

"The chicken has prepared a lovely meal for you tonight," I would say, not sure why the person in front of me suddenly had a confused look on their face.

Or, "Our special tonight is roasted kitchen, served with creamy mashed potatoes..."

Even when I was using the right words, people often didn't understand what I was saying. It frustrated me, having to repeat myself all the time, forever seeing the looks of unease spread across their faces. "It's your accent," they would say, apologetically, feeling embarrassed and uncomfortable at having to ask me to say it again. After a hundred or so times, I finally made a joke out of it. I would scratch my head and frown. "That's funny," I would say. "I didn't have an accent when I got here."

Sometimes I just gave up all together and used sign language to assist the words. It became part of my act, the little gestures and expressions that conveyed meaning. I stuck my hands beneath my armpits and waved them up and down to emulate a chicken; I made snorting sounds with nose to indicate pork; I whispered, I smiled, I squawked. The more uptight they were, the more flamboyant I became, determined to make them smile. Most of the time, it worked. I even got the tight-assed yuppie boys to throw back their heads and laugh.

Most importantly, my gestures were great way to show a woman what I thought of her. "You wanna...?" I would say, pantomiming my hips thrusting. It was so audacious that it always got a giggle, and sometimes even an invitation for more. I guess that's why I've never stopped talking with my hands...and arms... and legs...

Where was I?My birthday. Right. I got an e-mail a few weeks back from a a woman named Susan who passed along a tip about a little inn above Mendicino... she said it was a wonderful place to stay, and suggested that I try it sometime. It just so happened that I was looking for a getaway for my birthday, and so I gave them a call. I will let you know how it turns out in next month's newsletter!

I always like passing along information about great places to stay, even if it makes it harder for me to get a reservation the next time I call! Because you, my friends, deserve to know about the best of the best - and why should I go round and round, if not to share my experiences with you?

Here's wishing you a month of love and happiness!

XOXO,

Andrea
---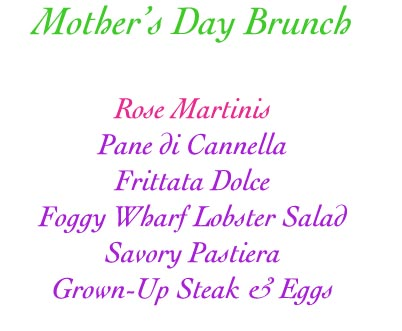 ---
THE ROSE PETAL MARTINI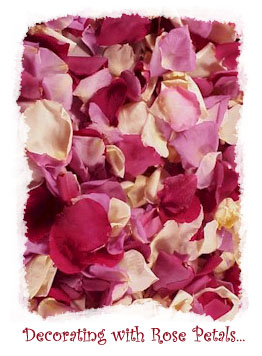 This martini was created by Swan, the head bartender at Boboquivari's, in honor of Valentine's Day... but I think it works equally well for Mother's Day. For the moms who like martinis, here's to you!

• 3 ounces Belvedere or other premium vodka
• 1 ounce sugar syrup
• 3 drops rose essential oil
• splash Tuaca
• superfine sugar for glass rim
• 1 rose petal for garnish

Moisten the rim of a chilled martini glass and dip in superfine sugar to coat. In a martini shaker with ice, combine the vodka, Tuaca, rose essence, and sugar syrup. Shake well for one minute.

Strain into a chilled martini glass. Float a rose petal on top.

---
Mamma's Pane di Cannella
This is the Italian version of French Toast - Mamma used to make it with thick-cut slices of Panettone bread, the sweet round loaf studded with dried fruits that can easily be found in most gourmet markets. If you don't have access to Panettone, a nice sweet challa bread or even a good sourdough will work just fine.

• 6-8 thick slices of freshly baked bread (see notes above)
• 3 large eggs
• 1/2 cup heavy cream
• 1 teaspoon cinnamon
• 1/2 teaspoon vanilla
• 1/4 cup orange juice
• 2 tablespoons sugar
• Powdered sugar
• Sweet Butter Mix*

In a deep bowl, combine the eggs, cream, cinnamon, vanilla, orange juice, and sugar, whipping with a wire wisk to blend thoroughly. Dip bread slices in the batter, turning side to side to coat completely.

Heat a heavy non-stick skillet over medium-high flame and place bread slices in the pan, one or two at a time, for 2 to 3 minutes on each side, or until the middles are golden brown and the edges are crispy. Remove to a plate; dust with powdered sugar and spoon one tablespoon of Sweet Butter Mix into the middle. Serve immediately.

*Sweet Butter Mix:

1/4 cup chopped dates
2 tablespoons chopped pecans
1/2 cup butter, cubed and softened
Several drops of orange water or vanilla

Blend all the ingredients together until they form a paste. You can substitute dried apricots, dried figs or other favorite for the dates, if desired.
---
Frittata Dolce
This beautiful dish is frequently found on brunch tables along Amalfi Drive and all over Italy; frittata is the Italian version of an open-faced omelette - cooked on the stovetop in a pan and - this is the best part - it doesn't require any messy flipping! This is a sweet fritatta, made with fresh berries. A perfect excuse to pick up that crate of bright red strawberries you've been eyeing...

• 6 whole eggs
• 1/2 cup heavy cream
• 2 tablespoons yogurt or whipped cream cheese
• 2 tablespoons powered sugar
• 1/2 cup sliced seasonal mixed berries
• 1 tablespoon butter

In a mixing bowl, combine the eggs, cream, yogurt, sugar with a wire whisk, whippping until the eggs are frothy.

In a heavy 9-inch skillet, melt the butter over high heat. When it is hot and bubbly, pour in the eggs and cook on high for 2 to 3 minutes, watching carefully so that the edges do not become overly brown. When the middle begins to set just slightly, remove the pan from the stove and place it in the oven underneath the broiler. Let it cook for 1 or 2 minutes more, until the middle is set and the edges begin to pull away from the pan. Remove from oven and slide out of pan onto a serving plate. Sprinkle with powered sugar and fresh berries.

Serve immediately.
---
Foggy Wharf Lobster Salad
This salad was named with the San Francisco Bay in mind, with our foggy mornings and afternoons. You can use either lobster or crab meat - both are equally delicious - a tasty salad that is sure to be a brunch favorite.

• 3 cups mixed baby greens
• 1 pint cherry tomatoes, cut in half
• 1/2 cup chilled lobster meat (substitute crab meat if desired)
• 4-5 wonton wraps
• 1/4 cup vegetable oil
• 3 tablespoons olive oil
• 2 tablespoons soy sauce
• 2 tablespoons orange juice
• 2 tablespoons black sesame seeds

In a mixing bowl, combine the greens, tomatoes and lobster meat. Toss gently. On a hard cuttting surface, slice the wonton wraps into thin strips and fry in hot vegetable oil until golden brown and crispy.

In smaller bowl, make the dressing by whisking together the olive oil, soy sauce, orange juice and sesame seeds. Just before serving, pour over the greens and toss. Sprinkle with wonton crisps and serve.
---
SAVORY PASTIERA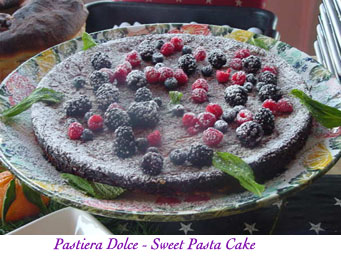 This is a savory form of the sweet pastiera, or pasta cake, that is commonly found on brunch tables throughout Italy. It is baked in a round spring-form pan and can be sliced and eaten like a piece of cake! This is a dish everyone will love, from kids to grown-ups.

• 2-3 sheets of puff pastry (can be found in the frozen foods section)
• 1 16-ounce package dried short noodles (such as small rigatoni, egg noodles or elbow macaroni)
• 1 tablespoon olive oil
• 1 medium yellow onion, diced
• 2 garlic cloves, diced
• 4 large eggs
• Salt and freshly cracked black pepper
• 1/2 cup half-and-half
• 3 tablespoons grated Parmesan cheese
• 8 ounces grated Mozzarella cheese
• 2 Roma or plum tomatoes, diced
• Egg wash (1 egg beaten with 1 1/2 teaspoons water)
• 1/2 bunch fresh basil, chopped

Preheat oven to 350 degrees.

Fill a large saucepan two-thirds full with water. Add 2 teaspoons of salt and bring water to a boil over high heat. Add the noodles and cook for 4 to 5 minutes or until al dente. Do not overcook! They should still be firm and chewy. Drain the noodles and place into a bowl to cool.

In a heavy skillet, warm olive oil over medium heat. Add diced onion and garlic and saute for about five minutes, or until translucent and golden brown around the edges. Remove from heat. Cool.

In a deep mixing bowl, combine the onions and garlic with the eggs, half-and-half, Parmesan, mozzarella, and tomatoes. Season with salt and pepper. Stir in the cooled noodles; toss.

Line a deep springform pan with the sheets of puff pastry, covering the bottom and all of the sides. Let the extra dough drape over the sides. Pour the noodle mixture into the pan and fold the extra puff pastry dough over the top. Brush with egg wash. poke a few small holes in the top with the tines of a fork.

Place the pan in the oven for 25 to 30 minutes, or until the crust is an even golden brown color. Let rest for five minutes; bring to the table. Slice and serve.

PASTIERA DOLCE

For those of you who would rather have a sweet pasta cake, here you go....

• 16 ounces angel hair pasta, cooked al dente
• 1 quart whole milk
• 7 large eggs
• 2 cups sugar
• 1 teaspoon cinnamon
• 1 teaspoon vanilla
• Powdered sugar for garnish
• Fresh berries for garnish

Pre-heat oven to 350 degrees.

In a large mixing bowl, combine the milk, eggs, sugar, cinnamon, and vanilla, stirring until the mixture is well blended. Add the al dente noodles and mix well. I often like to use my clean bare hands for this step.

Pour mixture into an oiled 9-inch springform pan and place in the oven. Bake for 1 hour and 15 minutes, or until the middle is set and the edges begin to pull away from the sides of the pan. Remove from the oven and turn the pan over on a serving plate, inverting the cake. Sprinkle with powdered sugar. Just before serving, arrange fresh berries over the top.

Enjoy warm or cold.
---
GROWN-UP STEAK & EGGS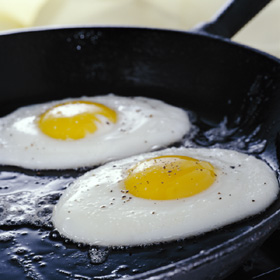 Steak and eggs might sound like diner food, but not this recipe... a nice rib eye steak cooked to perfection and served over two poached eggs with a light, lemony sauce... delicious!

• 2 pounds rib eye roast
• 2 tablespoons unsalted butter
• Salt and freshly cracked black pepper
• 1 spring rosemary, chopped
• 12 large eggs (2 eggs per person)
• 1/2 bunch basil, chopped
• Lemon-Butter Sauce*

Preheat oven to 375 F.

In a small bowl, melt the butter and combine with salt, pepper and rosemary. Using a pastry brush, baste the roast with the butter and place in a baking dish. Bake for 40 to 45 minutes, or until it reaches desired doneness. For optimal flavor, I recommend medium rare. Turn off heat and let rest in oven for 10 minutes; remove from oven and rest for an additional 5 minutes.

While the meat is resting, prepare the Lemon-Butter Sauce (below).

Slice the steak into 1/2-inch-wide strips and arrange on serving plates. In a heavy skillet over medium heat, fry two eggs at a time and set atop the steak. Drizzle a tablespoon or two of lemon-butter sauce over the eggs and sprinkle with chopped basil.

Serve immediately.

Lemon-Butter Sauce:

1/2 pound butter, melted
6 egg yolks (or 1/2 cup pasteurized yolk mix)
1 tablespoon grated fresh nutmeg
1 tablespoon lemon juice
1 tablespoon finely chopped tarragon

In the top pan of a warm double broiler, whip the eggs with a heavy wire whisk until smooth and creamy. Add the nutmeg, lemon and tarragon. Slowly pour in the melted butter, whisking to fully combine the ingredients. Let warm for about 2 minutes. Spoon over eggs.
---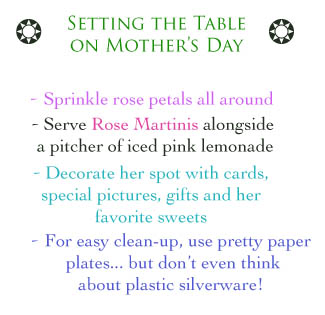 ---
You are receiving this email because you're a fan of food and romance...You think life is a sensual adventure, and you hope to nibble and sip your way to bliss. We hope this helps. If you're hungry for more, head straight to our web site.

Copyright 2005 • Sex and the Kitchen, Inc. • All Rights Reserved.
---