If there was ever a good excuse for a sugar high, this is it!
In honor of Valentine's Day, we're indulging in sweets of all kinds - crepes smeared with butter and jam, gooey eclairs, coconut cream pie, Recchuti rose caramels... and maybe even a few of those pastel-colored candy hearts that come in a cardboard box and have barely legible words printed on them. Be Mine. Love 4-Ever. So Fine. And the best one: Eat Me.

Bon Appetit!
---
A LETTER FROM SAN FRANCISCO CHEF ANDREA FRONCILLO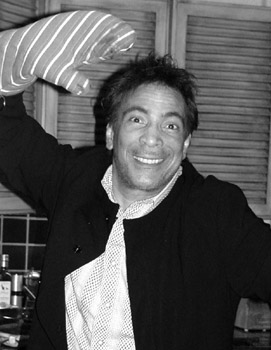 My theme this month is love, since of course February is the month for lovers, and Valentine's Day is its Superbowl.

I don't need to give you any words of advice here; love just happens - you cannot predict it or force it. You cannot even make it go away. It comes when it wants to, and when its course is through, so be it. The greatest, most heart-pounding happiness in the world is felt during the moments and days when you are falling in love. And the darkest misery is felt during the hours and days when that love begins to slip away... there is nothing you can do once the feeling is gone.

Life, love and even lust are just 4-letter words that mean nothing unless they are shared with another. So here's to love and sharing, and here's to you... Happy Valentines Day! May Cupid be good to you. Even if you don't have anyone to spend the day with, look in the mirror and remember that you're already with the most important person you know... and hey, watch out! you just might get hit with one of those arrows!

Did I say the theme this month was love? I meant love AND a bit of frustration. Now then:

"What a difference a day makes!" That's the title of one of my favorite songs, and also a phrase that proves to be quite true, especially just after you meet someone or when a relationship breaks up. It's also true in the restaurant business; just last week, it was perfectly illustrated on two consecutive nights at my steak restaurant, Boboquivari's.

The first night, I had the privilege of hosting a few friends at the restaurant whom I respect and admire: Giovanni Scala, the original chef and namesake of Scala's restaurant in the Sir Francis Drake Hotel in downtown San Francisco, and now owner of the wildly popular Bistro Don Giovanni in Napa; Mario Ascione, chef/owner at Macaroni Sciue Sciue and the Purple Onion in North Beach; and Angelo u Turrese, an incredible "fork" from my hometown outside of Naples.

We had a wonderful evening together, and they gave me some much-appreciated feedback about the menu and other aspects of the restaurant. Happily, they raved about the steak... illustrating why we take pride in offering what I truly believe is the best steak in the City. I always appreciate constructive criticism, and when it comes from talented and well-known restaurant people, it is a double treat.

The night following was quite a different matter. A group came in to dine during the middle part of the evening, one member of whom announced himself as one of the owners of A***, a high-end seafood restaurant in the city. Frankly, that was more information than we needed, as we treat every single person well who dines with us, regardless of where they come from or who they are.

Our esteemed guests asked for their martinis "extra cold" and the bartender complied by shaking them with ice for a an extra long time. When, an hour after the martinis had been delivered, one of the women in the party mewed that her drink was warm, the server was tempted to ask if she would like an ice bucket. Though the kitchen sent everything out as requested, the party sent back every dish that they ordered, from the appetizers to the steaks (one complaining that his Rare-Medium Rare steak had a cold center, which is exactly how it should be) and asked that every single thing be re-made. They did not care for the way we make the steak, nor the side dishes, nor (it appeared) anything at all.

Sad to say, I wasn't there that night. Sad because I would have gladly applied my size-12 boot to the butts of each individual at that table as I ejected them from the restaurant in hopes that they would never, ever return. I myself have dined at A*** several times in the past few years, always conscious of the big-name chef and the steep price tag that comes with that name. My own experience there has been mixed; the noise level is extremely high, and the service varied. The menu has high point and low points. But never, on any occasion, have I behaved in that restaurant, or any other, like a spoiled rotten brat in the way that this unfortunate table did while at Bobo's. I was sorry that I did not have the opportunity to introduce myself (and, as mentioned before, my rather sizeable cowboy boots).

All of our customers are important to us, regardless of where they come from or how much money they make. But I designed the menu to deliver the most delicious, delectable steak you've ever eaten. I might suggest that the guest I mentioned above should look elsewhere to have his ego stroked... there are certain ladies of the night whose job is to tell clients whatever their hearts desire, but that isn't available at my restaurant. We're busy with the business of feeding people here.

And now, back to the love... Remember the song: "You don't have to be a star, baby, to be on my show!" For the star in your life, use this special month to make use of everything that you've learned about what makes him or her happy, and do whatever you can to make the day special. Make liberal use of rose petals - scatter them at the door, down the hall, on the bed, in the bath... If you're going to spend the night away at a bed and breakfast, don't be shy to ask the proprietors to help you make it special with flowers and champagne in the room; just call ahead so that they can help.

Whether you enjoy dinner out or at home, reserve some special time to spend with just each other. The single most important thing is that you enjoy every single minute of the time you spend together. Gaze at each other with admiration and lust and curiosity... try something new. Use the corny nicknames that you have for each other - be silly. Be crazy. Be bold. Make your time together unbelievably sweet and romantic just by suspending the cynic inside of you and opening yourself to possibility... and it will repay you throughout the year, I can guarantee you that.

I'm leaving for Europe at the end of the month, so I'll have a lot of fun stuff for you in March. Tracy and I are going to hit Paris, Venice and Naples... I'll have pictures and more in a few weeks.

Ciao for now!

Love, peace and happiness -

Andrea

P.S.: I wear my cowboy boots on Friday nights!
---
RISOTTO with ROASTED RED BEETS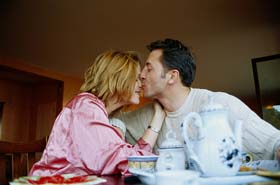 This recipe makes a delicious risotto with a gorgeous color and the smoky-sweet flavor of roasted beets. For a fun touch, use a small vegetable cutter in the shape of heart (try Williams & Sonoma if you're in California) to cut the beets!

• 2 small beets, scrubbed & tops removed
• 1 medium shallot, diced
• 2 tablespoons olive oil
• 1 tablespoon butter
• 1 1/2 cups arborio rice
• 1/2 cup dry white wine
• 4 cups chicken or vegetable broth
• 1/2 cup grated (best quality) Parmigiano-Reggiano cheese
• Salt and freshly cracked black pepper
• Pink rose petals (optional, for garnish)

Preheat oven to 400 degrees Farenheit. Wrap beets in foil and roast in the oven for 1 hour, or until the flesh is tender when pierced with a knife. Remove and let cool in the foil for 15-20 minutes. Peel and cut into cubes. If you have a heart-shaped cutter, be sure to cut a few slices to make the shapes from.

In a heavy skillet, warm the olive oil over medium heat and saute the shallots for 4 to 5 minutes, or until soft and golden brown around the edges. Add the rice, stirring to coat the grains with olive oil. Melt the butter into the rice, and continue to stir until the grains begin to appear translucent. Add the wine; reduce heat and add a half-cup of broth. When the broth has been absorbed, add another half cup, repeating until the rice is tender and creamy. When the last of the broth is nearly absorbed, stir in the beets. The rice will turn a lovely shade of rosy red-pink. Season with salt and pepper.

Remove from heat and stir in the cheese. Ladle into a warmed serving bowl and add a dusting of freshly grated pepper. Garnish with rose petals.

This is wonderful served with a rose champagne. I like Laurent Perrier or Domaine Chandon - both affordable and delicious, with a subtle sweetness that pairs beautifully with the risotto.


---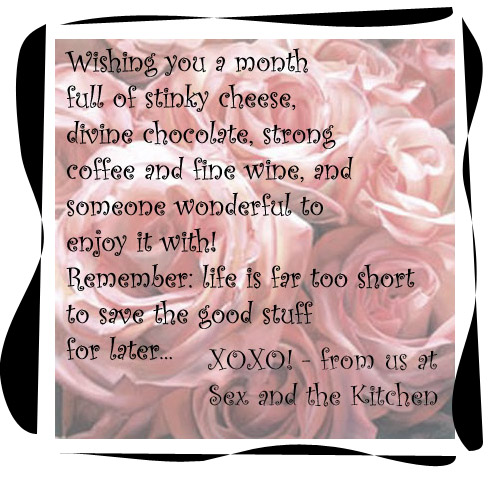 ---
Food for Sharing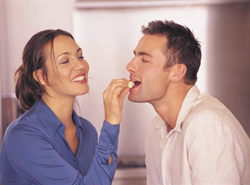 We advocate sharing plates and eating with your fingers all year around, but especially so on Valentine's Day. There's no better time for enjoying small, bite-sized foods that are fun to feed to each other. With that in mind, here's a list of ideas for simple, yet indulgent bites.

Oyster Shooters

• Buy a dozen live oysters - here in the Bay Area, we love Hog Island and Kumimoto - and shuck them carefully.

•For a sweet-tart shooter, combine 3 ounces of vodka with the juice of 1/2 lemon, 2 tablespoons of sugar and 2 crushed strawberries. Place in the freezer for 30-45 minutes, or until the mixture is slushy. Place oyster into small glass; spoon 1 tablespoon of the vodka-lemon mixture over the top. Eat immediately!

•For a spicy shooter, combine 1/4 cup of vodka with 1/4 cup of spicy Bloody Mary mix; freeze for 30-45 minutes or until the mixture is slushy. Place oyster into small glass; spoon 1 tablespoon of the mixture over the top. Eat immediately!

Fritto Misto

Fritto misto is an Italian favorite, made by coating vegetable pieces in a light batter and frying them quickly for a light, crunchy snack with a light aioli for dipping. Delightful!

• 1/2 cup white flour
• 1/2 cup cornstarch
• 1/2 cup fine grain semolina
• Sea salt
• Freshly ground black pepper
• 2 eggs
• Artichoke hearts
• Zucchini, cut into thin spears
• Maui (sweet) onions, cut into thick rings
• Whole sweet green peas
• Fennel, chopped into rounds
• Green beans, ends snapped off
• Olives, pitted and soaked in water to remove excess salt
• Olive oil for frying
• Lemon wedges
• 1 bunch tarragon, coarsely chopped

Heat the oil in a deep, heavy pan over high heat until it just reaches the smoking point, about 350 degrees.

Mix together the flour, cornstarch and semolina. Season with salt and pepper. In a separate bowl, beat the eggs together and dip the vegetables into the eggs; then dredge them lightly in the flour mixture, a few pieces at a time. Tap to remove excess. Working in small batches, place pieces in fry basket and plunge into hot oil for 2 to 3 minutes, or until golden brown and crispy. Remove and drain on paper towels.

Arrange on a serving plate. Sprinkle with tarragon. Serve with lemon wedges or lemon aioli (see the web site for recipe).

Chocolate Fondue

In a heavy saucepan over low heat, melt a 4-ounce piece of best-quality chocolate (bittersweet makes a rich, dark fondue, or use Toblerone for the old classic!), stirring with a wooden spoon to prevent burning. Add 1 1/2 ounces of red wine, and stir until smooth. Add one teaspoon of ancho chili powder; stir to mix. Serve immediately.

Dipping ideas:

- Use miniature graham crackers and marshmallows and make s'mores!
- Whole strawberries, pineapple spears, cubed mango, cherries
- Madelines
- Miniature biscotti

Fondue is the ultimate feed-me food! Make the person who is being fed close their eyes, which increases the sensation of each object that they're eating...If you have a nice fondue set, you may want to begin with a first course of meats and veggies cooked in hot oil or dipped into warm cheese. For extra inspiration, rent 9 1/2 Weeks!

Don't forget the cheese! Refer to the Love Notes newsletter from December for all kinds of ideas on how to select cheeses and prepare a delectable cheese course.

---
SCENES FROM A MURDER MYSTERY DINNER...
I had the pleasure of attending my first-even Murder Mystery in January... everyone dressed to the nines, and the script was full of mayhem and mischief. The only thing not mysterious was the menu... mmmm! Can you guess who the culprit turned out to be?!

---
TAKE THE SWEETHEART QUIZ

Q. How do you like to be romanced?

- An intimate gift - jewelry or lingerie
- A special weekend away to a bed & breakfast
- A night out to a special restaurant

Q. What romantic spot would you most like to be whisked away to?

- Paris
- Venice
- Napa Valley
- His (or her) bedroom

Q. What do you look for in an ideal mate?

- Shy and bookish
- Confident and brash
- Quiet with a naughty streak
- Sugar Daddy

Q. Is it okay for him to nickname his private parts?

Q. When is it okay to discuss intimate preferences?

- After one week
- After one month
- On the first date
- Never; he/she should be able to figure it out!

Q. Describe a fantasy involving food and the person you love/lust after!

Q. How would you feel if your partner was best friend with the ex?

- No problem.
- No way.
- Only if I meet him/her.

Q. What do you most want after a night of passion?

- Breakfast in bed.
- Round two (or three).
- Send me a taxicab.
- Hot shower and an espresso


---
You are receiving this email because you're a fan of food and romance...You think life is a sensual adventure, and you hope to nibble and sip your way to bliss. We hope this helps. If you're hungry for more, head straight to our web site.

Copyright 2005 • Sex and the Kitchen, Inc. • All Rights Reserved.
---