We've got spring fever...
...which is why this April newsletter is appearing in May! The sun has been so bright and the air so warm.... it's been hard to stay inside. 'Tis the season to eat fresh food: strawberries, artichokes, fava beans and green peas... this is the very best time to visit your local farmers market and check out what's new. How long has it been since you've packed up a picnic and headed to your favorite park? Now is a very good time!
---
A LETTER FROM SAN FRANCISCO CHEF ANDREA FRONCILLO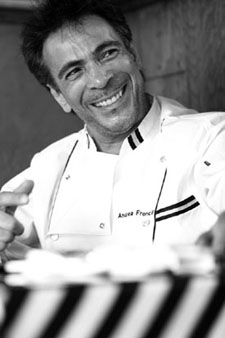 When I talk to people about food, what I'm really talking about is memories. When I think of certain dishes, I always reflect on who I enjoyed them with... the person who inspired me to make this or that... andy why. Making food is like making love - the more creativity and fun you put into it, the more delicious it is.

As you read this, I'll be in the air, on my way to Italy...Getting ready to go has reminded me of the many directions my life has taken. When I think of the crazy times, the bad times, and the wonderful times, I realize all over again that I've had an incredible life. My mother has been an enormous inspiration to me, and I'm pretty excited to be spending Mother's Day with her.

During the month of April, I thought back on Easter Sundays in Italy, when we got up early in the morning and walked out to the foothills surrounding Mount Vesuvius. As the story goes, Christ was resurrected three days after he died, and several days later he ascended to heaven on a hillside, promising to return again some day. The hills were vibrant green; the air smelled of sunshine and lemons. Families arrived as early as dawn, staking out the best patches of grass. We arranged our bundles and unpacked the baskets: bottles of wine and water, fruits and cheeses, thick salamis and fresh fava beans. There was angel hair cake, made with pasta and eggs and sugar, flavored with orange water, cooked in a sheet pan and cut into cool, moist squares that stuck to our teeth.

The Easter bread, casatiello, was the best treat of all. Casatiello is rich and heavy, made dense with olive oil and stuffed with pancetta, parmigiano, and salami, and decorated on top with whole eggs. The eggs look cheerful on the surface of the cake; they leave little bits of shell that cling to the bread and have to be scraped off with a fingernail. Eating casatiello is like going on a treasure hunt; each piece has an array of different surprises inside!

I made some casatiello a couple of weeks ago, and it reminded me of those Easter afternoons when we children strung ropes between pine trees to make a swing, and took turns pushing each other, making dares and teasing.The sky opened up wide, wide, and if you faced towards the ocean, you couldn't see any buildings or rooftops or people, just trees and grass and rocks and water. It seemed like it might be possible, in that moment, to let go and fly away.

For all of you who are celebrating the mothers in your life: Happy Mother's Day! Make sure that you're doing the cooking for your mamma on this special day. Just remember - the most important gift you can give is your own presence. Be well... be happy... enjoy the people around you and make the most of every moment! I'll be thinking of you as I'm sipping limoncello on the Amalfi Coast and eating langostinos drenched in garlic butter at a beachfront restaurant in Positano. Ciao!


---
MOTHER'S DAY MENU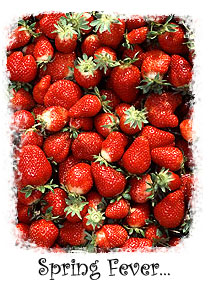 For a lovely early dinner on Mother's Day, try these simple and delicious recipes. Serve with hot, crusty bread and a bottle of good champagne.

Watercress Salad with strawberries & blood oranges

• 1 bunch watercress (substitution option: baby mixed greens)
• 1/2 red onion, sliced into very thin rings
• 1 blood orange, peeled and sliced into wedges
• 1 pint organic strawberries, rinsed and quartered
• Extra Virgin olive oil
• Juice of 1 lemon
• 2 tsp. orange juice
• Freshly cracked black pepper & salt, to taste

Rinse watercress & pat dry; place in a large bowl, being careful not to bruise the leaves. Add the onion, orange and strawberries. Drizzle the mixture with olive oil and lightly toss to coat each piece. Squeeze lemon over the salad and toss again. Repeat with the orange juice. Season to taste with salt and pepper. Serve on a salad plate with a whole strawberry or an orange wedge for garnish.

Creamy Risotto with Fava Beans & Pecorino

• 1 1/2 c. arborio rice
• 2 shallots, peeled & diced
• 1/2 cup dry white wine
• 1/4 cup plus 1 tblsp. olive oil
• 1 tblsp. butter
• 1/2 lb. Fava beans, steamed in the pod and shelled
• 3-4 cups organic chicken broth
• 1/4 cup grated pecorino cheese
• salt & pepper to taste

In a heavy skillet, saute half of the shallots in 1 tblsp. olive oil until soft, then add the rice, stirring constantly until it becomes transparent. Watch closely - do not let the rice does not turn color! Add the wine and keep stirring, then add a ladle of stock and reduce heat. As the stock absorbs into the rice, add another ladleful until the rice is tender and chewy in texture.

Put the shelled fava beans into the blender, reserving 2 tblsp. for garnish. Blend together with 1/8 cup olive oil and 1/4 cup broth until the beans are a lumpy-smooth consistency. Remove and stir into the risotto. Stir in most of the pecorino cheese, reserving a couple of tablespoons. Salt and pepper to taste.

Saute the other half of the shallots in 1 tblsp. butter until golden and crispy around the edges. Spoon the risotto into serving bowls; sprinkle with reserved fava bean halves, crispy shallots and pecorino cheese. Serve immediately.


---
BITS & PIECES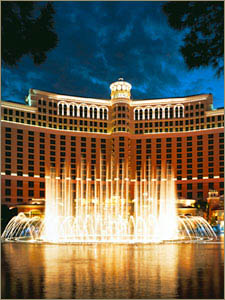 I spent a crazy weekend in Vegas recently. As usual, I stayed at the Bellagio Hotel, which is simply the finest lodging in the entire town. I could hardly wait to get up in the morning to run down to Palio, the gorgeous coffee shop on the ground floor, for an espresso. While I was there, in between frenzied bouts on the casino floor, I tried unsuccessfully to hook up with my good friend Julian Serrano, executive chef at Picasso - he is going to be cooking for the James Beard Foundation Dinner on May 21st at Draeger's in Menlo Park. For more information, check out: Draeger's Market .

I'm working on arranging a chef's dinner at Boboquivari's with some of the Bay Area's finest chefs - Gary Danko, Hubert Keller, Roland Passot, Giovanni & Donna Scala and many others - to announce the launch of a new project I'm working on. I'm collecting a series of recipes from all of my favorite chefs and putting together a book called Duets... to showcase our community of chefs that make up the local food scene and celebrate love. More info will be coming soon. I promise!

When I get back from Italy...I'm going to have all kinds of exciting things to share and other new projects to announce.
---
---
You are receiving this email because you're a fan of food and romance...You think life is a sensual adventure, and you hope to nibble and sip your way to bliss. We hope this helps. If you're hungry for more, head straight to our web site.

Copyright 2003 • Sex and the Kitchen, Inc. • All Rights Reserved.
---