There are so many reasons why Italians are associated with romance...
For one, they know just how to show their passion and care by giving thoughtful presents: Perugina chocolates, Prada sunglasses, a horse head tucked into bed, a dead fish wrapped in newspaper... you never have to guess how an Italian feels about you! But really: the country is like a stage set of unparalleled beauty - ravishing hillsides, stunning skies, sparkling waters - and oh-so-stylish & attractive people! Italians take great pride in handcrafted excellence; from their fashion to their mozzarella, they know how to impart sensuality and enjoyment into every single aspect of life.
---
A LETTER FROM SAN FRANCISCO CHEF ANDREA FRONCILLO
The month of May was a whirlwind. Just the way I like my life to be served up: hot, fast and daring. Before I left for Italy, I spent 24 hours in Vegas with someone special... no, it was not the Pope. We gambled and she won! And then I took to the skies. As the plane circled before it landed, I was reminded of the times when I was on the ground looking up - hoping to get away - and now I've come full circle, longing to get back. Life is funny that way, isn't it?

Italy was just as wonderful as I hoped it would be. I stayed with my mamma and did all the good stuff - eat, sleep and catch up on friends and family and the odd bit of gossip. I was so happy to be there to celebrate Mother's Day with her, and then of course my birthday a few days later. Which was my last one, by the way. From now on, I refuse to have another birthday or grow up any more than I have. I want to stay a bambino forever!

We visited Capri Island and Positano, two of my favorite places on earth, where we ate buffalo mozzarella with huge pieces of fresh basil, sprinkled with sea salt and drizzled with fine olive oil, and washed it down with a chilled glass of campanaro, made in Fiano near Avellino. That's a hard meal to beat! I took my mother to the artisan perfumer around the corner from the Capri Palace who makes amazing perfumes, incense and lemon-scented soap. I also bought some Ermenegildo Zegna linen pants while we were on the island - in shades of tomato and mustard and periwinkle - I'll remember the trip every time I put them on!

I discovered a novelty drink in Napoli: it's called "nicciolato," a concoction of espresso and liquid Nutella. The result is a smooth, creamy chocolate drink with a strong kick. Mmm! The Neapolitans love their food - they just passed a law to ensure the sanctity of their pizza, so you can only imagine what will come next. The day I left, there was a national airline strike pending, so my flight was delayed a day... ahhh... my passionate, tempermental people. I love them!

Since I mentioned Mother's Day last month, it's "Dad's" turn now! No matter what kind of a dad you are (old? young? step? sugardaddy?!), it's time to celebrate! If you want to pamper the "dad" in your life, you're in luck: I've created a couple of recipes just for you. I've been working on a lobster ravioli in a tangy-sweet orange glaze that will knock his socks off. It only tastes complicated!

Summertime is here, and that means festivals & food & friends... I'll be attending the Sonoma Showcase of Wine and Food, like I do every year. I stay in the Honor Mansion in Healdsburg, one of the most charming and romantic secrets in wine country. And then I'll be off to the Gilroy Garlic Festival during the last week of July, to participate in the judging and cooking! If you've never been, you should check it out; it's a blast.

My new attitude towards life and love is "more of everything, please!" - the good and the bad. I promise not to send any of it back... And now, I send you my best wishes and hope that you'll crank up the sizzle in your world this summer. Ciao for now!



---
PHOTO ALBUM
That's me with my mother and sister on the left, and there's the sparkling view of Positano from the beach on the right...

---
MAMMA MIA!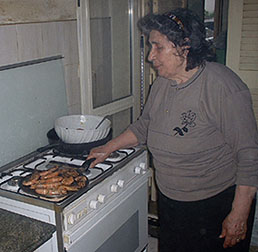 The best part about going home is sitting back and letting mama do the cooking... and boy, does she ever do it right. Here is her recipe for skillet-roasted prawns, and a recipe for lobster ravioli that I think you'll love.

Skillet-Roasted Prawns

• 2 lb. fresh jumbo prawns or langostinos
• 2 tblsp. Olive Oil
• 2 garlic cloves, minced
• 2 tblsp. parsley, chopped
• Zest of 1 (organic) lemon
• Salt & pepper to taste

Clean and de-vein the prawns. In a bowl, mix together all of the ingredients, reserving half of the parsley for garnish. Toss in the prawns; stir to coat. Marinate for 2 hours.

Place an iron skillet over very high heat. Toss the prawns onto the skillet; reduce heat. Cook for about 2 minutes on each side; remove to serving platter. Squeeze lemon over the top; garnish with chopped parsley.

Serve immediately... and don't forget to lick your fingers!

Lobster Ravioli in Sweet-Tart Orange Glaze

Lobster Filling:

• 1 pkg. pot stickers wraps (preferably the round ones)
• 2 1-1/2 lb. Maine Lobsters (or 1-1/4 lbs. lobster meat)
• 1/8 cup finely chopped cilantro
• 1/4 cup chopped green onions
• 1/2 cup shredded fontina cheese
• 2 garlic cloves, finely minced
• 1 cup chopped spinach(optional)
• 1/4 cup cream

Steam lobsters and shell. Mix lobster meat with the rest of the ingredients. Set aside.

Tangy Citrus Glaze

• 1/2 cup orange juice
• 2 tblsp. brown sugar
• pinch salt
• 1 tsp. red chili flakes
• 1 tsp. Tabasco Sauce
• 1/8 cup finely chopped cilantro
• Zest of one lemon & one orange
• Juice of one lemon & one orange


Combine ingredients and heat in a heavy-bottomed skillet until the volume is reduced to half.

Lay one pot sticker round on a floured surface and put a spoonful of the lobster filling in the middle; lay another round over the top and pinch around the edges to seal, using a few drops of water if necessary.

Fry in 1/2 inch of olive oil until golden brown, about 3 minutes. Place on serving plate and drizzle with orange glaze. Garnish with cilantro sprigs.




---
Summertime is Here!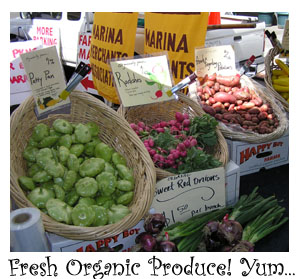 A new Farmer's Market opened up on Chestnut Street in San Francisco recently, and I kicked off opening day with an extended cooking demonstration. It was great fun - I made a lot of food, and the audience was happy because they got lots of bites! Support your local farmer's markets if you can - they're an amazing source of fresh, delicious food. I recommend taking a date!

This coming weekend, I'll be on stage at the North Beach Festival in legendary Washington Park. It's a non-stop party to mark the kickoff of summer. If you're in the area, come on down - we'll be dancing and carrying on like crazy fools!

Elsewhere in the City, the Purple Onion continues to be my favorite place to relax and unwind. I like to have a bite to eat upstairs at Cafe Macaroni and then head downstairs to the club. The atmosphere is charming & romantic, and of course I always end up on the dance floor. Bravo, Mario. And thank you, Steph, for the great barbeque and your hospitality last Sunday. Who loves you, baby?!

Can't wait to get back to Vegas... I'm waiting for my partner in crime, Giovanni Scala to return from Italy so that we can go back and play once again!



---
Planning a trip to Capri Island?

Caesar Augustus discovered it first; hundreds of years later, Jackie O. vacationed here and caused a frenzy for the island's handmade sandals. Capri is a favorite getaway for royalty and writers and artists, who all enjoy its rustic charm, breathtaking beauty and historical ambience.

If you're lucky enough to have a trip to Capri Island in your future, be sure to check out our guide to get you started on places to stay and things to do. Though we think it might be impossible to have a bad time on the island, no matter what...
---
You are receiving this email because you're a fan of food and romance...You think life is a sensual adventure, and you hope to nibble and sip your way to bliss. We hope this helps. If you're hungry for more, head straight to our web site.

Copyright 2003 • Sex and the Kitchen, Inc. • All Rights Reserved.
---