Merry Happy Joy to the World!
We hope you're finding time to enjoy the holidays amid all the hustle and bustle. Here's a radical idea: stay in one night. Get into your jammies and enjoy a quiet evening with the person you love... after all, isn't that what this season is truly about?

---
A LETTER FROM SAN FRANCISCO CHEF ANDREA FRONCILLO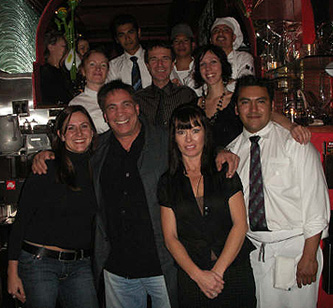 Happy Holidays, everyone!

2006 has come to an end - and was it me, or was this the shortest year on record? I felt like I was running all year long - from book signings for The Stinking Rose Restaurant Cookbook to meetings for the next cookbook. Yes, we did finish the manuscript on time, and there will be another cookbook out next year! In between, I was a judge at the Gilroy Garlic Festival, and spent time in LA filming for Rachael Ray's show, and hung out with Martin Yan of Yan Can Cook. Not to mention all the time I spent at the restaurants, including lots of time at the newest one, The Franciscan on Pier 43 1/2. That's me on the left with the crew at Boboquivari's - what a great bunch.

Oh, and I was also planning a wedding! Could life get any crazier? (Hint: the answer had better be "no.")

But in just a couple of weeks, 2006 will be a memory, although I'll probably still be writing "2006" on my checks for the first few weeks of 2007.

We all have plans for next year, but none of us really knows for sure what will happen.The only thing we can do is to promise ourselves that no matter what, we will pause now and then to truly enjoy those special moments that come our way. After all, life is way too short to go without a little spice or sin...

Next time you hear from me, I'll be just like you - a year older, a bit wiser, and (of course) with more stuff to share.

The reason I share what I do is to encourage you all to go our there and live it up! Go to exotic places - Do exciting things - Get passionate. There might be more days ahead, but today - the day you're living in at this very moment - is the most precious of them all. Once it is gone, it will never return. So make it count! Then you'll be able to recall the special memories again and again in the years to come.

In celebration of this holiday season, I'd like to leave you with a couple of recipes that have been around for a very long time.... nothing fancy, nothing hip.... just delicious, old-fashioned food that needs to be revisited every now and then. I happen to think that strawberries and lobster and silky warm soup are very sensual; but why don't you try them, and make your own decision?

Food like this recalls the misty "old days" when life seemed easier and more romantic. Gentlemen still opened the doors for Dames, and showed up for a date with a flower. When they shared their first kiss, they both trembled and shook with expectation, and both hearts skipped a beat....

Well, I can dream, can't I? And so can you!

Happy Holidays and Happy New Year!

XOXO,

Andrea
---
Potato Soup en Croute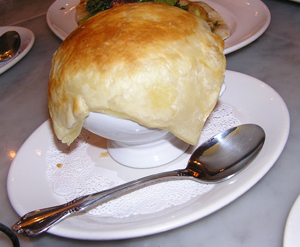 Potato Soup en Croute

This is a recipe from The Stinking Rose Restaurant Cookbook, and one of my personal favorites. It makes a delicious, creamy soup with a hint of garlic flavor. The buttery phyllo crust makes it extra-special.

- 2 tablespoons olive oil
- 2 cups diced white or yellow onions
- 5 garlic cloves, minced
- 4 cups chicken broth
- 1 pound russet or Yukon Gold potatoes, peeled and diced (about 2 cups)
- 1/2 cup heavy cream
- Salt and freshly ground pepper
- 1 package thawed frozen phyllo dough
- 1 tablespoon unsalted butter, melted
- 3 tablespoons minced fresh chives

Preheat the oven to 350°F. Heat the olive oil in a skillet over medium-low heat. Add the onions and sauté, stirring frequently, for about 5 minutes, or translucent. Add the garlic and sauté for 2 to 3 more minutes, or until the garlic becomes translucent around the edges and the onions are golden brown.

Gradually pour in the chicken broth, 1 cup at a time, stirring gently to incorporate. Add diced potatoes. Increase heat to high and bring the mixture to a boil. When large bubbles appear on the surface, decrease heat to low and place lid on the pan.

Simmer for 30 to 40 minutes, or until the potatoes become soft and mash easily with the back of a wooden spoon. Remove from heat. Cool for about 5 minutes, then pour into a blender and blend on medium speed until a thick, creamy consistency is obtained. Pour the mixture back into the pan and slowly add the cream, stirring to combine thoroughly. The soup should be thick and velvety. Season with salt and pepper.

Arrange four 4-inch ceramic soup terrines or ramekins in a row and divide the soup among them. Cut the defrosted puff pastry into four 5-inch squares. With a pastry brush, apply some of the melted butter to the rim of each of the terrines. Place a puff pasty square over the top of each terrine, pressing the dough around the edges with your fingertips to seal the dough around the sides of the dish. Brush melted butter over the top of the pastry crust and puncture 2-3 times with a fork.

Place the terrines on a baking sheet and bake for 12 minutes, or until the dough puffs and turns a light golden brown. Remove from the oven and sprinkle with the chives. Serve hot.

Makes 4.
---
Winter Salad of Arugula, Strawberries & Blood Oranges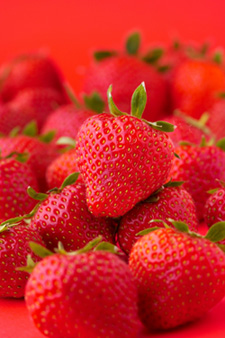 How can a winter salad contain strawberries? Well, if you live in California, you can still get strawberries at the farmer's market! If you live in a colder climate, substitute sliced pears or red-skinned apples.

Winter Salad of Arugula, Strawberries & Blood Oranges

- 1/2 cup sliced strawberries
- 1 blood orange, peeled and sliced into segments
- 1/4 cup shaved fennel
- 2 cups baby arugula
- 1/4 cup thinly sliced sweet onions (Maui or Vidalia are good choices)
- 2 tablespoons extra virgin olive oil
- 2 tablespoons meyer lemon juice (or substitute 1 tablespoon lemon juice plus 1 tablespoon orange juice)
- 2 tablespoons chopped mint

In a salad bowl, gently toss together the strawberries, orange slices, fennel, arugula, and onions.

In a separate bowl, whisk together the olive oil and lemon juice. Season to taste with salt and pepper.

Toss the salad with the dressing and divide among salad plates. Sprinkle with chopped mint.

Serves 2.
---
Lobster Thermidor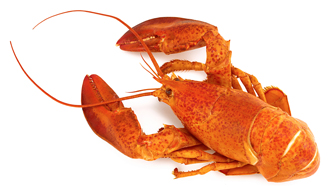 This is a classic dish that many fine restaurants used to serve. When I worked at Ernie's in San Francisco, this was one of our most-requested dishes. It went out of vogue for a while, but people are starting to talk about it again... rich and decadent, this is a lovely dish to re-discover during the holidays. If you were in New Orleans, you'd find a spicy rendition of this dish, but I'm sticking to what I know - butter, cream, spinach, and lobster. Perfect.

- 2 2-pound spiny lobsters
- 2 tablespoons unsalted butter
- 1 tablespoon minced shallots
- 1 shot dry vermouth or brandy
- 1 tablespoon Dijon-style mustard
- 1 cup shredded Fontina cheese
- 1 teaspoon diced thyme
- Salt and freshly ground black pepper
- 2 cups fresh spinach leaves, rinsed
- 2 tablespoons butter
- 1 garlic clove, finely minced
- 2 tablespoons heavy cream
- 1/4 teaspoon grated nutmeg
- 1 teaspoon salt
- 1 tablespoon lemon juice
- 2 tablespoons grated Parmigiano-Reggiano cheese

In a large pot of boiling water, boil the lobsters whole for about 7 minutes. Remove from water and cool for about 30 minutes. When the lobsters are completely cool, slice them down the middle lengthwise. Be careful as you make the cut; you'll be using the shell as the "dish" later, so slice neatly and cleanly. Remove the meat from the bottom half of the body; cut the meat into large chunks and set aside. Clean the head part; rinse the shells and set aside.

Melt the butter in a skillet over medium-low heat. Add the shallots and saute for 2-3 minutes, or until translucent. Add the dry vermouth, mustard, grated cheese and thyme, stirring with a wooden spoon to prevent the mixture from sticking to the bottom of the pan. Season with salt and pepper. When the mixture is fully melted and creamy, add the lobster. Remove from heat.

In a pan of boiling water, blanch the spinach by submerging it into the water for about 2 minutes. Remove from heat and drain. Chop the spinach into fine ribbons. Melt the butter in a skillet over medium-low heat. Add the spinach and minced garlic and saute for 2-3 minutes, or until the spinach begins to wilt. Add the cream, nutmeg, and lemon juice. Season with salt. After one minute, remove from heat.

Lay the cleaned lobster shells in a baking dish. Divide the spinach between the shells to form a bottom layer. Spoon the lobster cheese sauce over the top. Sprinkle with grated Parmigiano. Bake for 15 minutes in a pre-heated 350 degree oven. Turn heat to broil and broil for 3-5 minutes, or until the top of the cheese is golden brown and crispy around the edges. Remove from oven.

Serve with hot buttered noodles or steamed rice.

Serves 4.

---
Pineapple Delight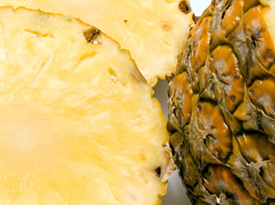 People don't eat pineapple like they used to! When you heat thick pineapple slices in a pan with a bit of butter, the sugary juices caramelize to create something truly special.

Pineapple Delight

- 1 pineapple
- 2 tablespoons butter
- 2 tablespoons golden brown sugar
- 1/4 cup pomegranate seeds
- 1 pint champagne sorbet (or if you're in the mood for creamy, use the best vanilla ice cream you can find)
- 2 tablespoons bittersweet chocolate shavings or chips

With a sharp knife, cut the leafy top off of the pineapple and slice the main body into 1-inch thick rings. With a paring knife, carefully remove the tough outer skin and inner core.

Melt the butter in a skillet over medium heat. Stir in the sugar. Place the pineapple rings in the skillet in a single layer and cook for 2-3 minutes, turning once, until the juices begin to caramelize into a golden brown color.

Place one pineapple ring on each serving plate. Place a scoop of sorbet into the middle of the ring; sprinkle with pomegranate seeds. Drizzle any remaining buttery sauce from the pan over the top. Finish with chocolate shavings.

Serves 4-6.
---
You are receiving this email because you're a fan of food and romance...You think life is a sensual adventure, and you hope to nibble and sip your way to bliss. We hope this helps. If you're hungry for more, head straight to our web site.

Copyright 2006 : Sex and the Kitchen, Inc. : All Rights Reserved.
---