As promised, here's Part Two of the holiday menu.
This is the last newsletter of 2004! I truly hope that Love Notes has been helpful and has inspired you to cook at least a few times over the past year... I don't know most of you, but I am wishing you a very merry Christmas from the bottom of my heart, where ever in the world you are, and whomever you get to spend it with. Thank you so much for reading; I always love to hear from you, so don't forget to send me an e-mail whenever you have a question or comment. And now: I'm stretching my arms out as far as they go to give all of you a hug and a kiss. See you next year!

Buone Feste... Buon Anno!

- Andrea
---
MY HOLIDAY ENTERTAINING NOTES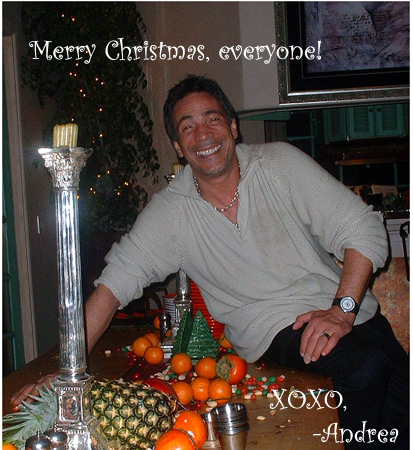 For special holiday dinners, I like to make things festive and fun. Here are a few of my personal rituals for making entertaining special:

- Put a festive runner along the table and toss a variety of nuts in the shell along the length of it; walnuts, almonds and brazil nuts all look beautiful spread out on a table with a silver cracker somewhere in sight. Add a few tangerines (with stems & leaves attached), persimmons and fresh cranberries, and the table will look good enough to eat!

- While you're cooking, make a warm beverage to sip on as you move around the kitchen... I like a cup of hot chocolate or espresso with a splash of Bailey's.

- Put on a silly old movie or CD while you're cooking; Frankenstein Junior is always a riot... or enjoy a classic like It's a Wonderful Life.

-About a half hour before dinner, burn a stick of incense and light the candles and the fireplace (if you're lucky enough to have one). Be sure to trim candle wicks to 1/4" so they won't drip and smoke!

- For a glamorous touch, I like to put a bottle of champagne on ice and place a bowl of fresh strawberries beside it... starts the mood off right!

-Don't forget that the most important thing you can do is smile. A person who is "in the mood" is the best kind of person to share the season with...
---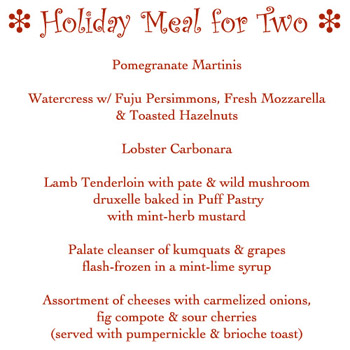 ---
WHAT IF MORE THAN TWO ARE COMING TO DINNER?
If you're cooking for a group, be sure to check out the Recipe Database for ideas. You might try cooking up a batch of Cioppino with all the fish that is currently in season and serving it with a big bowl of hot pasta or polenta; or you might want to toss a couple pounds of mussels on a hot skillet and roast a crab for a seafood feast. Whatever you do, have fun!
---
LAMB TENDERLOIN in PUFF PASTRY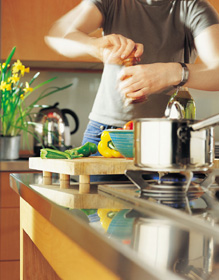 This recipe covers the tenderloin with the rich, earthy notes of pate and mushrooms and surrounds it with a buttery wrap of puff pastry for a dish that is simple yet magnificent.

Lamb Tenderloin in Puff Pastry

• 8 ounce lamb tenderloin
• 4 ounces assorted mushrooms (crimini & shitake make a good combo)
• 3 ounces pork or duck pate
• 1 tablespoon chopped mint leaves
• 3 tablespoons herb mustard (or stoneground, if the other is not available)
• 2 sheets puff pastry dough (frozen)
• 1 egg white
• 1 handful mixed baby greens
• 1 tablespoon lemon-infused olive oil (optional)

Preheat oven to 375 degrees (Farenheit).

Clean and chop the mushrooms. Place into a food processor and blend for 60 seconds, until the mushrooms are blended into a chunky paste. In a small mixing bowl, combine the pate with the mushrooms until chunky-smooth. In a separate bowl, mix the mustard together with the chopped mint.

Place a cast iron skillet over medium-high heat and sear the tenderloin for 2 minutes on each side, until the meat has changed color on the outer edge. Remove the tenderloin to a plate and paste the top and sides with the mint-mustard, using a pastry brush or the back of a spoon.

Next, spread the mushroom-pate mixture evenly over the top of the tenderloin. Lay the tenderloin on a clean, cool surface and place the pastry dough over the top; fold the ends of the dough neatly underneath the bottom edge of the meat. Using a smooth spatula, carefully lift the wrapped meat to a lightly oiled baking dish and place in the middle.

In a small bowl, whisk the egg white together with 1 tablespoon of water to form an egg wash; brush over the top of the pastry dough. Place in the oven for 20 minutes, or until the dough is golden brown and shiny on top. Remove and let rest for 5 minutes; slice through the middle, then slice in half again.

Place mixed greens on serving plate and arrange the lamb on top. If desired, dot with a few drops of lemon-infused olive oil. Serve immediately.
---
KUMQUATS & GREEN GRAPES FROZEN IN MINT-LIME SYRUP

After polishing off lobster carbonara and lamb tenderloin, your palate needs something cool and refreshing! This colorful, tangy-sweet fruit combination is just the thing to get you in the mood for the cheese course.

• 1 dozen kumquats (preferably organic), rinsed and dried
• 1/2 pound organic green grapes, rinsed and dried
• 1 lime
• 3 teaspoons sugar
• Several sprigs of mint

In a heavy pint glass, muddle the mint with the sugar; cut the lime in half and squeeze each half into the glass with a citrus squeezer.

Place the grapes and kumquats into a freezer-safe container. Pour the lime-mint syrup over the top and toss several times to coat the fruit completely. Cover the bowl and place in the freezer for 30 minutes to 2 hours, or until the fruit is partially or completely frozen.

Remove the fruit from the freezer 5 minutes before serving and place into a small, decorative bowl. Try feeding them to each other!
---
A DECADENT CHEESE COURSE for TWO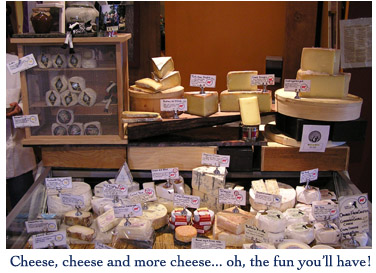 The cheese course is so much fun that sometimes I make a light dinner of it with a bottle of wine and some fruit. Have fun at your local cheese counter; ask lots of questions; sample anything that sounds good; don't be afraid to experiment!

ASSEMBLING THE CHEESE PLATTER: You'll want at least three different cheeses for this course; depending on your mood, you might splurge and go for five. I recommend that you arrange them in order of strength; begin tasting with the most mild cheese, and slowly work your way through to the strongest. Here are a few of my favorites to get you started; you should buy 3-4 ounce wedges of each cheese you select.

• A soft, mild cheese such as a triple-cream Brie (St. Andre is our favorite) or Camembert
• A soft, semi-strong cheese such as Tallegio or Chevre with herbs
• A semi-hard mild cheese, such as an Asiago, Swiss, Havarti, or the super-yummy English Cotswald with chives.
• A hard, strong cheese, such as a cave-aged Gruyere, Parmigiano-Reggiano or Aged Farmhouse Cheddar.
• A blue cheese. Stilton or Gorgonzola are both good choices; if you've never experimented with blue, you'll be surprised how much variation there is; from the pungent Roaring Forties Blue to the creamy-tangy Point Reyes Blue, there are lots to choose from.

To Accompany the Cheese: A range of sweet and salty accompaniments is advised... we like preserved sour-tart cherries, salty-sharp cornichons and a couple of homemade "marmalades" of onions and figs that make the flavors of the cheese really pop!

Carmelized Onions:

• 1 medium onion, peeled and chopped into thin rings
• 2 tablespoons olive oil
• Salt and freshly cracked black pepper
• 2 tablespoons unsalted butter
• 1/2 cup red wine

In a skillet, warm the olive oil over medium heat and add the onions, stirring occasionally until onions become translucent. Season with salt and pepper. Add the butter; a moment or two later, add the wine; as it begins to evaporate, reduce heat. Allow the onions to slowly become soft and carmelized, about 20-30 minutes. Remove from heat and place into a small serving bowl. Refrigerate; remove just before serving.


Fig Compote:

- 4-5 figs, roughly chopped
- 2 tablespoons butter
- 1/4 cup port
- 1 blood orange, cut in half
- 1/2 teaspoon cinnamon

In a small skillet, heat the butter over medium heat; add the figs. Stir every minute or so, allowing the figs to soften and bubble. Add the port; stir as the alcohol evaporates. Squeeze the juice from the blood orange halves into the skillet. Add the cinnamon. Reduce heat; allow the mixture to slowly reduce and thicken, about 20-25 minutes. Remove from heat and place in a small bowl; refrigerate until serving.

Pumpernickle & Brioche Toast:

- 1 small loaf freshly baked pumpernickle bread
- 2 brioche

Slice the pumpernickle bread into 1/4" slices. Using a serrated knife, cut the brioche into slices. Lightly toast both breads just before the cheese course; place into a cloth-covered basket next to the cheese platter for serving.

If you can't find pumpernickle or fresh brioche, try a loaf of good white bread;cut into 1/4" slices and press a juice glass into the middle to form rounds. Toast the rounds and serve.

SERVING IDEAS

I like to sprinkle the cheese platter with shelled nuts; pistachios and toasted hazlenuts are a couple of my favorites. Almonds and walnuts work well, too. The addition of some dried fruit - cranberries, cherries or apricots - makes another delicious and colorful addition.


---
---
You are receiving this email because you're a fan of food and romance...You think life is a sensual adventure, and you hope to nibble and sip your way to bliss. We hope this helps. If you're hungry for more, head straight to our web site.

Copyright 2004 • Sex and the Kitchen, Inc. • All Rights Reserved.
---