If you're tired of teary holiday stories, we offer you:
A tale about Luigi, the great Italian lover. One day, Luigi takes his beautiful neighbor Maria on a picnic. As they settle onto the blanket with the picnic basket, Maria leans over to Lugi. "Kiss me," she demands. Luigi leans back and grabs a bottle of Chianti and splashes it on Maria's lips. "What are you doing?" she asks. "I am Luigi!" he grins. "I like my red meat with red wine!" And he plants an enormous, heart-pounding kiss on Maria's rosy lips.

Later, as their fingers twine together over the antipasti plate, Maria nestles closer to Luigi. "Kiss me lower," she coos. Luigi tears her blouse open and douses her chest with Pinot Grigio. "What did you do that for?" Maria gasps. "I am Luigi!" he says. "I like to enjoy white meat with white wine!"

When the picnic is nearly finished, and the two are licking tiramisu off of each others fingers, Maria whispers: "Kiss me even lower!" Luigi rips off her underwear and pours cognac in her lap. In a flash, he strikes a match and lights the congnac on fire. Maria begins to shriek. "What the hell are you doing?" she screams.

"I am Luigi!" he roars. "When I go down, I go down in flames!"
---
A LETTER FROM SAN FRANCISCO CHEF ANDREA FRONCILLO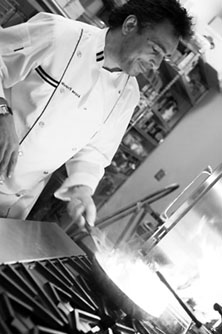 For the past few weeks, I've been in the process of moving into my new home. Moving is never fun, but what can I say? I absolutely love the place. The space is bright and airy, with beautiful views from every angle. I feel like I'm walking in to a penthouse suite every time I step inside. But the thing I'm most happy about is that I have someone special to share it with... and yes, I can assure you that sex and romance DO go together, and in the most wonderful way. Not to mention the food, which makes it that much better!

Whenever I talk about my new place and all the good things that are happening in my life, I have to pinch myself to make sure it's real. For so many years, I dreaded the holiday season; when I was growing up in Napoli, the winter months were frigidly cold and our apartment had no heat. We used a round metal container called a braciere to warm up the rooms of our cramped little aparment; it had a hollow chamber inside which we filled with whatever we could find - old papers, branches from shrubs, wooden panels from discarded wine crates. The heat didn't travel very far, so we placed it in the center of the floor, and rubbed our hands over it until the fuel burned up and turned cold.

November and December weren't exactly a season of fun and games while I was growing up; however, I feel extra lucky today because after so many years I can now look back and appreciate how far I've come. And it is real far... Every fable ends differently, doesn't it?

On Thanksgiving Day this year, Tracy (she's the special person I mentioned above) and I spent a wonderful evening at the home of Mario and Stephanie Ascione, two of my dearest friends. Stephanie made a turkey and put on an amazing spread; I brought a huge slab of prime rib, cooked to perfect juicy tenderness. I stopped by Rulli on Chestnut Street the night before and picked up a dessert called "mignonette," which is a collection of miniature Italian pastries. The meal was the kind you see in fancy magazines - food on every inch of the table, wine in every glass, people telling jokes and stories. Have I mentioned how lucky I feel?! Don't you dare pinch me!

Now I have something for you: I've created a two-part menu for an incredibly romantic holiday meal. Below is Part One, with three recipes; Part Two will have the rest. Let me tell you: making this dinner will bring you closer to the person you prepare it with. Each dish is special and indulgent to make the meal a true celebration. I recommend that one of you doesn't make it for the other one, but that you make it together. I know, I'm always saying that. But do you really do it? Have you ever taken my advice and actually made a date of going to the market together? What are you waiting for? A kick in the butt?! I do have a big foot...

So go on! Really do it this time. No matter what else you have going on this month, it couldn't be as good as this. I absolutely insist that you give yourself the best gift of all: one day - or half a day - that you set aside just for you and the person you enjoy being with. Spend a fun hour in the market finding all of your ingredients, and then go back home... slip into something comfortable. Turn off the phone and TV, put on your favorite CD's, open up a bottle of wine... hey, no complaints about the food or the service!! You just may find yourself creating a memory that you will look back on for months to come. Or it may motivate you to cook together again soon; it's addicting, you know!

Look for Part Two within the next few days! These three recipes will get your shopping list started, and the rest will soon follow. Put a date on the calendar...

Here's hoping you get to go down in flames this month! Luigi recommends it...and so does Maria! Ciao for now!

---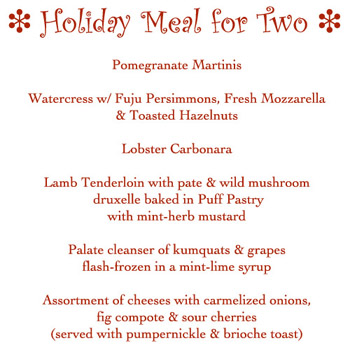 ---
POMEGRANATE MARTINIS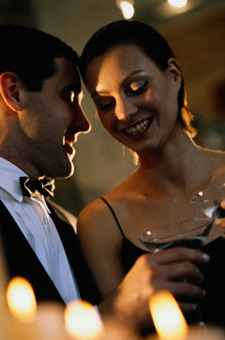 Swan, the head bartender at Bobo's, recently created this holiday cocktail, and everyone loves it. A frosty martini glass filled with this ruby-red cocoction is the perfect way to begin your evening.

Pomegranate Martinis

• 6 ounces Belvedere vodka
• 3 ounces Cointreau
• 4 rounded tablespoons pomegranate seeds
• 1 lime, cut in half
• 4 teaspoons superfine sugar, plus enough to coat the rims
• 2 round orange slices, cut in half
• 1/4 cup POM Wonderful (pomegranate juice)

Chill two martini glasses and sugar the rims. Place one rounded tablespoon of pomegranate seeds into the bottom of each glass.

In the bottom of a martini shaker, muddle one rounded tablespoon of pomegranate seeds with one half orange slice. Fill shaker with ice. Add 3 ounces Belvedere and 1.5 ounces Cointreau. Add a splash of pomegranate juice.

With a citrus squeezer, squeeze the juice from one lime half into the shaker, then drop the lime into the shaker. Add 2 teaspoons of sugar. Shake vigorously for approximately 60-90 seconds. Strain into a martini glass.

Repeat for the second glass. Garnish each martini with one of the remaning orange halves.

Here's to a memorable meal! Cheers...

---
WATERCRESS SALAD w/ FUJU PERSIMMONS & FRESH MOZZARELLA

'Tis the season for Fuju persimmons - the round, flat ones that look as if someone just stepped on them. The skin is tangerine in color and the flesh is slightly soft, with the aroma of custard and the delicate, sensual flavor of cinnamon and apricots. They'll disappear before you know it, so take advantage of their availability and enjoy them in this gorgeous, delectable salad.

• 1 bunch watercress, washed, with the roots clipped away
• 1/2 lemon
• Organic extra virgin olive oil
• Salt & freshly cracked black pepper
• 2 Fuju persimmons, stems removed & scrubbed clean
• 1 round (6 ounces) fresh whole milk mozzarella
• 3 tablespoons roasted hazelnuts, coarsely chopped
• 1 cinnamon stick

Place the watercress in a bowl and toss with 2 tablespoons of olive oil. Squeeze the lemon half over the leaves; toss again. Season with salt and pepper.

Slice the persimmons into thin rounds - just as you would slice a ripe tomato. Cut or tear the mozzarella into irregular chunks. Heap the watercress onto a salad and arrange the persimmon & mozzarella on top. Drizzle a few drops of olive oil onto the visible pieces of mozzarella. Sprinkle with roasted hazelnuts. Grate cinnamon over the top until the fruit and cheese are lightly dusted.

Serve with warm bread and more olive oil for dipping.

Eat off of one plate, alternating bites... enjoy the softness of the fruit and cheese contrasted with the crunch of the nuts. Mmm...

---
LOBSTER CARBONARA w/ FRESH PAPARDELLE NOODLES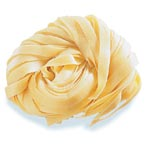 Classic carbonara is a wonderful indulgence when it is made with fresh ingredients and served piping hot. I've made this one even more delicious with the addition of lobster and fresh papardelle noodles.

• 8 ounces fresh papardelle noodles
• 3 slices pancetta, chopped
• 1/2 cup heavy cream
• 1/8 cup grated Parmigiano-Reggiano cheese
• Salt and freshly cracked black pepper
• 1/2 teaspoon freshly shaved nutmeg
• 6 oz lobster meat* (see below)
• 1 egg
• 1 tablespoon chopped chevril or Italian parsley

Fill a heavy saucepan 2/3 full of water; add a teaspoon of salt and bring to a boil ove high heat. Add the papardelle noodles and cook for 4 to 5 minutes or until al dente. Drain.

In a deep skillet, brown the pancetta over medium heat until it becomes crispy around the edges, about 3 minutes. Slowly add the cream. Add the papardelle noodles and toss to coat. Immediately add the parmigiano and nutmeg; season with salt and pepper. Crack the egg and toss the noodles with tongs to distribute evenly.

Remove from heat and stir in the lobster meat. Place the noodles in a deep bowl and sprinkle with chopped chevril. Stick your forks in and go to it!

* Buy lobster meat at the meat counter of your local market, or do it the old-fashioned way: Get a 1 lb. New England lobster and boil for 6 to 8 minutes; cool; crack the shell to remove the meat and chop into bite-sized pieces. A 10-ounce Australian lobster tail can also be used; prepare it the same way as above.


---
You are receiving this email because you're a fan of food and romance...You think life is a sensual adventure, and you hope to nibble and sip your way to bliss. We hope this helps. If you're hungry for more, head straight to our web site.

Copyright 2004 • Sex and the Kitchen, Inc. • All Rights Reserved.
---