The leaves are falling, the temperatures are dropping, and somewhere, someone is climbing into bed with someone they adore. We hope you caught a glimpse of the total eclipse of the sun that occurred on Wednesday the 27th... as usual, nature puts on a spectacular show. Did you pull out your French maid & Nurse Nancy costumes for Halloween? Here in San Francisco, the wildest and craziest Halloween parade is just about to begin as we get ready to send this newsletter out... the Castro district will soon be packed with throngs of the naughtiest and most outrageously costumed people that you'll find anywhere in the world. We hope you made the most of the occasion, wherever you are!
---
A LETTER FROM SAN FRANCISCO CHEF ANDREA FRONCILLO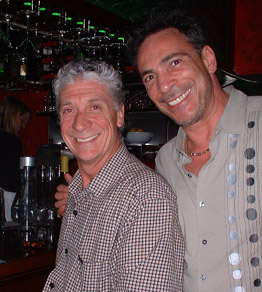 The picture on the left is me with my good friend Sergio Giusti, the chef extraordinare at Firenze by Night in North Beach. He makes the best gnocci in San Francisco... some day I'll convince him share his recipe with me, and then I'll pass it on to you! Sergio and I worked together on cruise ships in the mid 70's, and we have lots of fond memories of those days. Here's to friendship and continued success for Sergio... may your gnocchi always taste like little bites of heaven!

My big news this month is that I've finally taken the plunge into San Francisco real estate with the purchase of a condo on the rooked stretch of Lombard Street. The "crookedest street in the world" is depicted on postcards and calendars everywhere, and is one of the most photographed spots in America! In the years ahead, be sure to look twice when you see a picture of Lombard street - you may be able to spot me, waving from my deck!

The condo is just a few blocks from Bobo's, and I'll be moving in slowly, taking the time to find the furnishings and extras that will make it feel like home. I'm excited to be there in time for the holidays! Dinner party, anyone?

Speaking of entertaining... this month began with Columbus Day, which is always a big weekend for me. North Beach, the Italian district of San Francisco, puts on quite the show each Columbus Day, and this year was no exception. The Stinking Rose set up a booth at the street fair, and people got to sample our infamous 40-clove garlic chicken and sizzling mussels. On Saturday morning, I took the stage at the Cal-Italia Festival, and cooked up a storm for the audience, explaining how to cook for large groups without stress and headache!

The very next day, I had to follow my own advice, as I was cooking for Jerry Dal Bozzo's huge house party on Russian Hill following the Columbus Day parade. The parade was fantastic, though the Blue Angels weren't able to make their usual appearance, and their trademark roar was greatly missed. For the party, I made enchiladas with Dungeness crab and chicken, huge Ceasar salads and the ever-popular "Foggy Wharf" salad, made with mixed greens tossed in a ginger-soy dressing with crispy wonton strips and black sesame seeds, all topped with crab. I also made one of my favorite standbys, pastierra cake. This time I made a savory version in addition to the sweet one; I substituted salt and pepper for the sugar, reduced the amount of milk in the recipe and added a mixture of fontina and parmesan cheeses, along with onions, celery and tomatoes. The recipe for the original is in the database on the web site, so check it out!

If you're planning to feed large groups over the holidays, don't foget these simple things: prepare everything ahead and heat it up as needed. Don't make anything that requires a fussy garnish. Anything that can be cut into pieces for easy eating is a huge plus.

With that in mind, I've included two recipes that taste like fall for you to prepare in the month ahead. They'll make your kitchen smell divine! As the holidays approach, be sure to take time out to relax and enjoy the season... next month, I'll be sending ideas for what to make on those special holiday occasions.

The wine list I've been working on for Bobo's is finally finished! It went to print last week, and I have to say that it is a damn good list. There were a few snags towards the end, as I was trying to get several highly allocated wines. I was able to obtain several, and I think holiday diners will be happy indeed.

If you're local to San Francisco, be sure to check out the recent edition of the Marina Times/Northside newspaper, in which I'm interviewed about the best way to cook with crab. Crab season officially kicks off on November 18th, and you know how much I love to cook with it... I'll be creating some new crab recipes to share with you soon!

Get out and kick around some leaves! Ciao for now!

---
BUTTERNUT SQUASH SOUP w/ TOASTED SQUASH SEEDS
This soup is a deep golden color, full of the flavors of fall and perfect for warming you up on one of these misty mornings. While you're roasting the squash, toss a few beets in the oven as well to use in a gorgeous and delicous beet salad.

Butternut Squash Soup w/ toasted pumpkin seeds

• 1 medium Butternut squash
• 1 medium yellow onion
• 3 to 4 garlic cloves
• 2 tablespoons butter
• 1 tablespoon golden brown sugar
• 2 cups vegetable or chicken stock
• 1 teaspoon dried sage
• 1 tablespoon olive oil
• Salt and freshly cracked black pepper
• 1/2 cup coconut milk
• pinch horseradish powder (optional)
• powdered cinnamon (for garnish)

Cut the squash in half and scoop out the seeds, reserving them in a separate bowl. Cut 1 tablespoon of butter into small pieces and sprinkle inside the squash cavity; sprinkle lightly with brown sugar. Place in a baking dish; into the same dish, place the onion and garlic cloves. Roast all of the vegetables in the oven for 45 minutes to 1 hour, or until the squash is soft when poked with a fork.

Remove from the oven and cool for several minutes; scoop the soft squash out of the skin cavity and place into a bowl. Dice the onion and mash the garlic; put into the same bowl with the squash. In a heavy saucepan, heat stock over medium heat until warm; stir in the roasted vegetables.

Keep the oven heated to prepare the squash seeds (see below).

Stir to blend the vegetables into the broth until it becomes creamy and thick. Remove from heat; cool for a few moments, then pour into a blender on medium until the mixture is thick and fully blended. If desired, run the mixture through a sieve for a silky, velvety texture. Pour the soup back into the saucepan and place over medium heat. When the soup becomes warm, stir in 2 tablespoons of butter; melt. Add the sage. Stir in the coconut milk; season with salt and pepper. If desired, add the horseradish powder for a subtle kick.

To prepare the squash seeds, rinse them in a colander under running water, removing any remaining squash strings. Lay the seeds out on a baking dish. Drizzle with olive oil; sprinkle with salt. Roast for 20-25 minutes; turn the seeds with a wooden spoon several times while they are baking to toast them thoroughly on all sides.

Ladle the soup into bowls; sprinkle with toasted seeds and dust with cinnamon. Serve immediately - preferably to someone you like looking at across the table...


---
BARNYARD TALES
One recent afternoon, I was relaxing with a few friends of mine, enjoying a glass of wine and shooting the breeze. One of the guys happened to mention that his girlfriend was pressuring him to pop the big question. He was lamenting the fact that women always seem to want men to make a commitment.

"But you know what they say!" he grinned. "Why buy the cow when you can get the milk for free?"

I shook my head. "Sergio," I said, "You have some learning to do. Haven't you heard what the women say? 'Why should we buy a whole pig when all we want is the sausage?'" I leaned forward. "So unless your girlfriend is a butcher, I think you're making up stories!"


---
ROASTED BEET SALAD with RICOTTA SALATA & PISTACHIOS

• 4-6 medium sized beets
• Olive oil
• Salt and freshly cracked black pepper
• 4 ounces ricotta salata (freshly made ricotta cheese)
• 2 tablespoons chopped basil
• 1/4 cup dry-roasted pistachio nuts, coarsely chopped
• juice of 1/2 lemon

Preheat oven to 350 degrees. Rinse the beets and pat dry; place in a baking dish. Pour 1/4 inch of water into the pan along with tablespoons of vinegar. Bake for 30-45 minutes, turning once or twice, until the skins become soft enough that they tear upon pressure from your fingers. Remove from the oven; let cool for a few moments, then gently remove the skin. Cut into slices, about 1/4" thick.

Arrange the beet slices on a medium sized platter, alternating red and yellow slices. Drizzle with olive oil; sprinkle with salt and pepper. Evenly squeeze one-half lemon over the top. Break up the cheese with a fork until it is the consistency of small chunks; sprinkle over the beets. Top with the toasted pistachios.


Cooking notes: Beets are incredibly delicious, but their juice is a deep, intense color, and can cause stubborn stains. I like to slip on a pair of gloves and an apron when I'm handling beets, or else my hands and clothes risk looking like a crime scene for the next few days.

If you have a couple of beets left over (lucky you!), here are a couple of things you can do with them:

1) Make a warm sandwich on toasted foccaia bread with slices of fresh whole-milk mozzarella cheese. Alternate slices of the cheese with thin slices of roasted beets and drizzle all over with basil oil (infuse extra virgin olive oil with a chiffonade of basil for an hour or so) and sprinkle with salt and pepper. Delicious!

2) Make "beet-nut" soup by chopping the beets into cubes and blending them together with toasted pistachios (or hazlenuts) and a few curls of freshly grated nutmeg. Pour the soup into a heavy saucepan and heat with a tablespoon of butter; season with salt and pepper. In a skillet, carmelize a chopped yellow onion in butter, adding a splash of spicy red wine at the end. Ladle the soup into bowls and swirl a tablespoon or so of creme fraiche into each bowl; top with carmelized onion and coarsely chopped nuts. Mmmm.....
---
WHAT ARE YOU DRINKING THIS FALL?
If you'd like a little something sweet and intriguing to cap off a nice dinner, I suggest whipping up a nutty espresso drink.

Nothing could be easier:

Whisk together 2 tablespoons of Nutella with a splash of cream. Divide equally between 2 warmed espresso cups. Pour a double shot of espresso over the top...

Enjoy!
---
You are receiving this email because you're a fan of food and romance...You think life is a sensual adventure, and you hope to nibble and sip your way to bliss. We hope this helps. If you're hungry for more, head straight to our web site.

Copyright 2004 • Sex and the Kitchen, Inc. • All Rights Reserved.
---