It must be summer in San Francisco.
We're basking in fog and wind and rain... oh! Wait! That's why we're booking flights to warmer climates! With that in mind, we hope you're soaking in the long, lazy days beneath a blue sky with sand between your toes, preferably with someone who will still be heating you up long after the sun is gone...
---
A LETTER FROM SAN FRANCISCO CHEF ANDREA FRONCILLO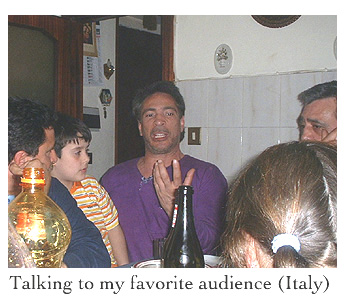 July started out with fireworks... only the ones I enjoyed were not the usual kind. Instead of hanging around San Francisco to grumble about the blanket of fog that wrapped around the city that weekend, I headed up to Mendocino with someone special. We checked into the Albion River Inn, a rustic lodge off of Highway 1 perched against the coastline. It feels like being in the middle of nowhere - with a fireplace and a spa tub, and a private terrace overlooking the ocean! We popped a bottle of champagne and staged our own fireworks show. Let's just say I wish we could have stayed longer.

The following weekend was the Sonoma Showcase of Wine and Food. I have been going now for several years, and each time I enjoy myself a little bit more than the year before. I stayed at the Honor Mansion once again, in one of their new Vineyard Suites. It was hard to decide between venturing out to the dining room for a three-course breakfast or enjoying breakfast from the hot tub... either way, it's the only time I eat breakfast all year.

The Showcase was fantastic. The place was packed with incredible wineries and wonderful food. I've included a couple of pictures of the weekend below. If you haven't been before, I highly recommend that you put it on your calendar for next year!

As if all of that wasn't enough to pack into one month, I headed down to the Gilroy Garlic Festival on the 23rd. I am always amazed at the way the town of Gilroy comes together every year for the festival. It seems that everyone is involved, from the kids to the grandparents. They direct traffic, pick up trash and smile the whole time. It makes me wish I had neighbors like that! To all of the Garlic Festival Crew: a job well done! I salute you.

It was blazing hot in Gilroy, but the crowd wasn't going to let me get off without cooking, so I whipped up a batch of garlic noodles and 40-clove garlic chicken and even a pot full of cioppino! The audiences were wonderful, as always, and I spent a long time afterwards meeting people and signing books. I'll be back again next year!

Now I'm at home in the City, making my usual rounds. I'm often at Bobo's or one of the other restaurants, making menu changes and expanding the wine lists. On Tuesday nights, I make it a point to stop by the Purple Onion, where Robin Williams and Francis Ford Coppola and other North Beach hotshots have been hanging out recently. What a great place to live!

I'm also hard at work on the new Stinking Rose Restaurant Cookbook, which will be published next year. I'm excited to make the latest recipes available to everyone.

But as you can guess, I'm not in town for long! Next on the intinerary is Vegas, where I've got front-seat tickets for "O" (called "wet" seats, since you get splashed!), Elton John the following night, and Rod Stewart on the third night to make it a star-packed weekend. I'm considering another trip across the ocean to Italy in the fall. I might even leave my sweetheart there for a few weeks to spend some time with my family and learn Italian... could it be love?!

Ciao for now!



---
Photos from the Sonoma Showcase of Wine & Food
Listening to the San Francisco Symphony on the lawn after sunset is one of the highlights of the showcase weekend. Conductor Michael Tillson Thomas is a superstar, and the phenomenal music and spectacular setting make a perfect combination. That's me on the right, next to the winnings board from the silent auction; if you squint, you'll see my name there more than once. Silent auctions are kind of like touching someone's body in dark - one dimension of an experience, but still fun! I walked away with some fantastic wines. Once again, the weekend was terrific. Kudos to everyone involved.

---
Lazy Sunday Recipes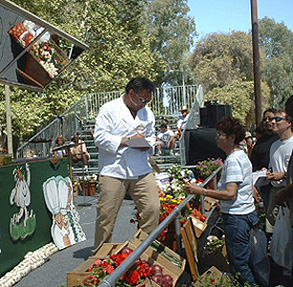 Last weekend, I whipped up a magically levitating Italian fritatta for two. It came out so well that I wanted to share the recipe with you! A fritatta is the perfect destination for all of your farmer's market finds. Feel free to substitute whatever fresh veggies suit your (and her) palette. Mangia!

Open-Faced Skillet Roasted Fritatta

• 1 bunch asparagus (10-12 spears)
• 2 ounces fontina cheese, diced into 1/4" cubes
• 4 eggs
• 1/4 cup half & half
• 2 tablespoons grated Parmigiano cheese
• 1 large heirloom tomato, sliced (sub: 1/2 basket sweet cherry tomatoes, halved)
• 2 tablespoons butter
• Salt & pepper to taste
• 2 tablespoons chopped basil
• Olive oil

In a pot of boiling water, blanch the asparagus for 2-3 minutes. Remove from heat; rinse in ice water. Cut the asparagus spears 1" from the tip. Reserve the bottom pieces for the recipe below, if desired.

Crack the eggs into a mixing bowl, and whip together with the salt, pepper & cream until very foamy. Place a cast iron skillet over medium heat; when the skillet is hot, add the butter and tilt the skillet to coat with melted butter; immediately pour in the foamy egg mixture. Do not stir! The eggs will rise in the pan very quickly. Sprinkle the asparagus tips & fontina cubes over the top. Arrange the tomato slices in a circle on the surface; dust with parmigiano cheese.

Remove skillet from stove and place it under the broiler in the oven for 1-2 minutes, or until the top becomes golden brown and the Parmigiano melts completely. Remove from oven; sprinkle with basil leaves. Drizzle with olive oil.

Place the fritatta on a large serving plate. Cut into slices, pizza-style, and serve while warm. Enjoy with a bottle of chilled Billecart-Salmon or your favorite sparkling wine. A bowl of fresh strawberries would be the final decadent touch. Now that's a good Sunday morning!

Tomasparatto Soup w/ Avocado Bruschetta

See, I'm making up words again! This is yet another dish inspired by my frequent trips to farmer's market, made with straight-from-the-vine heirloom tomatoes and asparagus. Perfect for a cool San Francisco day.

• 8-10 asparagus spears, blanched (or, the reserve pieces from the recipe above)
• 1 large heirloom tomato, chopped
• 2 tablespoons olive oil
• 2 tablespoons Parmigiano cheese
• 1 teaspoon lemon zest
• 1 cup heavy cream
• 2 tablespoons chopped basil
• 2 tablespoons creme fraiche
• 1 tablespoon finely chopped dill
• 1 teaspoon dijon mustard
• 1 ripe avocado
• 4 slices good bread, brushed with olive oil & lightly toasted

In a small saucepan, combine the blanched asparagus, tomatoes and olive oil. Bring to a light boil; remove from heat and cool slightly; pour into a blender and blend until smooth. Pass blended mixture through a fine sieve. The resulting mixture will have a velvety consistency. Place the strained mixture into a fresh saucepan; add cream, lemon zest & grated cheese. Salt and pepper to taste. Heat slowly over low flame, allowing some of the liquid to evaporate until you are left with a thick, dense soup.

Slice the avocado and place one slice atop each piece of toasted bread. Divide soup into two serving bowls. Garnish with a tablespoon of creme fraiche, a dot of dijon mustard and a sprinkle of dill. Serve with the avocado toast.

I like to enjoy this with a crisp, fruity white or an elegant, silky red - some of my recent favorites are the Honig Sauvignon Blanc and the Coho Pinot Noir. Whatever you're drinking, savor every bite - and take a moment to smile at the person across from you. Life is good!


---
Suggested Itinerary for Saturday Morning in San Francisco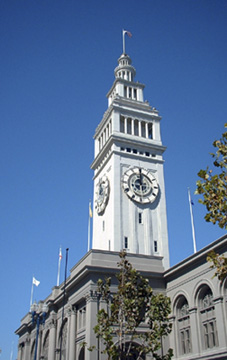 Lately I've been rolling out of bed on a lazy Saturday morning and heading down to the Farmer's Market in the Ferry Plaza Building on the Embarcadero. I spend several hours there, and make a day of it. So here's my recipe for a wonderful morning; adapt to suit your own interests:

10am: Pick up a doppio macchiato at Peet's, grinning at all the other sleepy faces around me.

10:15am: Stop at the Wine Merchant and ask them to put a bottle of champagne on ice for later. I'm partial to the Billecart Salmon Brut Rose; it has teensy-tiny bubbles and a sensual aroma that perfectly accentuates light, fresh foods.

10:30am: Wander leisurely through the stalls outside, picking up whatever fruits & veggies look appealing for dinner later that night or for Sunday brunch. I like whatever looks fresh and tempting; there are so many fabulous farms that come out every week, with gorgeous produce grown without pesticides, straight off the tree or bush or vine.

11:15: Go back to shops inside the Ferry Building and make a couple of key stops: Cowgirl Creamery for fresh artisan cheeses; Acme Baking Company for warm loaves of herbed focaccia; Recchiuti Confections for incredible gourmet chocolate, with flavors such as lemon verbena and fresh lavendar.

12:00am: Pick out a boquet of fresh flowers from Oak Hill Farm of Sonoma. Their display of freshly-cut flowers and grasses are breathtaking.

12:15: Go back to the Wine Merchant to retrieve the chilled champagne, buying an extra bottle for later. Sit and enjoy a glass or two and watch the shoppers hurry by. Sample a few of the Recchiuti chocolates in between sips.

1:00pm: Walk to the Tsar Nicoulai Caviar for a the bilini sampler - warm bilinis heaped with generous dabs of their signature caviars, including beet, ginger, wasabi and truffle. Mmm! When you've had your caviar fix, sashay over to the Hog Island Oyster Company for oysters on the half shell at the counter.

2:30pm: Gather up the bags and walk back to the car, thinking of nothing more complicated than what to make for dinner with all the goods!



---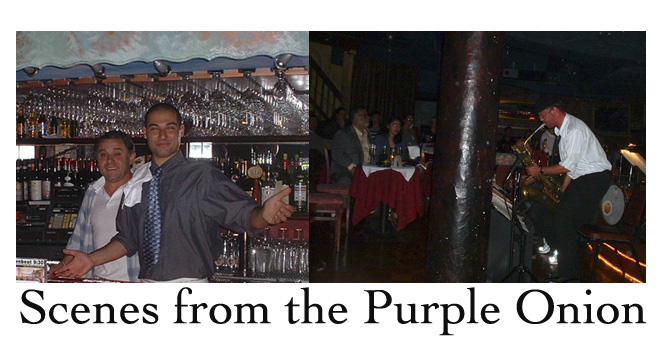 ---
You are receiving this email because you're a fan of food and romance...You think life is a sensual adventure, and you hope to nibble and sip your way to bliss. We hope this helps. If you're hungry for more, head straight to our web site.

Copyright 2004 • Sex and the Kitchen, Inc. • All Rights Reserved.
---