The Adventures of Luigi Continue!
Luigi woke up one Sunday morning with a terrible hangover. Forcing his eyes open, he saw two aspirin and a glass of water on the bedside table. Perplexed, he got up and noticed that his clothing was laid out on a chair beside the bed, clean and pressed.

He dressed and tiptoed to the kitchen. At his usual place, there was a full breakfast spread, complete with coffee and the morning paper. There was also a note: "Honey, I left early to go shopping. Enjoy your breakfast. Love you!"

Luigi called his son into the room. "What happened last night?" he wondered.

His son replied: "Well, you came home about 3 A.M., blind stinking drunk and delirious. Broke some furniture, threw up in the hallway. You even gave yourself a black eye when you stumbled into the door."

Luigi scratched his head. "So, why did your mother put everything in order and make me breakfast?"

His son grinned. "Oh that! Mom and I dragged you to the bedroom, and when she tried to take your pants off, you said, "Hands, off, lady! I'm a married man!"

Rotten hangover - $60.00
Broken furniture - $250.00
Breakfast - $10.00
Saying the right thing at the right time - Sexy
---
A LETTER FROM SAN FRANCISCO CHEF ANDREA FRONCILLO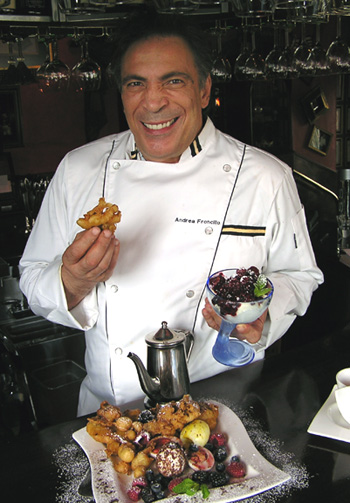 There are many beautiful cities.

Some are ancient, some are dangerous, some are cosmopolitan, and some are romantic. But only one is all of the above. If you travel a lot, you know which city I'm talking about, and even if you don't travel, you've heard enough about this city to know which one it is.

That's right: I'm talking about New York, New York. A city so great that they named it twice. It's the place where all of the immigrants first arrived when they came to this country, a wild and crazy place where anything you could ever dream of can be found, and where nearly everyone is looking for that elusive "something."

On March 9th, I was lucky enough to be able to vist both New York and Boston in one whirlwind trip. The trip started with the Boston International Seafood Show. After the show--which really was international, with people from all over the globe, and seafood with exotic passports--Tracy and I took a little time to explore Boston itself. I really liked the North End of Boston (see pictures below). It seemed more Italian than many other "Little Italy" neighborhoods in other big cities. We ate dinner at Ristorante Fiore, where we had an authentic meal that reminded me of home. It turns out that Chef Fiore Colella is from Southern Italy, too, so maybe that was why I felt right at home.

We spent the rest of the trip in New York. We stayed at Hudson on West 58th Street, just 2 blocks from the CBS studio where they film the Late Night show, and 1/2 block from Trump Plaza. Happily for me, the hotel is also just across the street from Jean Georges and only a couple of blocks from the new sensation Per Se, owned by "our very own" Thomas Keller of French Laundry fame. In fact, just about anything you could want was a short walk away, including 5th Avenue, home to Chanel and Louis Vuitton and every luxury brand you can imagine.

But why walk when you can fly?! We took a helicopter tour of the city so that we could see everything from the air. Now that's a great way to take a bite out of the Apple! As if that wasn't enough, we also saw Dirty Rotten Scoundrels on Broadway ~ what a great show! Bravo. Unlike in Vegas, the only gambling you do in New York is deciding whether to cross the street or not. I could swear that all the drivers, from taxi drivers to horse carriage drivers, were betting on when the lights would turn - they hardly even touch the brakes!

It truly is the city that never sleeps, just as Sinatra said. I also consider it to be my lucky city. Last time I visited New York was in September of 2001. My flight back to San Francisco was scheduled to leave on the afternoon of September 10. All afternoon, I sat in the Newark airport lounge while my flight (Flight 92) was delayed 2 hours... then 4 hours... then 6. The attendant finally started offering seats on the next departure in the morning... on Flight 93. I remember deciding to stick it out and travel that night. I guess you could say that was my lucky night. I remember a couple of others who decided to take the morning flight. Needless to say, they're no longer with us.

Obviously, I have a lot to be thankful for. I was thinking about this during the trip. It was so much fun to be experiencing it with Tracy, and showing her the city for her very first time. In a funny way, it is "sexy" to be traveling with someone, because when you're having an adventure together in a place so full of life, all of your senses feel alive. I was very grateful and happy.

Which made me realize that it is very important to let the people you care about know how you are feeling. That way, if anything should happen, you won't regret having never expressed yourself. And even if nothing does happen, you're still better off for having shared your heart. So pick up a bouquet of flowers on your way home tonight, or decide to make one of the recipes below together, and treat yourself and your significant other to something special and out of the ordinary... just because. The fact that you're together in the first place - even if for the day or the weekend - is a special occasion in itself, and the enjoyment of life is the best aphrodisiac you can find!

Life is fragile and wonderful... so please, make it sexy!

XOXO,

Andrea

P.S: Don't forget to pre-order your copy of the Stinking Rose Restaurant Cookbook! To celebrate the publication of the book, I'll be making appearances all over the Bay Area, at places like Draeger's, Nob Hill, and Dean & Deluca, where I'll be cooking and signing books. I'll let you know exact dates in the next issue of the newsletter, and hopefully I can meet some of you in person!
---
New York on My Mind
On the left is a picture I took from the helicopter as we were cruising over New York. The view was amazing. On the right, Tracy and I are in Times Square, enjoying the energy and action and all those bright neon signs!
Times Square Cam
---
A Step-by-Step Guide on How to make Burrata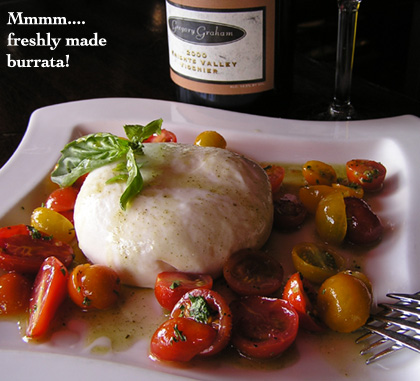 Have you heard the buzz about burrata? It seems like everyone is talking about this rich, delicious Italian cheese. I'm making it in-house at two of my restaurants, and people just can't get enough.

So I thought I'd show you how to make it!

At the new Sex and the Kitchen blog, we've got step-by-step pictorial instructions.

The experience of making cheese is truly a feast for the senses. So go ahead... get your hands into something soft and delicious. Oooh, la la!


---
Apple-Cranberry Fritters with Coulis-Drenched Eggs
Apple Fritters
There's something so indulgent about fritters, at least to those of us on the West Coast. The idea of hot, fried dough is so naughty that I think it justifies a special recipe. Here I've made the fritters with apples and dried cranberries; if you have another fruit on hand that you prefer - bananas and walnuts, or dried apricots and peaches, for instance - then please substitute whatever sounds best to you! Just be sure to eat your fritters while they're piping hot.

1 cup sifted flour
3 tablespoons brown sugar
1 1/2 teaspoon baking powder
1/4 teaspoon salt
1/4 teaspoon ground cinnamon
2/3 cup milk
1 egg yolk
1 tablespoon melted butter
2 egg whites
1-2 cups vegetable oil
2 tablespoons white sugar
1/2 teaspoon cinnamon

In a mixing bowl, combine the flour, brown sugar, baking powder, salt, and cinnamon. In a separate bowl, combine the milk, egg yolk and melted butter, whisking until smooth. Slowly add the dry ingredients to the wet mixture, 1/4 cup at a time, stirring to create a smooth batter.

In a third bowl, beat the egg whites until peaks form. Fold the egg whites into the batter. Add dried cranberries. In a separate bowl, mix together the white sugar and cinnamon. Set aside.

Pour oil into a heavy, deep-bottomed pan until it reaches about 3 inches up the side of the pan. Heat to 375 degrees, and drop tablespoons of the batter into the bubbling oil. You can also use a tabletop fryer, if you have one. Fry for 1 to 2 minutes, until golden brown and crispy. Remove from oil with a slotted spoon and drain on a paper towel for about 30 seconds. Transfer to serving plate, sprinkle with cinnamon sugar and eat immediately.

Coulis-Drenched Eggs
This is my version of Easter eggs. I create a simple coulis with fresh fruit - here I've used mango and raspberry - and drizzle it atop freshly soft-boiled eggs to serve with any festive Easter breakfast. For an extra special touch, use chocolate or coconut shavings for a "fuzzy" effect.

4 large eggs
1/2 cup fresh raspberries
2 tablespoons sugar
1 teaspoon lemon juice
1 ripe mango, cut into chunks
2 tablespoons golden brown sugar
1 teaspoon lime juice

Place the eggs in a heavy-bottomed saucepan and cover with water. Turn heat on high; when the water begins to boil, remove pan from heat. Let the eggs sit in the covered pan for 7 minutes, then pour out hot water and cover in cold water. Cool and remove shells.

In a food processor or blender, puree the raspberries together with the sugar and lemon juice. Pour through a strainer to remove seeds. Pour into a small bowl.

Rinse food processor bowl and make the mango coulis by blending together the mango chunks with sugar and lime juice. Strain. Pour into a small bowl.

Roll two of the shelled eggs into the rasperry coulis, and two into the mango coulis. Arrange the eggs on a serving platter and drizzle more coulis on top. As you can see in the picture above, I took it one step further and dipped one of the eggs in chocolate shavings for an extra special touch. Use whatever you have on hand to make your eggs festive and fun.

Garnish with extra fruit. Happy Easter!


---
Spring has sprung... we hope!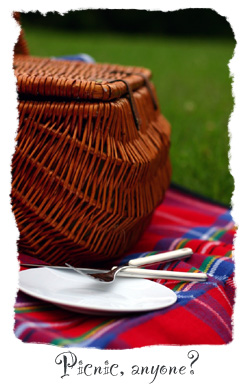 Spring has been quite tardy this year. I don't know what the weather is like in your part of the world, but here in the Bay Area, the rain hasn't stopped! I'm getting restless to get outside and soak in some sunshine.

When the sun finally does show up, there's no better way to celebrate than with an outdoor picnic. Throw some fresh fruit, cheese, and a good baguette into a hamper, add a bottle of wine and a couple of glasses, and you're set. And don't forget the blanket so that you can stretch out and relax!

Here are some of my favorite local picnic spots:

- The lawn in front of the Conservatory of Flowers in Golden Gate Park. The grounds are always well-kept, and full of beautiful displays of flowers. It is a great picnic spot, especially during the spring. Afterwards, you can check out the DeYoung Museum or walk through the Japanese Gardens.

- The Marin Headlands. This is such a gorgeous drive, and there are so many places where you can pull the car over, get out and find a wonderful spot to take in the entire sweep of the Bay. One of the most magnificent views in the state!

- Baker Beach. It can get a little windy, so bring a jacket! A great spot for digging your toes into the sand. Extra bonus: rub sunscreen all over each other...

Need help getting the basket together? Try some of my favorite markets:

- Molinari Delicatessen: 373 Columbus Avenue, North Beach. Great selection of cheeses, cured meats and Italian wines.

- Cheese Plus/Leonards 2001: 2001 Polk Street. This little shop has some of the best cheese anywhere, and they've also got all kinds of fun imported food items - crackers and cookies and spreads that are the perfect size to slip into your picnic basket.

- Lucca Delicatessen: 2120 Chestnut Street. Perfect spot to hit as you're driving towards the bridge. They make delicious sandwiches, and they've got great salads and breads, too.
---
Eggs in Onion Ring Nests with Parmesan-Chili Oil
This is another simple recipe inspired by the upcoming Easter holiday. Once again, it is very simple, but delicious. I like to boil my eggs to the soft-boil stage so that the yolks remain moist and soft, but not runny.


1 sweet onion, cut into 1/2-inch-thick slices
4 large eggs
1/4 cup flour
1/2 cup buttermilk
1 teaspoon salt
1 teaspoon freshly ground pepper
1/2 teaspoon chili powder
1 cup Japanese panko breadcrumbs
Vegetable oil for frying

2 tablespoons extra virgin olive oil
1 teaspoon sea salt
1 teaspoon freshly ground pepper
1 teaspoon red chili flakes
2 tablespoons roughly grated Parmigiano-Reggiano cheese
4-5 cherry tomatoes, cut in half

Place the onion slices into a small bowl and pour the buttermilk over the top. Let it sit for 30 minutes to an hour.

Place the eggs in a heavy-bottomed saucepan and cover with water. Turn heat on high; when the water begins to boil, remove pan from heat. Let the eggs sit in the covered pan for 7 minutes, then pour out hot water and cover in cold water. Cool and remove shells.

When you are ready to make the onion rings, pour the vegetable oil into a heav bottomed pan until it is about 3 inches deep. Heat oil to 375 degrees.

In a bowl, combine the flour, salt, pepper, and chili powder. Place the breadcrumbs in a separate bowl. Working in small batches, remove the onion slices from the buttermilk and tap lightly to remove excess liquid. Dredge in flour mixture; shake to remove excess, then dredge in panko breadcrumbs, fully coating the ring with the breadcrumbs.

Fry for 3 to 4 minutes, or until golden brown.

In a small bowl, combine the olive oil, salt, pepper, and chili flakes.

Arrange the onion rings in short stacks on a serving platter. Place one egg in the middle of each stack. Scatter the cherry tomato halves around the sides. Drizzle the olive oil mixture over the top of the eggs and tomatoes. Sprinkle the parmesan cheese over the entire thing, and serve immediately.

What are Panko Breadcrumbs?
---
Scenes From Boston
From gorgeous old espresso makers to quaint bars, Boston was like a jewel box with discoveries around every corner.

---
It's Test Time!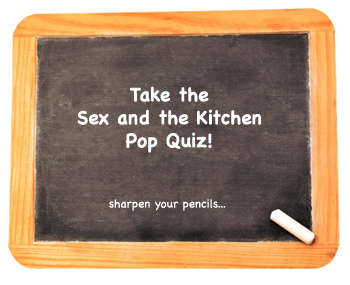 Just for the fun of it, can you match the following phrases with the people who might use them?

Eat me
Kiss me
Ride me
Pay me
Spank me
Give it to me
Need me
Talk to me
Don't Forget me
Deal with me

What a wife might say:____________________________________
What a lawyer might say:__________________________________
What a chef might say:____________________________________
What a teacher might say:__________________________________
What a flower might say:___________________________________
What a your boss might say:_________________________________
What a kid's actions might say:_______________________________
What a mistress might say:_________________________________
What a waiter might say:___________________________________
What a fighter might say:___________________________________

Who might say all of them?
---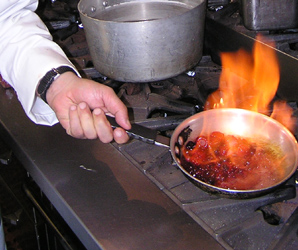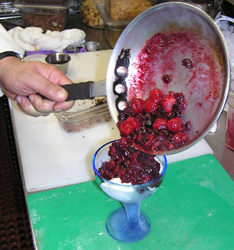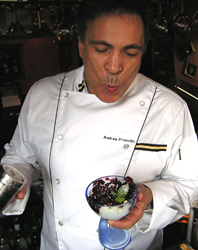 Berries Jubliee
Are you sweet on fresh spring berries? Then how about turning them into a special dessert with a quick douse of brandy and minute on the flame to warm them up? Poured over vanilla bean ice cream, they're divine! I hope that you enjoy this dish like this: take a bite, kiss; take another bite, share another kiss... you get the picture: eating and kissing, kissing and eating. Just the way it should be.

1 cup of your favorite berries ~ I like a mix of strawberries, blueberries and blackberries
1 tablespoon sugar
1 shot brandy
1 large scoop vanilla bean ice cream
Powdered sugar, for garnish

Place ice cream into a serving glass.

Slice any berries that are overlarge. Mix with the sugar. Place in a skillet and warm over medium heat for 2 to 3 minutes, or just until the juice begins to bubble up around the berries. Add the brandy and quickly remove skillet from heat as the flame jumps up. Let the flame die.

Pour berries over ice cream. Sprinkle with powdered sugar and eat at once!

---
You are receiving this email because you're a fan of food and romance...You think life is a sensual adventure, and you hope to nibble and sip your way to bliss. We hope this helps. If you're hungry for more, head straight to our web site.

Copyright 2006 : Sex and the Kitchen, Inc. : All Rights Reserved.
---