The nights are getting shorter...
Time to pull out the sweaters and scarves, and start thinking about fall foods like squashes and apples and pears. It's perfect weather for holding hands and snuggling close, so don't be sad that summer is over!

---
A LETTER FROM SAN FRANCISCO CHEF ANDREA FRONCILLO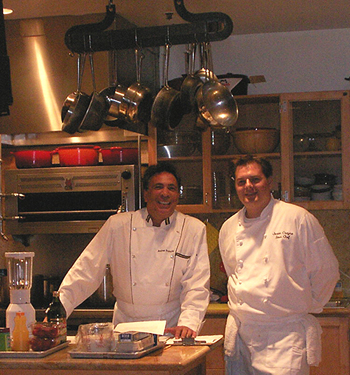 The summer is rapidly slipping away, and may I say: it was a great one. The weather in San Francisco was fantastic for most of the summer, and now the fog and cold are back. Baseball is winding down and football is just beginning. I'm already thinking about menus for Halloween, and Thanksgiving... and Christmas again! Where has 2006 gone?

September is a sobering month for me, as I remember back to the day five years ago when, on the 10th of September, my flight from Newark to San Francisco was delayed for 8 1/2 hours and I nearly exchanged my ticket for a seat on Flight 93 leaving on the morning of September 11th. All of our lives changed in one way or another that day, and we are still feeling the results of it. That night, I was frustrated with the delay... now I simply consider myself lucky.

But life isn't predictable, and so we have to live every day to the fullest, and take our chances when we can. Over the past couple of months, I've been signing my new cookbook up and down the California coast, from Marin County all the way to Santa Barbara. At the end of July, I drove down to the garlic capital of the world to take part in the Gilroy Garlic Festival, as I do every year. The weather was amazingly pleasant ~ high 70's, not too hot. I spent some time chatting with Karen La Corte, who will be in charge of next year's food competition. She's got some great ideas up her sleeve. If you haven't been to the festival before, put it on your calendar for next July!

A few weeks later, I was on the road again to participate in the Natural History of Food Series at the Santa Barbara Museum of Natural History. One of the other speakers was Chester Aaron, Mr. Garlic Himself. I have read and enjoyed his books for many years, but had never had the pleasure of meeting him. What a delightful human being. He is passionate about the bulb, and he grows all kinds of different varieties in his own large garden. I learned a lot just listening to him!

There was more to the Santa Barbara trip than just garlic - Tracy's little sister Brittany got married the previous weekend in Newport, so we were able to fit that in as well. Congratulations, you two!

If you're ever headed down south on either Highway 1 or 101, consider stopping at the Madonna Inn in San Louis Opisbo, like we did. Everything about this place is "over the top" - just check out a few of their rooms. We couldn't stop smiling at the craziness of it all. We felt like we had fallen asleep along the way and woke up in 1970's Las Vegas. You have to see it to believe it...

You would think with all that coast-hopping that we had seen it all, but can you believe that Tracy has never been to Carmel? As Carmel-by-the-Sea is one of my favorite places to visit in California, and it is only 1 1/2 hours from San Francisco, I've decided that it will be our next adventure. I'll tell you where we stayed and what we ate in one of the the next newsletters.

Figure this out: we've been developing an idea for a Sex and the Kitchen "reality" television show, in which I would help assist couples in creating a menu for a romantic meal that they can make together. The feedback we've gotten has been this: we like the idea, but it's too racy for TV. Oh, reeeeaaaaaaalllllly? I don't get it! I've seen some of these trashy reality shows like "Temptation Island" in which the language and the situations are quite explicit, not to mention corny. We're just cooking here! How racy can that be?

My concept for Sex and the Kitchen is to blend the sensuality of food with the playfulness and fun of romance, good for body and soul. Somewhere in the middle between 9 1/2 Weeks and City of Angels, in which the enjoyment of food is a kind of sixth sense. The lingering of expectation... the salivation of feasting...the explosion of taste buds...the warmth and aching and longing that leads to fulfillment. After which you say: that was nearly as good as an orgasm... well, it sort of was! And what's wrong with this kind of "sex" in the kitchen, I'd like to know?

Fortunately, someone on the "other side of the pond" has caught wind of us, and so something might happen there before it happens here! Stranger things have happened...

I'll let you get to the rest of the newsletter now... it's a big one! Enjoy!

XOXO,

Andrea

---
Scenes from Summer
From left to right: At the Gilroy Garlic Festival, with fellow judge Evelyn Miliate; Signing cookbooks at Raley's in Salinas (What pros! They were great); Tracy's sister Brittany and her new husband Brian at their wedding ceremony.

---
A Crabby State of Mind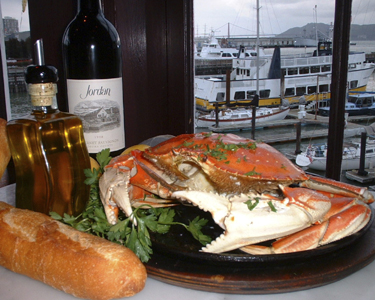 I'm already working on another cookbook... Jennifer Jeffrey and I are writing a crab cookbook this time, and so I've got all my crab notes out, and I'm scribbling away! I've been cooking with crab for so long that I've got more recipes than the book will be able to hold... as many of you know, I'm a partner in the Crab House on Pier 39 and the Franciscan Crab Restaurant, and since I've got crab on my mind, I thought I'd share some of these recipes with you. Not all of these will be in the cookbook; we're still in the first stages of testing recipes, but we guarantee that each of these recipes is delicious!

I'm crazy about Dungeness Crab! I've tried every crab available in the US, and I think Dungeness is hands-down the best, for its sweet meat and tender texture. While the official season usually runs between November and July, Dungeness crab meat is often available at local markets all year around - we are truly spoiled!

If you're looking for crab for your recipes, you might want to venture down to Fisherman's Wharf... no, it isn't just for tourists! There's some great crab to be found, and you might be surprised at how much fun you can have down here. Many local meat and fish markets also carry Dungeness year around - so go ahead... get crabby!

---
Bruschetta of Smoked Salmon, Crab & Avocado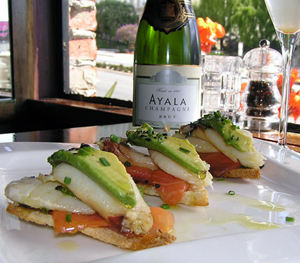 The term "bruschetta" originated in central Italy to describe a snack made out of grilled bread, often rubbed with garlic and topped with olive oil, salt and pepper. Over time, people have piled delicious ingredients on to that base, and now there are as many variations of bruschetta as there are different kinds of pizza. This one is made up of three of my favorite things: smoked salmon, crab legs and avocado. It's a perfect brunch dish or a fantastic appetizer to wake up the palate.

"Pink and Green" Bruschetta

- 2 thin slices sourdough or other good bread, crusts removed
- Extra virgin olive oil
- 2-3 ounces (3 small slices) smoked salmon (Preferably from Nova Scotia or Seattle; use fresh-cured gravalax if you like.)
- 8 Dungeness crab legs
- 4 thick slices ripe avocado
- Sea salt

Make a diagonal cut through the bread slices to create four triangles, two from each half. Place on a baking sheet; drizzle with olive oil. Set beneath the broiler for 30 seconds, or until golden brown and crisp around the edges. Remove from the oven; cool.

Lay the bread triangles out on a plate. Place the salmon on top of the bread; then arrange the two crab legs, and finally place the avocado slice on top. Drizzle with a bit more olive oil for a glossy finish, and sprinkle with sea salt. I like to use black or red sea salt on the bruschetta, to not only for the gorgeous colors, but also to experiment with the nuances of salt "flavor." Who knew salts could taste so different?

Devour immediately. The softness of the crab and the creaminess of the avocado should create a perfect contrast to the crisp crunch of the bread. Such delectable little bites! Perhaps you should make a double batch.

Serves 2.
---
Foggy Wharf Salad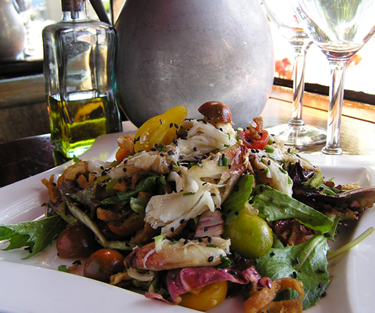 I featured this recipe in Love Notes many months ago, so many of you probably haven't seen it yet. I love this salad because it takes just a few minutes to assemble, and yet it tastes so delicious. Substitute sliced filet or grilled shrimp in place of the crab, if you like... hey, it's your salad!

Foggy Wharf Salad

- 1/4 cup rice wine vinegar
- 1 tablespoon sugar
- 1 teaspoon freshly minced ginger
- 2 tablespoons sesame oil
- 1/4 cup light soy sauce
- 2 cups baby mixed greens
- 1/2 pint cherry tomatoes (I like the "toybox" or multi-colored ones)
- 4 ounces Dungeness crab meat (I prefer the sweet, meaty legs)
- 2 tablespoons black sesame seeds
- 1/2 cup fried wonton strips (see recipe below)

In a small bowl, make the salad dressing by whisking together the rice wine vinegar, sugar, ginger, sesame oil, and soy sauce. Set aside.

In a seperate bowl, gently toss together the baby greens, cherry tomatoes, and wonton strips. Pour the dressing over the top and toss. Season to taste with salt and pepper. Scoop the salad on to a plate and arrange the crab legs on top. Sprinkle with sesame seeds. Eat immediately.

Serves 2.
---
How to Make Wonton Strips
Wonton strips are easy to make, and they're a great addition to salads and soups. I even like to sprinkle them on top of pasta for a bit of extra crunch. Make more than you need, and store them in an airtight container! For a single batch for a salad, use 6-8 wrappers.

- 1 package wonton strips
- Vegetable oil for frying

Stack the desired number of wonton wrappers on a cutting board and slice them into matchstick-sized pieces. In a large, heavy skillet, heat 1-2 inches of vegetable oil over high heat to 375º F; it should be hot and bubbly. Scatter the strips into the oil, several at a time. Fry for 30 seconds to 1 minute, or until the strips curl up and become golden brown and crispy. Remove from oil with a slotted spoon. Place on a paper towel to absorb excess oil.

That's it!
Wonton Wraps
---
Fall Salad of Octopus, Crab and Baby Red Potatoes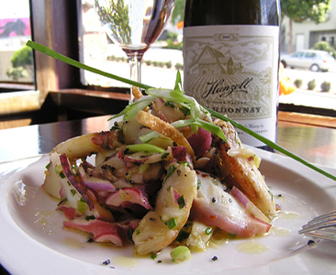 This salad is bursting with rich flavors - sweet red potatoes, chewy octopus and tender crab, tossed in a bright citrusy dressing with a smoky finish. A perfect September lunch!

Intrigued? Check out my blog, where I've posted the entire recipe!

---
Divine Pears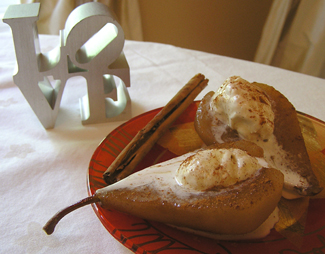 The movie "City of Angels" was made in 1998, but I watched it again a couple of weeks ago and fell in love with the story... it's incredibly romantic, and highly worth watching. Just trust me when I say that you'll be hungry for pears afterwards. So why not try this recpe for a lightly sweet dessert with a honey-perfumed essence that is absolutely irresistible. For the most delicious results, select the best pears you can find, preferably from your local farmer's market.

- 1 tea bag of fruit-flavored black tea - we used Sweet Ginger Peach from Revolution Teas
- 2 tablespoons sugar
- 2 ripe but firm pears
- 1/2 cup vanilla bean gelato
- 2 tablespoons wildflower or orange blossom honey
- 1 teaspoon finely ground Cinnamon
- Zest of one organic orange
- Cinnamon Stick for garnish, if desired

Steep the teabags in 2 cups of boiling water for 4 to 5 minutes, or until the tea is strong and dark.

Peel the pears and slice in half lengthwise. With a paring knife, gently remove the seeded middle out of each half, leaving an indentation in the middle of the pear half. Smooth out the indentation by scraping the edge of a spoon along the sides, so that the well is about the size of a walnut.

Pour the tea into a saucepan. Place the pear halves into the pan; the tea does not have to submerge the pears. Cover and place on medium high heat; simmer the pears for 10 to 15 minutes, turning once to ensure even heat, until a paring knife easily sinks when inserted into the middle. Remove the pears from the tea with a slotted spoon and place on serving plates. Handle the pears gently, as they are very delicate when cooked!

Turn the heat up on the remaining tea and add the sugar. As the tea boils, it will reduce and thicken. After 10 to 15 minutes, when it has reduced to about 20% of its original volume, and has become thick and sticky, remove it from the heat. Brush the reduced tea solution over the pear halves.

Place a scoop of gelato into each pear half. Drizzle the honey over the pear. Sprinkle with a light dusting of cinnamon; garnish with orange zest and cinnamon stick. Eat immediately.

---
You are receiving this email because you're a fan of food and romance...You think life is a sensual adventure, and you hope to nibble and sip your way to bliss. We hope this helps. If you're hungry for more, head straight to our web site.

Copyright 2006 : Sex and the Kitchen, Inc. : All Rights Reserved.
---