The combination of lazy afternoons, sun-kissed skin and that fresh-from-the-beach smell gets us in the mood... welcome to summer of 2005! If you're cooped up in an office building somewhere, we urge you: yank off the tie, rip off the pantyhose and get re-acquainted with your own skin. Feels good, doesn't it?! Now you're ready to get cooking... both in and out of the kitchen... with someone that pushes all the right buttons. Because it's summertime - and the living should be easy!
---
A LETTER FROM SAN FRANCISCO CHEF ANDREA FRONCILLO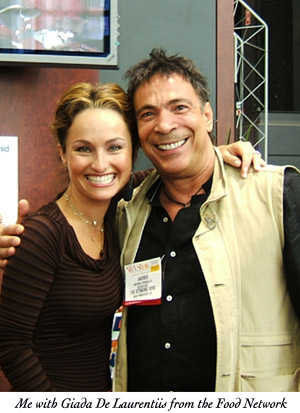 Last time I wrote you, I was getting ready to celebrate my birthday. Tracy and I were excited to get out of town, and we knew it was going to be a long drive, so I packed a few of my favorite CD's, and we hit Highway 101 for our destination, which was north of Medocino. The drive was smooth and relaxing... in my younger years, I might have pressed the "pedal to the metal" as they say, but now I know better: why bother hurrying when the journey is a big part of the fun?

The scenery along Highway 101 is gorgeous. When you're taking your time, you can appreciate the way that the landscape alternates between foresty green trees to desert-brown hills, with occasional peeks at the ocean.

Which reminds me that so often I give advice, but don't take my own. many years ago, in Italy, I was hired to drive an American couple to their destination... they were horrified by the narrow streets and hectic traffic. They clung to each other, certain that they were about to die. Of course, I took the opportunity to drive like a real Italian - weaving in and out of traffic, interpreting lights and signs as "suggestions" instead of rules, all the while guesturing with one hand as I told them story after story. At one particularly perilous intersection, the wife shouted: "Did you even notice the red light?!"

To which I replied: "Signora! We drive by our senses in Italy, not by signs!"

A couple of blocks later, the couple asked me why, when they saw a police officer waving a red sign, cars did not stop.

"That sign is for pedestrians!" I told them.

"Pedestrians?" they gasped. "Don't pedestrians have rights in Italy?"

"Absolutely!" I said. "They have the full right to run for their lives!"

Ah, but those days are behind me. Really and truly. When we finally arrived at our destination, the Howard Creek Ranch Inn , it was like we had gone to the middle of nowhere. Seriously. We took the dogs with us, and I have to say - they're city creatures, just like us, and they were a little freaked out. Deer grazed in the woods just beyond the Inn, and a variety of other creatures could be spotted at any time. This is the kind of place where you take your hiking boots along and get in touch with Nature. It was incredibly gorgeous... trees and sky all around, with the ocean bordering one side. Hundreds of birds nested beneath the eaves of the roof, treating us to a chorus of chirps and songs. Oh, and there are no telephones and no radios. It is a true retreat.

There was a refrigerator in the room, and barbeques outside... the best strategy is to stop at Fort Braggs and stock up on supplies and then burrow in for a couple of days! It was just what I needed; a real getaway. It was a *very* happy birthday...

After we got back from the coast, we took off for a food show in Chicago. The Windy City was bustling with people and great ideas and - most importantly - exciting food. I had a nice chat at the show with Giada De Laurentiis. Let me tell you: she looks good on her Food Network show, Everyday Italian, but she looks even better in person! And boy, can she cook! With all the hot jazz and and great eats, what can I say about Chicago? I guess Sinatra said it best when he referred to Chicago as "my kind of town."

Even so, I have to say that I always leave my heart in San Francisco... so I'm glad to be back. I'm working on plans for yet another new place - details to come soon - and at the same time, trying to slow down and enjoy each and every day. We've gotten a lot of interest in the Sex and the Kitchen reality show... so we'd like to know what you think. What would make you watch "Sex and the Kitchen: The TV Show?" So far, we've heard that people would like more "spice" - more about the sex part of "Sex and the Kitchen" - so watch out! You just might find some zesty content in the next newsletter. Hmm, how about "Falling in Love Over the Dirty Dishes" ?

Well, we're still working on it. Tell me what you think; I'd love to hear your feedback: Talk to Me!

I spent some time thinking about what types of recipes I should put in this month's newsletter. Since the 4th of July is just around the corner, I thought about grilling - that all-American hobby that every man seems to love. It occurred to me that the reason Italians and Mexicans don't grill too much is that spaghetti and beans fall right through the grates. Then I remembered that great invention - the cast-iron plank. You can put a plank on top of a grill and throw on anything you want - mussels, shrimp, fruit, hey - even spaghetti! - and it will come out tasting great. I hope you like the grill recipes below - they're simple and tasty, so that you can enjoy being outside with no extra stress.

And now - I wish you a hot and satisfying summer! Happy 4th of July!

Ciao for now,

Andrea
---
ITALIAN SANGRIA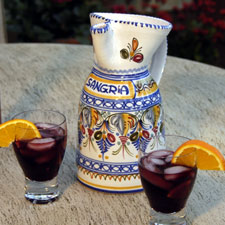 Sangria is the ultimate summertime drink! Mix up a pitcher of Italian-style sangria for Sunday brunch or bring it outside to the grill. Nibbling on the fruit is the fun part. Enjoy!

• 2 bottles (750ml) fruity red wine
• 3/4 cup sweet vermouth
• 3/4 cup Campari
• 2 cups of thickly sliced fruit: oranges, lemons and limes
• 1/8 cup amareno cherries, with the liquer

Combine all of the ingredients in a large pitcher. Place the pitcher in the refrigerator and chill for 3 hours to overnight. Serve over ice. Garnish with fresh mint, if desired.
---
Pork Medallions with Grilled Pineapple
Nothing says summer like dinner from the grill. With this recipe, you'll make a flavorful spice rub for a boneless pork medallion, and grillit alongside thick slices of juicy pineapple. With a big glass of sangria, it makes the perfect July meal.

• 1 16-ounce boneless pork loin
• 2 teaspoons red chili powder
• 1 tablespoon bittersweet cocoa powder
• 2 teaspoons salt
• 1 teaspoon freshly ground pepper
• 1 medium-sized pineapple
• 1/8 cup orange juice
• 2 tablespoons brown sugar
• 1/2 teaspoon vanilla

Lay the pork loin on a clean work surface, patting the surface dry with a paper towel to remove any juices that are on the meat. In a small bowl, combine the chili powder, cocoa powder, salt and pepper. Sprinkle half of the mixture over the pork loin; turn the loin over and cover with the remaining spice mix. With your hands, rub the spices over the meat to fully coated. Let sit for 10 minutes. With a very sharp knife, cut into medallions about 1 inch thick.

With a large serrated knife, cut the pineapple into large, 1-1/2-inch thick slices. In a small bowl, combine the orange juice, brown sugar and vanilla. Brush over the surface of the pineapple with a pastry brush.

Prepare the barbeque grill, bringing the heat to medium-high. Grill the medallions until cooked through, about 2 minutes per side. Grill the pineapple until the sugars carmelize and create a beautiful golden-brown color on the surface, about one minute on each side.

To serve, place a piece of grilled pineapple on each plate and place a pork medallion in the center. Enjoy with grilled veggies (below).

---
Mixed Vegetable Grill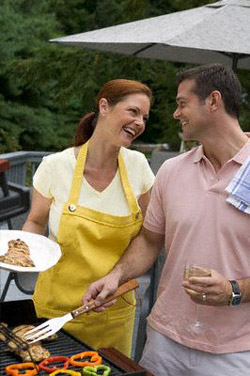 The best grilled food is often the simplest. For a simple mixed vegetable grill, you need the best local veggies you can find, a good bottle of olive oil, and some coarse ground sea salt. If you happen to have some fresh herbs, all the better. If not, they'll still taste incredible.

Herb-grilled Vegetables

Assorted fresh veggies for the grill (your choice)
• Zuchinni, cut into thick spears
• Eggplant, cut into thick slices
• Maui onions, whole or in thick slices
• Portobello mushrooms, whole
• Shucked Corn
• Beefsteak or Heirloom tomatoes
• Extra Virgin Olive Oil
• Assorted chopped herbs (thyme, marjoram & rosemary are my favorites!)
• Diced garlic (2-3 cloves)
• Coarse grind sea salt

Prepare the vegetables, cleaning and slicing to suit your preference. Large slices are best for the grill, since everything shrinks in the heat. In a small bowl, mix the herbs with the garlic and a generous splash of olive oil. Apply to the vegetables with a pastry brush. Sprinkle with sea salt.

Prepare the barbeque grill, bringing the heat to medium. Grill the veggies until cooked through but not too soft, turning as needed and paying close attention so that nothing burns! Each vegetable has a slightly different cooking time; some take a couple of minutes, and some take fifteen or twenty.

Remove from the grill as soon as the desired done-ness is reached. Enjoy immediately!

Grilled Leeks with Mustard Glaze

• 2 tablespoons stoneground mustard
• 1 tablespoon honey
• Juice of one lemon
• 2 large leeks, cleaned and sliced in half lengthwise

In a small bowl, mix together the mustard, honey and lemon juice. Brush both sides of the leeks and place on the grill. Baste with remaning mustard glaze every 3 to 4 minutes. When the outer edges of the leeks are crispy and golden, and the inner white part is soft and browned in the center, remove and serve.

REMEMBER: Any leftover grilled veggies can be put to good use in sandwiches or omlettes the next day!
---
Louisiana Shrimp in a zesty Garlic-tomato broth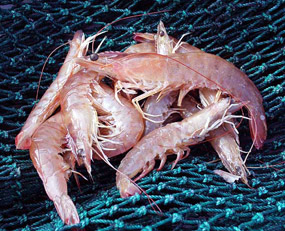 If you're not in the mood to barbeque, here is a delicious dish you can prepare on the stovetop. The shrimp are meaty and delicious, with a broth that begs for good bread to be dipped in and devoured. Perfect for feeding to each other...

• 1 tablespoon olive oil
• 1/2 yellow onion, peeled and chopped
• 3 garlic cloves, peeled and chopped
• 1 teaspoon freshly grated ginger
• 2 sage leaves
• 1 16-ounce can whole tomatoes
• 1 cup clam juice
• 1 teaspoon garlic salt
• 1 teaspoon red pepper flakes
• 1 tablespoon chopped parsley
• Freshly cracked black pepper
• 1 fennel bulb, chopped
• 1 stick (1/4 cup) unsalted butter
• 1 pound fresh (not frozen) jumbo shrimp, in the shell

In a deep saucepan, warm the olive oil over medium heat. Add the onion and sauté, stirring occasionally with a wooden spoon, for about 10 minutes, or until the onion is translucent and soft. Add the garlic, ginger, and sage, and sauté for several more minutes, or until the garlic turns a light golden color. Once the sage becomes crispy, use the edge of the wooden spoon to break it up into smaller flakes in the pan.

Add the tomatoes. Raise the heat to medium-high and bring to a boil. When large bubbles begin to break the surface of the tomato juice, add the clam juice, garlic salt, pepper, chili flakes, and parsley. Season with black pepper.

Reduce the heat and simmer, uncovered, until the liquid is reduced by about one quarter. Add the fennel and 1/4 cup of butter, stirring to melt the butter into the sauce. Add the shrimp, stirring with a large wooden spoon to plunge them deep into the sauce. Cook for 4 to 5 minutes, or until the shrimp turn pink. Remove from heat and ladle into a large serving bowl and bring to the table.
---
Me and Luigi
This is Luigi, the wonder pup. He even plays pool, can you believe it? I lost five bucks to the little runt just the other day. What a dog...
click here
---
You are receiving this email because you're a fan of food and romance...You think life is a sensual adventure, and you hope to nibble and sip your way to bliss. We hope this helps. If you're hungry for more, head straight to our web site.

Copyright 2005 • Sex and the Kitchen, Inc. • All Rights Reserved.
---