It's our favorite month of the year!
And we've been digging around to find the origin of Valentine's Day. It seems that the tradition of celebrating love began with the Roman festival of Lupercalia, where girls wrote their names on slips of paper and young men drew the names out of a jar to find his sweetheart for the following year. Fast forward a few decades to St. Valentine, a Roman priest who married young couples in defiance of Emperor Claudius II. When he was found out, he was arrested and beheaded...ouch. His sad demise occured on February 14th, the eve of the previously mentioned festival. Ever afterwards, the date was celebrated in his honor. Bring on the champage! The chocolate! The kisses!
---
Filler

• Sexy: Roses. Sexier: Her favorite flower, hand-delivered. With a card...
• Sexy: Box of chocolate. Sexier: Fresh, juicy strawberries hand-dipped in chocolate.
• Sexy: Norah Jones' new CD.Sexier: Vintage Ella Fitzgerald.
• Sexy: His soft, clean-shaven face. Sexier: You helping him lather up and razoring it off...
• Sexy: Perla Lingerie. Sexier: Modeling the lingerie, a la Jamie Lee Curtis in True Lies. Unleash your inner dancer!
• Sexy: Getting it on. Sexier: Taking your time. It's an art...


---
A LETTER FROM SAN FRANCISCO CHEF ANDREA FRONCILLO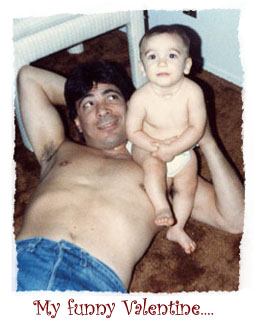 Yes, St. Valentine was Italian. Casanova, St. Valentine, Andrea Bocelli. Me. What a bunch of handsome, passionate fools we are...!

Isn't it ironic that the month that celebrates love is also the shortest month of the year? Ah, but there's the lesson: even if love doesn't last for very long, it's always worth celebrating. Love is a feeling that I want to have over and over again, even when it hurts, which it has many times... I think the painful part of love is what we learn and grow from - and pain, after all, is not such a big price to pay for the rewards that come from love. And when a loving relationship does end, the pain passes and another chance comes along... and you can use the lessons you learned from the last time.

There are many parts of my body that have changed since I was a kid. Some of the traumas I've gone through have certainly changed my soul. And then there's my mind, which changes all the time. But my heart - that impulsive, reckless muscle - THAT has never changed. It does what it wants to do, even when I try to control it.

My mind keeps me sane and compels me to do what I should - often with great rewards, both personal and financial. But it's my heart beat (that quiet tick) that fires me up and fills me with energy and happiness... so it's no wonder that when I follow my heart the outcome is so rewarding.

The heart does what it does for the love of it. Even when the body is weary and the mind is tired, the heart's passion fuels us up and keeps us moving forward. So if you have no heart, I pity you. Or if you simply haven't listened to your heart lately, I urge you to. Don't do things because they make sense - do them because your heart beats faster - do it for the passion - for the love.

Happy Valentine's Day, everyone! And that includes my two favorite Valentines, my son and daughter. That's a picture of my son and me on the left, eighteen years ago... no matter how much hair I pull out over that kid, I still love him with all my heart. My last bit of advice is just to remember that if you're making a list of presents for your loved ones put your own name at the top of the list. The things we do to pamper and care for ourselves make us that much more open and loving to the people around us.

And as for this guy... I think my gift to myself this month will be a visit to my other favorite Valentine... my mamma. I'll tell you all about it when I return! Ciao!



---
PLAN FOR IT...! Saturday, February 14th.


Filler

---
---
AHI TUNA CARPACCIO w/ sesame-soy glaze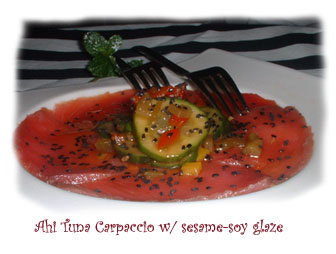 This is so simple, and yet decadent...

• 6-8 oz. piece sushi-grade ahi tuna (ask for it at the fish counter)
• 1/2 english cucumber, sliced into circles
• 1/4 cup red + yellow bell peppers, diced
• Black sesame seeds
• 4-5 Tblsp. ponzu sauce
• Sesame oil
• 1 tblsp. lemon-infused olive oil (optional)

Wrap tuna in plastic wrap and freeze for at least 2 hours.

In a small bowl, toss together the sliced cucumber and diced pepper with the ponzu sauce. Ponzu is citrus-infused soy sauce; you can easily find it in most markets. Cover and marinate for at least two hours.

Just before serving, lightly coat a chilled plate with sesame oil. Slice the frozen tuna as thinly as you can and lay it on the plate in a single layer. Arrange the cucumbers and peppers in the center and drizzle the leftover ponzu sauce over the tuna.

Sprinkle black sesame seeds over the top. Finish with a light drizzle of lemon-infused olive oil, or if you don't have that, a few drops of sesame oil.

---
CANDIED ROSE PETALS

Decorate your Valentines Day table with candied rose petals... they're gorgeous and delicious!

Here's how to do it:

• Pick out 6-12 roses in your favorite colors. Separate the petals and pile them on a plate. Note: if you plan to nibble, you must buy organic roses so that you're not munching on pesticides!

• Create an egg wash by stirring together one egg white with 1 tsp. of water. Stir just to mix! Mixture should stay transparent.

• Lightly brush the egg wash over each petal. You can use your fingertip or a small pastry brush. Simply swab the main surface area; you don't have to cover every millimeter.

• Sprinke superfine sugar over the petals, and lay them out on a wire rack to dry for a few moments, then place them on baking sheets in a 175 degree oven. At this low temperature, they should slowly crisp up without changing color, in about 45 minutes - 1 hour. Monitor them carefully so that they don't get too done.

Here are some of our favorite things to do with candied rose petals:

- Sprinkle over a salad
- Decorate a scoop of vanilla bean ice cream
- Heap over a cheese platter
- Pile on the table
... whatever and wherever you like!

---
STRAWBERRIES double-dipped in MARSHMALLOW + DARK CHOCOLATE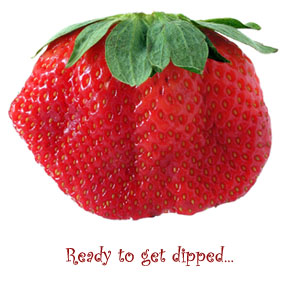 Yes, double-dipped. Strawberries in chocolate is a classic, but the addition of a layer of marshmallow makes it even better... a chewy, chocolately bite with a juicy center. Absolutely scrumptious!

• 1 pint basket fresh large strawberries, leafy caps intact!
• 1/2 cup small marshmallows
• 1 Tblsp. brown sugar
• 4 oz. dark chocolate (we like Scharffen Berger 70%)

Gently wash the strawberries, leaving the cap intact, and pat dry with a paper towel. In a small glass bowl, melt the marshmallows for 10-15 seconds in the microwave. Stir to form a creamy paste. Dip the strawberries in the marshmallow, leaving about 1/2" of berry showing. Place on oiled waxed paper. Sprinkle the marshmallow area with just a bit of brown sugar.

In another bowl, melt the chocolate. Dip each berry into the chocolate, leaving a ring of marshmallow exposed. Place the berries back on the waxed paper and cool in the refrigerator for at least 10 minutes.

Feeding the berries to your dinner companion is highly recommended...!


---
You are receiving this email because you're a fan of food and romance...You think life is a sensual adventure, and you hope to nibble and sip your way to bliss. We hope this helps. If you're hungry for more, head straight to our web site.

Copyright 2003 • Sex and the Kitchen, Inc. • All Rights Reserved.
---