San Francisco is all dressed up for Christmas...
The biggest tree in the city is lighting up Union Square; the San Francisco Ballet is putting on the Nutcracker; the stately Victorians on Sacramento Street are aglow with sparkly lights; the cable cars are decorated with wreaths. Yes, "the most wonderful time..." is here again. It's been a whirlwind of a year, so go ahead: indulge in all the treats & temptations of the season. You deserve it!
---
A LETTER FROM SAN FRANCISCO CHEF ANDREA FRONCILLO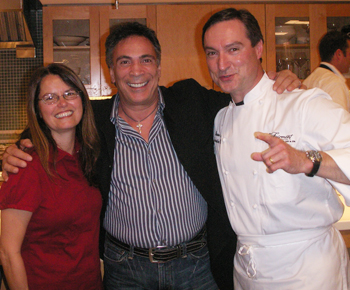 Ho Ho Ho!

It's hard to believe that it's already December. In just a couple weeks, we will say goodbye to 2008. Where did the time go? This year went by in a big hurry, and so much has happened since the last newsletter.

In mid-November, I was invited at a cooking show at Macy's Cellar. When I arrived, I was surprised to learn that the chef for the evening was Bruno Tison from the Fairmont Sonoma Mission Inn & Spa. What a great show, and what a wonderful menu he put together. I've known Bruno for about 15 years; we worked together at Ernie's Restaurant, one of the very first Michelin starred restaurants in the whole country.

Bruno left Ernie's in the mid-90's and moved to New York to work at the Plaza Hotel, another Fairmont property. When the Sonoma Mission Inn was purchased by the Fairmont, they sent Bruno back to California. Luckily for all of us, he now heads up the restaurant kitchen at the Inn, and we have yet another very talented chef here in the Bay Area.

The delicious holiday meal Bruno prepared at Macy's Cellar was paired with Chateau St. Jean wines created by Margo Van Staaveren, a superb winemaker. She hit all the marks, because the wine was perfect. If you're planning a relaxing trip to the wine country, add a visit to the Fairmont Sonoma Mission Inn and Chateau St. Jean to your agenda - you're sure to be impressed.

Thanksgiving was once again very special this year. As we did last year, Tracy & I celebrated with our good friends Mario & Stephanie (of Cafe Macaroni Sciue Sciue). There were about 30 of us altogether, and we enjoyed a huge roasted turkey with trimmings and all. This year, we added a Kurobuta ham to the table. You have never had a ham until you try the Kurobuta - it is the "Kobe beef" of ham, absolutely top of the line fantastic. Do yourself a favor and order one online - everyone will love you for it. Serve it with caramelized apples, and be ready to swoon.

But here we are in December, and there's a lot of bad news facing us - the down economy; the Wall Street crash; the banks in trouble; the people losing their jobs. It's all very depressing. This year, most of us will be bypassing expensive presents and being frugal - but that doesn't mean we can't still enjoy the spirit of the holidays. A log in the fireplace, a good bottle of wine, and a handmade romantic meal is perhaps the best way to have a truly memorable time.

I've enclosed some special holiday recipes for you to enjoy. I know a lot of you will have to cut down on going out and won't be able to splurge in the usual ways, but the beauty of this is that you'll get to be creative and improvise. Make special meal and have an unforgettable time - all of you have to do is just visit my website, click on recipes and romantic ideas, and there you go!

So come on, girls - you know how to set the temperature for an unforgettable night IN. If you need some extra ideas, check out my site! Guys?! Pull your sleeves up, go shopping, set the mood at home and let her know between a sip and a bite that she is "all that" - love her with your eyes; flirt, kiss, and listen.

Remember this: whatever you give a woman, she'll make greater. Give her groceries, and she'll make you a meal. Give her a smile, and she'll give you her heart. Give her sperm, and she'll make a baby. Give her a house, and she'll make you a home. She enlarges whatever you give her. So... if you give her any crap, be prepared to receive a ton of s**t!!

Now that fireplace and bottle of wine is looking better and better...

This is one of my favorite times of the year, not only because its the holiday season, but also because it's the season of my favorite food: Dungeness Crab. The season began on November 14th, and although it started slowly, it it's now "boiling"! We're so lucky here on the West Coast to be able to eat this delicious treat - the big, plump, sweet meat that has a distinctive taste like no other. I've included a couple of recipes for you to make and enjoy with that special person in your life.

As I end this letter, let me tell you that it has been a pleasure to share glimpses of my life with you throughout the year. I'm grateful to you for reading, and for your emails and kind notes. You make this so much fun.

Merry Christmas and Happy New Year! May we all be happy & healthy in 2009.

XOX,

Andrea

P.S. If you're new to cooking crab, or want some exciting new crab recipes to make, be sure to check out my cookbook - CRAB: Buying, Cooking, Cracking. It makes a great gift, too!
---
Crab Beignets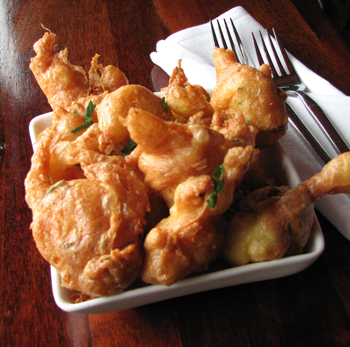 This is the savory West Coast version of the famous New Orleans beignets. Hot, crispy and delicious, I dare you to eat just one...

Crab Beignets

- 2 large egg yolks
- 3 tablespoons olive oil
- Grated zest of 1 lemon
- Juice of 1/2 lemon (about 1 1/2 tablespoons)
- Zest of one lemon
- 3 tablespoons olive oil
- 1 teaspoon minced garlic
- 1 cup (8 ounces) fresh crabmeat
- 1 heaping tablespoon finely minced fresh basil
- Salt and freshly ground black black pepper to taste

- 1/2 cup water
- 1/4 cup (1/2 stick) unsalted butter, cut into bits
- 1/2 teaspoon salt
- 1/2 cup all-purpose flour
- 4 large eggs

- Canola oil for deep-frying
- 2 tablespoons minced fresh flat-leaf parsley, for garnish
- Lemon wedges for serving

In a food processor or a blender, process the egg yolks for about 15 seconds, or until they are light and fluffy. Gradually add the olive oil in thin stream to create a thick, viscous sauce. Stir in the lemon zest, lemon juice, and minced garlic. Remove food processor from the base unit; then, fold in the crabmeat. Add the, basil, and season with salt, and pepper.

Next, make the beignet batter: combine the water, butter, and salt in a medium saucepan. Bring the mixture to a boil over medium heat. Add the flour all at once. Stir vigorously with a heavy wooden spoon; the mixture will form into a ball. Stir constantly, scraping the bottom of the pan to prevent the dough from burning, for 2 to 3 minutes more, or until the dough changes appearance from white and floury to golden brown and shiny, and a film forms on the bottom of the pan. Remove from heat; transfer the batter to a bowl.

Add one 1 egg, and beat vigorously to incorporate it into the batter; the batter should be thick and creamy. Repeat with the remaining eggs, one at a time, making sure that the previous egg has been fully mixed into the batter dough before adding the next. The batter should be glossy and viscous.

Fold the crab mixture into the batter. Let cool, then cover and refrigerate for 45 minutes to an hour to firm ingredients together. You may make the batter ahead of time and refrigerate it for up to 3 days.

To fry the beignets, remove the batter dough from the refrigerator. In a large, heavy skillet, heat 1 to 2 inches of vegetable oil over high heat to 375ºF; it should be hot and bubbly. Using a teaspoon or a melon baller, scoop the batter dough into balls of approximately 1-inch diameter. Drop them into the oil in batches of 5 to 7 balls, and fry for about 2 minutes, or until golden brown and crispy all over. Using a wire-mesh skimmer, transfer to paper towels to drain. Move to a shallow dish and place in a low oven to keep warm until all of the beignets are cooked. Sprinkle with the parsley and a light squeeze of lemon and serve immediately.

- Serves 4 to 6 as an appetizer or light snack
---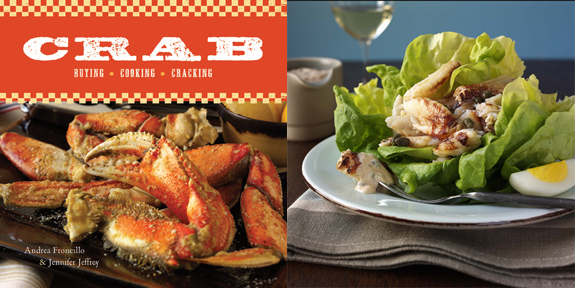 ---
Chile-Glazed Crab Lollipops with Pineapple-Horseradish Dipping Sauce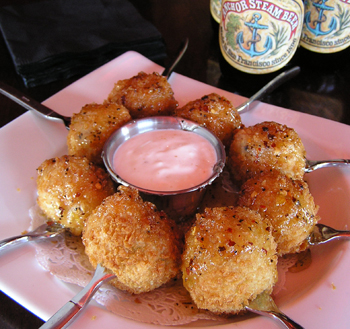 This recipe starts with rice-and-crab balls that are then fried until crispy and drizzled with a spicy glaze. Festive and fun to eat, these are a delicious holiday treat.

Chile-Glazed Crab Lollipops with Pineapple-Horseradish Dipping Sauce

- 3 cups chicken stock
- 2 tablespoons unsalted butter
- 1 cup Arborio rice
- 3 cups chicken broth
- 3/4 cup crabmeat
- 1 tablespoon Dijon-style mustard
- 2 tablespoons diced finely chopped green onions
- Freshly ground black black pepper to taste
- 2 egg whites, beaten just until foamy
- 1 cup panko (Japanese bread crumbs)
- Canola oil, for frying

Chile Glaze
- 1/4 cup freshly squeezed orange juice
- 1/4 cup sugar
- 1 teaspoon red chili pepper flakes
- 1/2 teaspoon sea salt

Dipping Sauce
- 3 tablespoons pineapple juice
- 1 tablespoon creamy prepared horseradish
- 1/4 cup sour cream
- 1 tablespoon packed brown sugar

To make the rice balls: In a medium saucepan, bring the stock to a low simmer. In a small medium saucepan, melt the butter over medium heat. Add the rice; and stir to coat the grains with butter. Sauté for 3 to 4 minutes, stirring frequently with a wooden spoon, until the rice grains become translucent around on the edges. Add 1 cup of the broth stock and stir gently. When the rice has absorbed nearly all of the stock, add another cup. Repeat with the remaining stock, 1 cup at a time, for a total cooking time of about 18 minutes, or until the rice is al dente and all the liquid is absorbed. Remove from the heat and let cool completely.

When the rice is fully cooked, about 18 minutes, remove from heat and cool. The texture should be soft but slightly firm, not soupy. Put the rice mixture in a bowl and stir in with the crabmeat, mustard, and green onions. Season to taste with pepper.

Pinch off walnut-sized portions of the rice mixture and roll into 2-inch balls. Place the balls in a single layer on a sheet of waxed paper. When all the rice balls have been formed, set out the flour, egg whites, and panko in 3 shallow bowls. Moving quickly, roll the balls one by one in the flour, then dip them in the egg, then roll them in the bread crumbs until thoroughly coated. Place in a single layer on a sheet of waxed paper.

In a large, heavy skillet, heat 1 to 2 inches of canola oil over high heat to 375ºF; it should be hot and bubbly. Fry the rice balls in batches, about 4 or 5 at a time, for 3 to 4 minutes, or until they become golden brown and crispy. Using a slotted spoon, transfer to paper towels to drain. Stick the wooden skewers about halfway through each rice ball to form a "lollipop" and arrange on a serving platter. Place in a low oven to keep warm until all of the lollipops are cooked.

For the chile glaze: Pour the orange juice into a small nonreactive skillet and place over medium-high heat. Add the sugar and stir. The mixture will bubble as the sugars begin to caramelize. Add the chili pepper flakes and garlic salt. Cook until mixture has reduced by half, about 4 minutes. Remove from heat. Generously drizzle the glaze over the lollipops, allowing it to drip down the sides.

To make the dipping sauce: In a small bowl, combine all the ingredients, beating with a whisk to incorporate the juice into the sour cream. Pour the sauce into a small bowl and place it on the serving tray with the lollipops. Serve at once.

Makes 25 to 30 lollipops
---
Holidays in San Francisco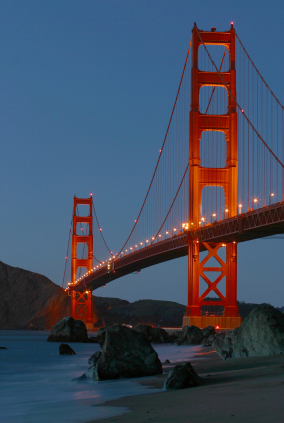 If you live in or near San Francisco, here are a few of my favorite things to do during the holiday season. Dress in your holiday best, grab the hand of the person you love, and hit the town!

- Attend the Nutcracker Ballet at the gorgeous War Memorial Opera House, with appetizers and champagne afterward at Jardinere.

- Stay in with a favorite movie and a bowl of fresh-popped popcorn. There's nothing like spending a relaxing Sunday afternoon together to get you both in the mood for love.

- Catch La Boheme or Phantom of the Opera - they'll capture your imagination and take you away from the worries and cares of the season.

- Spend an evening in North Beach - take in the holiday show at Beach Blanket Babylon, which is always a treat, and enjoy a romantic dinner at Sean O'Brien's new restaurant, Zinnia.

- Spend a leisurely Saturday morning at the Ferry Plaza Farmers Market; after you've filled your basket with fresh fruits and vegetables, cool your heels at Tsar Nicolai Caviar Cafe with a glass of bubbly and a plate of caviar blinis. Mmm. Oh, and who can pass up the chocolate counter at Michael Recchiuti Confections? Not I, that's for sure.

- Take a walk on Crissy Field, and stop at the Warming Hut for a piping cup of cider.

Whatever you do... have fun!

P.S. If you're down at the Wharf, the view from the Franciscan Crab Restaurant is grand! Stop on by: Franciscan Crab Restaurant.
---
Dark Chocolate Cookies with Spicy Strawberry Glaze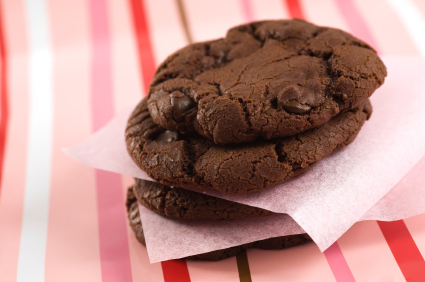 These deliciously soft, sweet cookies make a delicious addition to the holidays... the glaze has a hint of spice for a nice warm kick. Don't forget to leave a few out for Santa!

Dark Chocolate Cookies with Spicy Strawberry Glaze

- 2 cups all-purpose flour
- 1 cup unsweetened cocoa
- 3/4 cup dark chocolate pieces
- 1 teaspoon baking powder
- 1 teaspoon ground cinnamon
- 1/2 teaspoon ground cloves
- 1/2 teaspoon ground ginger
- 1/2 teaspoon of salt
- 1 cup granulated sugar
- 1 stick butter, softened
- 1 large egg + 1 yolk
- 1/2 cup whole milk

- 16 ounces dark unsweetened chocolate
- 3/4 cup confectioners' sugar
- 1 cup (8 ounces) fresh strawberries, pureed
- 3 ounces port wine
- 1 teaspoon ancho chili powder

Preheat oven to 400 degrees F. In medium bowl, combine flour, cocoa, chocolate pieces, baking powder, cinnamon, cloves, and salt. In a large mixer bowl, beat granulated sugar with butter with mixer set at low speed until blended, occasionally scraping bowl with rubber spatula. Increase speed to high; beat until light and creamy. Reduce speed to low and beat in the egg. low speed, beat in egg. Alternately beat in flour mixture and milk, beginning and ending with flour mixture, just until combined, occasionally scraping bowl. If the dough is too stiff, add another tablespoon or two of milk.

Dust your hands with cocoa and shape the dough into 1-1/2 inch balls. Place balls, 2 inches apart, on a large ungreased cookie sheet. Bake cookies for 7 to 9 minutes or until the surface looks dry and slightly cracked. Transfer cookies to wire rack to cool. Repeat with remaining dough.

To make the glaze, melt the chocolate, milk, and sugar in a small saucepan over medium heat. When the mixture is smooth and creamy, gradually add the strawberry puree and the ancho chili powder. Remove from stove; add the port wine.

Dip top of each cookie into glaze. Place cookies on wire rack set over waxed paper to catch any drips. Allow glaze to set for about 15 minutes. Store cookies in tightly covered container at room temperature for up to 3 days, or in the freezer for up to 3 months.
---
Some Christmas Thoughts for You

As you sit by the fire with your port and a piece of gingerbread, here are a few things to ponder:

- We get so bored with childhood that we rush to grow up... and then we long to be children again.

- We lose our health to make money, then spend the money to try and regain our health.

- We think so much about the future that we forget to live in the present.

- We become people who think they'll never die, and then we die having never lived.

- We can't make anyone love us - all we can do is love others to the best of our ability.

- A rich person is not the one who has the most... but the one who needs the least.

What kind of a person are you, and how will you live in 2009?
---
---
You are receiving this email because you're a fan of food and romance...You think life is a sensual adventure, and you hope to nibble and sip your way to bliss. We hope this helps. If you're hungry for more, head straight to our web site.

Copyright 2008: Sex and the Kitchen, Inc. : All Rights Reserved.