I would have sent out a newsletter in March, but I was running around the world - taking in breathtaking sights and eating wonderful food and generally reveling in a much-needed getaway. Now I have all kinds of fun things to share with you, so pardon my lapse in communication, and read on!
---
A LETTER FROM SAN FRANCISCO CHEF ANDREA FRONCILLO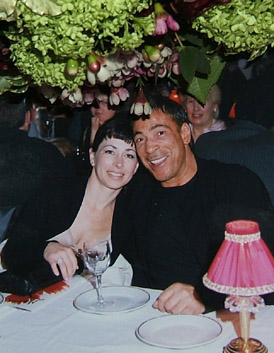 I wanted to start with a few thoughts about the late Pope John Paul II. I returned from Italy just a couple of weeks before he passed away, and his declining health was much on the minds of the people while I was there. I spent many years in the Catholic church as a young boy, and while I don't agree with many of the Catholic views on sexuality and contraception, I do greatly admire all that the Pope accomplished during his lifetime. He will be missed by many.

In my opinion, there is no better way to see the world than with your significant other, so I was thrilled during the first part of March to be setting off to Europe with Tracy. Our first stop was Paris, where the snowflakes were beginning to fall as our plane landed. Paris is, as everyone says, one of the most romantic cities in the world, and it certainly was for us. It was also...well, cold. I haven't taken a trip to the snow for a long time, so it was something of a surprise, but it made the city even more beautiful than it already is.

The best way to see Paris is to hire a driver, and that's just what we did. We started off from the Prince de Galles Hotel on the Champs d'Elysee, where we stayed, and saw Notre Dame, Monmarte and the Eiffel Tower. The view from the top - with all of Paris spread out below us - truly took our breath away! During one of the evenings, we visited the famous Moulin Rouge. I've begun to need reading glasses as I get older, but let me tell you - I didn't need glasses to appreciate the fine view on stage. We were in the front row, and - whoo-ee! - those topless dancers were... well, topless.

After a couple of days in Paris, we left for Venice. Paris is romantic, but Venice is pure magic. The buildings rise like dreams out of the water, and the gondolas float throughout the canals, while the voices of the gondoliers echo off of the walls as they sing... As you make your way through the city, the streets twist and turn in all directions, and you're guaranteed to get lost, but it doesn't matter. Everywhere you turn, there's a charming cafe or a tiny boutique with items that you can't find anywhere else. Something about Venice makes me want to say: "Stop the world! I want to get off (right here!)!"

We stayed at the Hotel Danieli in a gorgeous suite that was constructed in the 13th century. The doors looked like they were made for a castle, the floor tilted in several directions, and the furnishings were hundreds of years old... simply amazing. In the mornings, we sat out on the tiny balcony with our espressos and looked down at the canals. The staff in the hotel was incredibly gracious and attentive. We felt like we were a part of the family. A special thanks to Marino, the bartender, for his suggestions about where to go and what to see.

Of course, a trip to Venice would not be complete without a stop at the infamous Harry's Bar, where Hemingway and other stars used to hang out. I've included a recipe below that was inspired by an amazing soup we had there. We had such a lovely time in Venice that we stopped back there on our way out of Italy as we were leaving.

There had to be a third stop, because we hadn't seen Mamma yet! So we left Venice for Napoli, and the welcome comforts of home. It was so good to see everyone and catch up. Mamma chided me for taking so long to come and visit - she wondered if I was in Italy to see the sights or to see her... and of course it was a little bit of both.

From the port of Napoli, we set out for Positano. This little gem is tucked into the side of the mountain off of Amalfi Drive, and is one of the most beautiful stretches of coast anywhere in the world. We stayed at Le Sirenuse, in a room that overlooked the water, in the shadow of an enormous church dome. As in Venice, the entire staff was lovely and accomodating. It pays to tip well (preferably right after you arrive - don't wait until the end of your stay!).... take care of people and they will take care of you. Trust me, you can't afford not to travel that way.

As if it couldn't get any better, we took a boat to Capri Island. We stayed at a little hotel called the Villa Michelle. It was run by a wonderful family, the head of which was an older woman with twinkly eyes and a sweet simle. Since the season doesn't officially open until the end of March, many of the boutiques and restaurants were closed, but we took some long walks and soaked in the view, which never goes out of season... Next time, I will book a room at the Ceasar Augustus Hotel, in the Farouk Suite, where the King of Egypt used to stay. The peek that we got was incredible! But that's next time...

What more can I tell you? It was a trip that created many beautiful memories. As we look through the pictures, we're already starting to talk about our next trip. If there is any way you can get away this year, just drop everything and go. Because you deserve it - you owe it to yourself and your relationship to create some magic! When you're together - alone, yet surrounded by thousands of people - you remember how special you are to each other - one in a million! Now that's amore...

Now of course I couldn't go around the world without bringing something back for you! And indeed I did. In all those hours spent in an airplane seat, I had a revelation about the two most important factors in my life. I distilled them into what I call Mo's Commandments. Moses brought 10 Commandments down from the mountain but I, being that I have a short memory, only have 2. You can call me Mo - and no, that's not short for Moses - in Neapolitan dialect, "Mo" means "Now! Right away!" so here are Mo's 2 Commandments to be lived immediately:

- Thou shalt Honor thy Food, for it nourishes your body. Life is too short for cheap food and bad wine.

- Thou shalt Enjoy Sex Frequently, for it feeds your spirit and keeps you young at heart.

In order to be a diligent follower of Mo's Commandments, you must learn the proper meaning of the words "food" and "sex." "Food" is anything delicious that you chew while making sounds like this: "Ooohhh-Hmmm-Ahhhh-Whoooo!" And so on. Sex is a delicious activity that you do with your body, while making sounds like this: "Ooohhh-Hmmm-Ahhhh-Whoooo!" Both are similar, when you think about it... without either one, we wouldn't last very long. And I'm not unreasonable; you can adjust the commandments to your personal preferences. Mix, stir, season... to suit your liking. Because nothing is written in stone around here!

I've included a few recipes inspired by my travels. Next month, I'll send you a menu in honor of Mother's Day. And speaking of mothers...I'm hoping that my Mamma will finally make the trip to San Francisco - she's never been, but one of my sisters promises me that this might be the year that they come together. God Almighty! Mamma's coming to America!

Ciao until next month!

Andrea ("Mo")

---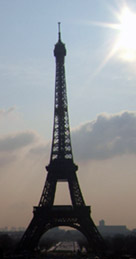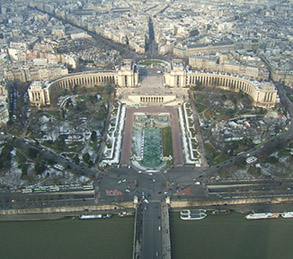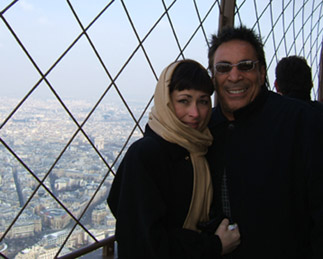 SCENES FROM PARIS
Paris in March is a cold proposition, but it well worth the scenery... Here are a few pics from our excursion to the Eiffel Tower. Vive la France!

---
TORTINO di ZUCCA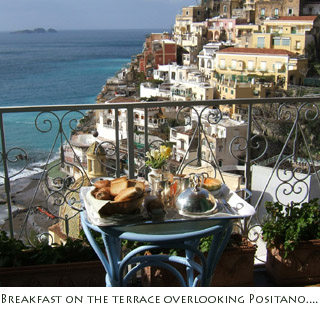 This recipe is inspired by a similar dish that I had in Positano. A delicate souffle is made with butternut squash and served in a pool of fresh mozarella "fondue" accented with toasted pistachio nuts. A decadent and satisfying dish, guaranteed to inspire a deep sigh of contentment. Serve with a medium-bodied red wine, such as a Pinot Noir.

• 1 medium butternut squash
• 1 large egg plus one egg yolk
• 1/4 cup heavy cream
• 1/4 cup sifted white flour
• 1/8 cup grated pecorino cheese
• 1/2 cup toasted pistachios, coarsely chopped
• 2 tablespoons chopped basil leaves
• Salt and freshly cracked black pepper
• 1 4-ounce ball fresh mozzarella (in water)
• 2 tablespoons heavy cream

Preheat oven to 375 degrees Farenheit. Cut the squash in half and scoop out the seeds and pulpy strings. Wrap the squash in foil and roast in the oven for 45 minutes, or until the flesh is tender when pierced with a knife. Remove and peel back the foil; let cool for 15-20 minutes. Scoop the flesh away from the skin, and place in a bowl.

Beat the squash together with the egg, egg yolk, cream, flour, cheese, and half of the pistachio nuts. The mixture should be thick and smooth. Fold in the basil leaves and season lightly with salt and pepper. Place 4 oiled ramekins in a deep casserole in 1 inch of water. Divide the squash mixture among the ramekins. Place the casserole dish in the oven and bake at 375 for about 25 minutes, or until the souffles have risen slightly above the edge of the ramekin, and the sides have begun to pull away from the dish.

In a small, heavy bowl, smash down the mozerella with the back of a fork and beat it together with 2 tablespoons of heavy cream. Season with salt and pepper. Place the bowl in a microwave and warm for a scant 20 seconds, until the mixture is warm but not bubbling. Divide the warm cheese among four warmed serving plates and turn the ramekin upside down over the top; remove the ramekin. Sprinkle with remaining pistachio nuts and place one basil leaf on each plate. Serve immediately.

No matter what your view - even it if isn't Amalfi Drive! - raise your glass to living a good life and savoring every moment. Sante!
---
Cracking the Code

Tracy recently brought home two heart-shaped rocks, and with the idea that we could use them as a kind of codel. She placed them by the front door, side by side, to indicate that all is well. If the rocks have been moved apart, that means whomever moved them is upset or needs some space... and that's a clue to take it easy and be understanding.

If the rocks are on top of each other, well... lucky me!
---
ZUPPA di FAGIOLI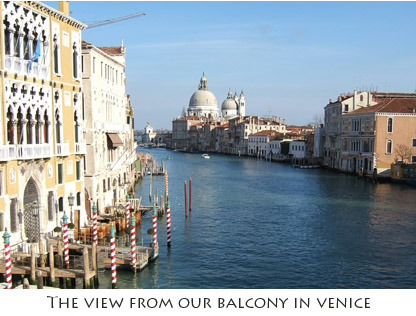 This hearty white bean soup was inspired by a visit to Harry's Bar in Venice. As you hunker into your table to warm up from the cold night air, this soup is just the thing. Try it with a piece of hot, crusty bread and good olive oil for dunking.

• 1 cup dry Barlotti beans
• 1 cup pound dry canellini beans
• 1/4 cup celery, finely chopped
• 1 small yellow onion, finely chopped
• 1 shallot, diced
• 4 garlic cloves, diced
• 2 buds fresh oregano
• 1/2 cup olive oil
• 5 cups (or more) chicken stock
• Freshly grated nutmeg

Soak the beans together overnight in 2 quarts of water with 1 teaspoon of baking soda. In the morning, drain the beans.

In heavy large stock pot, heat 1 tablespoon of olive oil over medium heat. Add the celery, onion, shallot, and garlic and sauté until vegetables are tender and translucent, about 5 to 7 minutes. Add the beans, chicken stock, and rosemary. Season with salt and pepper. Increase the heat and bring soup to boil. Reduce heat to medium-low; cover and simmer, stirring occasionally, until beans are very tender, about 1 hour.

Remove from heat and cool for about 5 minutes, then remove one generous ladleful (about 3/4 cup) into a bowl. Set the bowl aside. Pour the rest of the soup into a blender, working in batches, and puree until smooth. Pour the soup back into the warm pot and stir in 2 additional tablespoons of olive oil. Add a hint of nutmeg - just a shaving, not so much that the flavor will be overt.

Ladle soup into warmed bowls, and scoop a tablespoon of the whole beans in the middle center of each serving. Drizzle a few drops of olive oil over the top and serve immediately.

---
LIMONCELLO - MAMMA MIA!
Limoncello is the refreshing lemon liquer made famous on Capri Island, and served all over Italy. I love taking a glass outside on a warm summer evening to enjoy slowly... it is easy to make in your own kitchen, and is a great gift to bottle up and present to friends. The first recipe makes the traditional limoncello, while the second one is my mother's creamy version that is sweet and silky and oh-so-decadent. Enjoy!

• 4 cups vodka
• 8-10 large lemons
• 4 cups water
• 2 1/2 cups white sugar

Wash the lemons and scrub with a vegetable brush to remove wax or other reside. Pat dry. Carefully peel the lemons, being careful to leave the white pith on the body of the lemon and not on the peel, because it imparts a bitter taste.

Pour the vodka into a large 1-gallon jar. Add the lemon peels and cover. Let the jar sit for at least 48 hours at room temperature in a dark place. The longer the peels and the alcohol sit together, the more intense the flavor.

When you are ready to proceed to the next step, combine the sugar and water in a saucepan and warm over low heat until the sugar is fully dissolved into the water. Remove from heat and cool. Combine the vodka and lemon peel mixture with the sugar syrup.

Strain the mixture through a cheesecloth or fine sieve to remove the lemon peels. You may then pour into smaller glass jars and store in the freezer. Due to the high alcohol content, it will not freeze! Simply pour and serve.

MAMMA'S CREAMY LIMONCELLO

• 4 cups vodka
• 6-8 large lemons
• 3 1/2 cups sugar
• 1 quart whole milk
• 1 1/2 teaspoons vanilla (not vanilla flavoring)
• 1 cup heavy cream

Just as in the previous recipe, begin by washing the lemons and scrubbing them with a vegetable brush to remove wax or other reside. Pat dry. Carefully peel the lemons, being careful to leave the white pith on the body of the lemon and not on the peel, because it imparts a bitter taste.

Pour the vodka into a large 1-gallon jar. Add the lemon peels and cover. Let the jar sit for at least 48 hours at room temperature in a dark place.

When you are ready to proceed to the next step, combine the sugar and milk in a saucepan and warm over medium heat until the sugar is fully dissolved into the milk. Do not let it boil! Remove from heat and cool. When completely cool, combine the vodka and lemon peel mixture with the sugar-milk mixture. Stir in the cream and vanilla.

Strain the mixture through a cheesecloth or fine sieve to remove the lemon peels and milk froth. Distibute among small glass jars and store in the freezer. Due to the high alcohol content, it will not freeze! Simply pour and serve.

Limoncello di Capri
---
MORE PICS FROM THE TRIP!
Good times. Good memories.

---
You are receiving this email because you're a fan of food and romance...You think life is a sensual adventure, and you hope to nibble and sip your way to bliss. We hope this helps. If you're hungry for more, head straight to our web site.

Copyright 2005 • Sex and the Kitchen, Inc. • All Rights Reserved.
---