After months of fog in San Francisco, the sun came out to play!
And we played with it! Long walks on Baker Beach, picnics in Golden Gate Park, lunch at the Market Bar outside the of Ferry Building on the Embarcadero in view of all the yummy boys and girls skating by. The fog has begun to roll back in today, but life is still good.
---
A LETTER FROM SAN FRANCISCO CHEF ANDREA FRONCILLO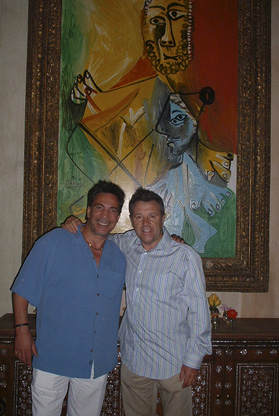 The passing of Julia Child made me think about the amazing legacy that she left to everyone who loves food. Julia began cooking late in life, and brought a vitality and passion to the craft that had never been seen before. The fact that food is "big entertainment" today is due in a large part to her. Julia was truly a pioneer, and inspired hundreds who came after her. Cooking was an adventure for Julia - she wasn't afraid to try new things, and then laugh at her own mistakes. She sounded like everyone's mom or grandma, making people feel at ease. Her efforts snowballed into what is today a food-watching frenzy. Anyone who can poach an egg wants to be in the spotlight, and people have created billion-dollar empires on cooking and food-related items.

So here's to you, Julia. Thanks for the memories. You were a rare and special woman.

After a whirlwind July, I thought that August might be a little more mellow. But it was not to be! The month started off with a trip to Las Vegas. I arrived on a Thursday to watch "O" at the Bellagio. I had tickets in the front row - they're called "wet seats" and that isn't just a clever name! "O" is a Cirque du Soleil production centered around a huge "lake" of water, and there is lots of splashing going on! Near the end of the show, the two clowns who pop up throughout the performance grabed two guys out of the audience and brought them onstage for a dance. I was one of them! It was a blast. What a night; dancing on the stage of "O" is as good as it gets!

The next night I saw Elton John in concert, and Rod Stewart on Saturday night. I used to listen to those guys 25 years ago, back in my dancing days, when I still had a 25-inch waist. Now, 25 years and 5 inches later, they're still riveting performers.

I stayed at the new multi-million dollar Venezia Towers in the Venetian Hotel. It blew me away. I've stayed at a lot of nice places, but this was magnificent. I have to tell you about the Bath Concierge - oh, yes. If and when you like, the bath concierge comes to your suite and creates a bath environment to match your fantasies. If you're a fan of Italian Opera, like myself, you can walk in to a steaming bath strewn with rose petals while the sounds of Verdi and Puccini fill the room and a bottle of champagne waits on ice beside a tray of chocolate-dipped strawberries... truly an incredible experience.

The weekend was capped off with another of Julian Serrano's magnificent dinners at Picasso in the Bellagio...as always, it was the best of everything - setting, food, service: the works! Julian is not only my friend, but also one of my favorite chefs and the "best bet" in Vegas. That's the two of us in the picture above, standing in front of an original Picasso. Lucky me: pictured with both a master and a masterpiece.

I play hard, but believe me: I work hard, too. I spent the rest of the month on several major projects. I'm finalizing an expanded wine list at Bobo's, introducing a lot of my personal favorites. I had the pleasure of tasting Joseph Phelps Insignia during a tasting for the new list, and found it to be a rich, elegant blend, bursting with ripe fruit flavors with just enough tannic edge. Bravo! Perfect with a juicy steak. Since some of the wines I've choosen are rare and allocated, I had to basically sell my soul (okay, maybe re-sell it!) to get some of them...... but now Bobo is all smiles, and soon the diners will be, too!

I've also been working up at the Dead Fish in Crockett. We've been refurbishing the deck and will soon be offering Brunch By the Bay. The brunch menu will be a fantastic mix of new dishes, like Dungeness Crab Benedict and Nonna's Cobbler, and our current menu favorites like Skillet Roasted Mussels and Prime Rib. That million-dollar view just got better! I've included a couple of the brunch recipes here for you (see below), in hopes that you plan a special morning "in" with your sweetheart.

I hope all of you are soaking in the last bit of summer, wherever in the world you are. We have readers from all over the globe, and I always like to imagine all of you out there, making plans to cook and have fun in the kitchen with your dates and the people you care about.

Find a reason to laugh out loud every day! Like I did yesterday when I saw my old friend Luigi; he was smiling from ear to ear. "Those new acid pills must be working!" I told him. Luigi grinned.

"I take one every day," he said, "Mannaggia Maria! Somebody stop me!" He bit the side of his hand. "Everything is great! My girlfriends are calling me honey."

"What do you mean, girlfriends?" I asked. "What happened to Carmela?"

Luigi thumped on his chest. "Carmela couldn't handle this all by herself."

"Luigi!" I said. "Let me see that prescription!" He handed it to me. It read: Levitra. "Hey!" I said to Luigi. "These aren't for heartburn!"

"Who cares?" he grabbed the bag back. "As long as it works, why spoil it?"

Ciao for now!

---
DUNGENESS CRAB BENEDICT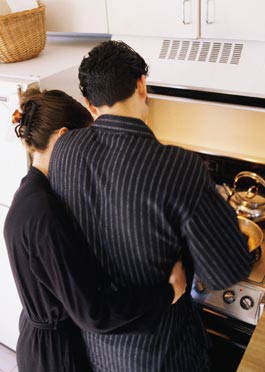 This is a decadent twist on the classic Eggs Benedict; instead of an English muffin, we've used a Dungeness crab cake. The result is a rich and satisfying complement of flavors that will make your brunch extra-special.

Crab Cakes:

• 6-8 oz. Dungeness crab meat
• 1 tablespoon diced celery
• 2 tablespoons diced red bell peppers
• 2 teaspoons fresh mayonnaise
• 1 teaspoon lemon juice
• 1 tablespoon chopped basil
• 1 teaspoon minced garlic
• Salt and freshly cracked black pepper
• 2 egg whites
• 1/4 cup Japanese bread crumbs (sometimes called Panko)

Hollandaise Sauce:

• 1/2 cup butter
• 2 egg yolks
• One half lemon
• Salt and freshly cracked black pepper


• 4 extra-large eggs, poached to desired doneness
• Salt and freshly cracked black pepper
• Chopped chives, for garnish
• Freshly cracked black pepper, for garnish

To make the crab cakes, mix together all of the ingredients except for the egg whites and the bread crumbs. Separate into four equal parts and form into cakes with your hands. In a small bowl, whisk the egg whites with a few drops of water. Brush the egg wash over each cake. Roll in bread crumbs. Chill for 10 minutes.

To make the Hollandaise sauce, melt the butter in a bowl suspended in a pan of boiling water. Add the egg yolks and whip the mixture with a whire whisk. Whisk until the consistency becomes slightly stiff; add a small squeeze of lemon; whip again; add another squeeze of lemon. Season with salt and pepper. Add a pinch of nutmeg, if desired.

In a lightly oiled skillet, saute the crab cakes over medium heat for 1-2 minutes on each side, or until they are warmed through and the edges are golden brown and crispy. Japanese bread crumbs allow the outsides to become crispy without making the insides oily. Remove from skillet.

Arrange two crab cakes on each plate. Gently slide a poached egg atop each cake. Drizzle with Hollandaise sauce. Sprinkle with chives and pepper. Serve immediately.

---
Filler

• Sexy: Taking her out for breakfast on Sunday morning. Sexier: Making her brunch while she lounges in her robe and watches you.
• Sexy: Chilled white wine with your meal. Sexier: Sangria made with juicy red wine, oranges, berries and fresh mint.
• Sexy: Diana Krall. Sexier: Singing along with Diana Krall as you dance around in the kitchen!
• Sexy: Tying on the apron after brunch is over and cleaning up the mess. Sexier: Leaving the dishes for later. There are far more important things to attend to...


---
NONNA'S COBBLER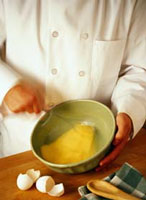 I created this recipe in honor of my dear Nonna, who still inspires much of my cooking to this day. This is a simple arrangement of fruit and bread, not too sweet so as not to become dessert... I suggest serving espresso with a splash of Bailey's alongside it!

• 1 1/2 cups day-old bread, cut into chunks. Sourdough or other dense, chewy bread is best.
• 2 egg yolks
• 1/2 cup half-and-half
• 1/2 teaspoon cinnamon
• 1 teaspoon vanilla
• 2 tablespoons sugar
• 1 cup assorted fruit: blackberries, raspberries, blueberries, apples or pears
• 1 teaspoon brown sugar

Heat oven to 375 F. In a medium-sized bowl, mix together the egg yolks, half-and-half, cinnamon, vanilla and sugar. Stir in the bread chunks, turning the bowl lightly to ensure that the bread is coated on all sides. Toss in the fruit.

Divide the mixture between two or three small porcelain ramekins. Sprinkle with brown sugar. Bake for 10-12 minutes, or until the bread is golden brown on the top. Cool for 2 to 3 minutes before serving.

---
You are receiving this email because you're a fan of food and romance...You think life is a sensual adventure, and you hope to nibble and sip your way to bliss. We hope this helps. If you're hungry for more, head straight to our web site.

Copyright 2004 • Sex and the Kitchen, Inc. • All Rights Reserved.
---