It's "back to school" season again, and we're back at our desks, wondering how summer managed to disappear so fast. To help ease you into fall, we've got great recipes and wedding photos. Everybody loves wedding photos!

---
A LETTER FROM SAN FRANCISCO CHEF ANDREA FRONCILLO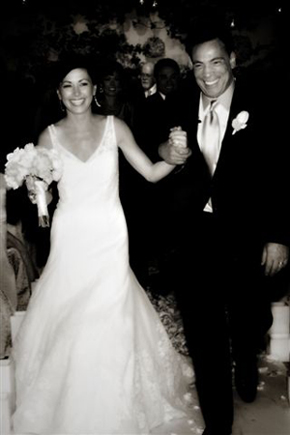 Here I am again, and let me tell you: a lot has happened since I last chatted with you!

Summer is nearly over, and it was truly one of the nicest summers ever in San Francisco. Of course, tourists are everywhere - and why not? The City by the Bay is one of the best destinations in the world. Now we're moving into fall... and football season! I know that many of you ladies don't like football season, but I suggest that you make an arrangement with your partner: for every hour that he watches football, you get that many hours of pampering time later. Maybe you'd like a massage or a foot rub, or breakfast in bed.... or something else. Hey ~ if there's something in it for everyone, why not?!

Love is in the air!(Viva gli sposi!)

"I do, I do, I do" is now my favorite phrase, since I said it on May 5th to my sweetheart, now officially "Mrs. Froncillo." The only thing that has changed is that my "to do" list is now my "to you" list. But "to you" doesn't only mean to my wife, Tracy, but also to myself - yes, that's right - I'm putting myself high on the list of priorities too, because I know that life goes by so fast, and is so busy, that we have to put ourselves on our list, otherwise we won't be able to be good to the people we love.

Enjoy life now - the future isn't promised to anyone.

The wedding was everything I dreamed of, and then some more. My mother flew out from Italy, along with my sister Carmela and her two boys, Mario (age 16) and Vittorio (age 12). The wedding was held in Las Vegas, and they enjoyed every minute of it. So did the other relatives, including those on Tracy's side, and all of our closest friends.

The wedding wasn't your stereotypical Las Vegas wedding. It was a Las Vegas Wynn wedding, and let me tell you - when you've been all over the world, as I have, and have tasted the best food at the finest restaurants, and have attended many amazing functions, it is hard to be impressed. The Wynn experience surprised me in all the right ways - their excellence and careful attention to detail was just incredible, and it turned out just the way we hoped it would. There are no substitutes for class... and the Wynn has class in spades.

Tracy and I will both remember the first weekend in May for a very long time... Cinco de Mayo will be our anniversary from here on out, so I guess I won't be able to ever forget it!

After the wedding, we needed some R & R, so we headed to one of the most relaxing and beautiful places in wine country - the Kenwood Inn and Spa.

When we were all rested up, we decided to head in the direction of Carmel - my wife had never been to Carmel before, and I couldn't wait for her to see it. We stayed at the Ventana Inn in Big Sur, where we enjoyed the beautiful room and surroundings and took our time in the spa. For dinner, we drove into Carmel-by-the-Sea and had dinner at Casanova, one of my favorite stops with a warm, woodsy feeling and a fantastic menu.

All of this "love" talk reminds me that time goes by extremely fast. Why not cook something special for your significant other, and give him or her the weekend off? Make it a point to relax and enjoy each other's company. Even if you're feeling tired and stressed, just take an evening in, and don't forget to smile. Sometimes the act of smiling can make us feel happy.

During the last week of July, I went down to the Gilroy Garlic Festival, as I do every year, as a judge and a performer. When it was my turn to get on stage, I had a great time making dishes like Crab Rockfeller, Cioppino, and Italian Pot Stickers. It was a lot of fun, and I hope the audience enjoyed the experience as much as I did!

This year's crowd also enjoyed watching a newcomer to the festival, Guy Fieri - he's the hot young chef who won "The Next Food Network Star" in 2006 and a fresh face on the stage. He was great fun, and I enjoyed watching him work.

My next cookbook "CRAB: Cooking, Cracking & Eating" will be out in just a few weeks; I can't wait for you to see it. It's a beautiful book.

Hope you have all had great summers, and are looking ahead to a wonderful fall season!

Ciao until next time,

Andrea
---
A Peek Into our Wedding Photo Album
LEFT picture (from left): Taylor (Michele's daughter), Stephanie, Brittany, Michele, Tracy, Andrea, Giovanni, Mario. In the front: the beautiful flower girl, Izzy.

RIGHT picture (from left): Tracy, Andrea, and sister Carmela.


---
A Sweet Moment
We all have busy lives, and we often struggle to find time to cook. Sometimes it seems like a luxury to putter around in the kitchen. Call me old-fashioned, but I happen to think that there is always time in between appointments and work for a hot drink and something sweet or savory to nibble on. With that in mind, I'd like to give you a sneak peek at something I'm working on... a collection of coffee recipes!

These recipes are simple and delicious - make them ahead and take them to work to share with co-workers, or (better yet) plan to surprise your sweetheart with something special over the weekend. Remember, life is a terminal disease... so stop every once in a while and enjoy a sweet moment!

Some of my Favorite Italian Coffee Drinks

- Caffe Corretto: Literally, the name means "corrected coffee" and is a wintertime coffee drink in which a hearty splash of Sambuca, Tuaca, or Strega is added to a cup of coffee to help keep you warm and toasty from the inside out!

- Caffe Macchiato: The term "macchiato" means "with a stain" and is the term for an espresso shot topped with just a teaspoon or so of steamed milk - just enough to float on top. I like to add a drop of vanilla for an extra hint of flavor, and also because it's good for you breath (especially after eating garlic)!

- Dolce Fretta: Translated "a sweet moment," this drink is made by dissolving a generous tablespoon of Nutella (sweet chocolaty Italian hazelnut spread) into an equal amount of hot water or steamed milk, and pouring an espresso shot over the top. Voila - a hot, sweet blast of goodness. Now you're moving faster, and smiling, too!

- Americano Lungo: This drink is called the "tall American" and it is smooth & sophisticated. Dissolve a 1/2" tablet of dark chocolate into 2 tablespoons of boiling water; I like to use Valhrona or Scharffen Berger. Stir to melt the chocolate. Top with an espresso shot and a splash of steamed milk.

What to eat while you sip? I've included a couple of sweet recipes below, and will offer more in the next newsletter. If you don't have a lot of time, consider making "coffee" sandwiches (much like tea sandwiches, only a bit heartier).

To make them, first assemble your favorite fillings. Here are a few I like:

- Roasted chicken chopped finely and mixed with mascarpone cheese, fresh basil, and slivered almonds;
- Finely chopped black olives, minced garlic, fresh mozzarella cheese, and olive oil;
- Smoked salmon chopped finely and mixed with cream cheese, capers and thinly sliced red onions.

Remove the crusts from whole-wheat nut bread and spread a thin layer of toppings on one slice. Place another slice on top and cut into triangles. Repeat to create as many sandwiches as you'd like.

---
Morsi di Sposa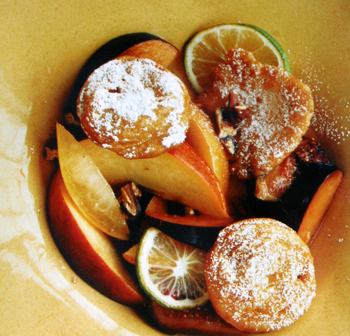 "Morsi di Sposa" translates to "bride's little bites" and is an old Brazilian recipe for small donut-like disks that are lightly fried and dusted with powdered sugar and drizzled with cinnamon syrup & fresh fruit. They're wonderful with espresso or tea, as an addition to brunch, or a late-afternoon pick-me-up.

Morsi di Sposa

- 1/2 cup warm water
- 2 large egg yolks
- 2 tablespoons melted unsalted butter
- 1/2 cup sifted all-purpose flour
- 1/4 teaspoon salt
- 1 cup canola oil (for frying)
- 1/4 cup powdered sugar
- 1 pound assorted fruit, cut into small chunks (l like peaches, pears and plums)
- 1/2 cup toasted pecans

Make cinnamon syrup (see below). In a small bowl, whisk together water, egg yolks, flour and salt until smooth.

Heat the oil in a deep skillet until it begins to bubble. Using a teaspoon, drop spoonfuls of the batter into the oil. The batter will flatten into disks as it fries. turn over once, using a wooden spoon; once both sides are golden brown and crispy, remove with a slotted spatula. Drain on a paper towel.

Dust liberally with powdered sugar. Drizzle with cinnamon syrup and serve with fruit and toasted nuts.

Eat immediately! Serves 2 to 4.

Cinnamon Syrup

- 1/2 cup water
- 1/2 cup white sugar
- Juice of one lime
- 2 cinnamon sticks, broken into chunks

In a small saucepan, combine the water, sugar, lime juice and cinnamon sticks. Bring to a boil over medium-high heat, and simmer for 5 minutes, until the mixture is glossy and viscous. Remove from heat and let stand for 5 minutes. Strain to remove cinnamon pieces.
---
Dancing with Mamma

One of the most memorable moments of the wedding was after the ceremony, when I got to dance with my mother.

She had dreamed about this day ever since I was a little boy, and it was an incredibly special moment for both of us. We reminisced about the way we were, and how things are now. It was wonderful.

This picture will be one of my favorites for the rest of my life.

I love you, Mamma.
---
Polenta Cake with Pine Nuts & Rosemary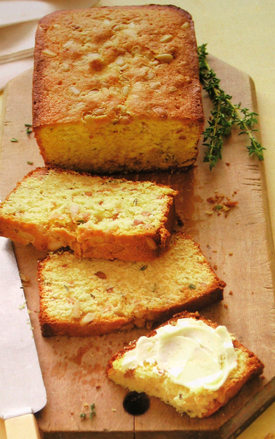 This simple, rustic cake is one of my favorite things to eat with coffee... it's a snap to make, and it feels warm and satisfying on these cooler days. The lemon juice gives it a hint of tang, and the rosemary adds a nice herbal flavor. Perfect with a little butter... or without.

Polenta Cake with Pine Nuts & Rosemary

- 1 cup (2 sticks) unsalted butter, softened
- 1 cup all-purpose flour
- 1 cup sugar
- Juice of 1 1/2 lemon
- 3 large eggs
- 1 sprig fresh rosemary, finely chopped
- 1 cup fine polenta (cornmeal)
- 1 teaspoon baking powder
- 1 teaspoon salt
- 1/2 cup toasted pine nuts
- 1/4 cup chopped toasted hazelnuts
- 1/2 teaspoon chopped rosemary for garnish

Preheat oven to 350 degrees Farenheit. Butter a 9x5 inch loaf pan and dust lightly with flour. In an electric mixer bowl, combine the butter and sugar at medium speed until soft, about 2 1/2 minutes. Turn the mixer speed to low, and add the eggs, one at a time. Add lemon juice and herbs, and beat until fluffy.

In a separate bowl, combine the flour, baking powder, salt and cornmeal. Turn mixer back on and add the flour mixture, 1/2 cup at a time, until fully incorporated. With a wooden spoon, stir in the nuts. Pour the batter into the loaf pan and sprinkle with remaining rosemary.

Bake for about 55 minutes, or until the top is golden brown and the sides pull away from the pan. A knife inserted into the middle should come out clean.

Invert pan on a wire rack to remove cake. Let cool. Slice and eat while warm, or store in an airtight container for up to 3 days.

In the next newsletter: a recipe for Pastiera Napoletana: Italian pasta cake! Another perfect match with coffee.

---
Just for Fun: The Test Kitchen of Life
A young woman was complaining to her father about how difficult her life had become. He said nothing, but took her to the kitchen and set 3 pots of water to boiling.

To the first pot he added carrots;
To the second, eggs;
To the third, ground coffee.

"What does this mean?" she asked impatiently.

After a few moments, he removed the pots from the stove. "Each food," he replied, "teaches us something about facing adversity as represented by the boiling water."

The carrot went in hard, but came out soft and weak.
The eggs went in fragile, but came out hardened.
The coffee, however, changed the water into something better.

"Which will you be like as you face life?"he asked his daughter. "Will you give up, become hard, or transform adversity into triumph?"

As the "chef" of your own life, what will you bring to the table?

---
You are receiving this email because you're a fan of food and romance...You think life is a sensual adventure, and you hope to nibble and sip your way to bliss. We hope this helps. If you're hungry for more, head straight to our web site.

Copyright 2007 : Sex and the Kitchen, Inc. : All Rights Reserved.
---