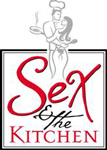 The Sex and the Kitchen Romantic Guide to Paris
The Best Places to Kiss in Paris:


La Seine
The Seine River winds through the center of Paris like a sensuous, curving spine, arcing northward as it passes through, finally exiting out of the southwest corner. This twinkly blue ribbon divides the city into two distinct regions: the Right Bank and Left Bank. Paris owes much of its charm to the river, due in part to the thirty-three bridges that cross over the top of it. Each bridge is a work of art; some are festooned with elaborate statues, some are dotted with lampposts, and some are painted bright, festive colors. The Alexander the Third Bridge is perhaps the most highly decorated, with enormous candelabras, cupids, lions and cherubs, all guarded by gleaming copper Nymphs of the Seine. We highly recommend that you schedule some bridge time into your trip to Paris; there is something lovely about holding hands and strolling over a bridge and looking over into the water while a misty fog rolls in. For the opposite perspective, take a boat ride on the river itself. Twilight is best…
Place de l'Opéra
If you have ever been captivated by the Phantom of the Opera, then you will certainly want to visit the site of that most infamous love story. The Paris Opera House was erected in 1862, a triumphal monument to Napoleon III's burgeoning empire. The architect Charles Garnier designed the building down to the very last intricate detail. From the grand staircase that looks like an enormous "Y" to the precious materials used throughout – marble, bronze, onyx and gold leaf – to the luxurious accoutrements of textured fabrics and sparkling chandeliers, it is immediately clear that no extravagance was spared. What ghost wouldn't want to stay here? True to the Phantom story, a lake does indeed run through the underground labyrinth below the building, though most tours will only take you through the upstairs. Don't miss the enormous chandelier in the main auditorium that weighs over six tons… oooh! Was that a touch of cool air on the back of your neck?
La Tour Eiffel
The ultimate icon of Paris, the Eiffel Tower seems like the most obvious choice of them all. But don't miss it just because you think you know what it's all about. You simply must stand in line, get your ticket, and smush into the elevator with people happily chattering in all different languages and head straight to the top. Once you're there, brave the wind and head out to the balcony, where all of Paris is spread out before you like a glittering jewel; the Seine meanders down the middle and the clouds drift over it all… yes! That's your cue to kiss
Additional Information:
Place de l'Opéra
Phone: 01 40 01 25 14
La Tour Eiffel
Champ de Mars
75007 Paris
Phone: 01 44 11 23 45
---
The Best Places to Stay in Paris:
George V – Four Seasons
In describing the George V, one is tempted to use every fanciful word in the dictionary. Palatial, opulent, outstanding: this magnificent hotel is all of that and more. From the heady displays of thick-petaled flowers that spill out of every crevice to the chandeliers that make every corner wink and sparkle, this is the kind of place you might never want to leave. And why should you? The rooms are lavishly appointed, from floor to ceiling to rustling, silken curtain. The toiletries (Bulgari) are perfect, the robes soft and cushy. You don't even need to leave the hotel to enjoy a posh drink or two; the George V has two brilliant lounges to choose between. La Galerie boasts a collection of Flemish tapestries and many rare objets d'art; slip down for a cocktail around 3pm when the pianist sits down to play, and soak in the view of the street from one of the French windows as the music serenades you. If you're feeling like something a bit more cozy, head to Le Bar, where dark woods and cocoa-hued fabrics make intimate conversation a given.
For dinner, nothing is more exquisite than the hotel's venerable restaurant, Le Cinq, which received its third Michelin star in 2003. Dress in your best and prepare to be dazzled with each and every course. You'll be pampered like royalty throughout the whole delectable meal.
If you should decide to venture from the wide, velvety lap of George V, merely step out on to the street, and you're in the 8th arrondissement, just a short distance from the Champs-Elysees. We can't think of a finer place to stay.
And one more note about the flowers (just because!): the hotel employs a flower artiste, a certain Jeff Leatham, who purportedly ships in 14,000 blooms each and every week. What he does with these beauties – exploding with color, bursting with fragrance - is truly beyond compare.
Pavillion de la Reine
The Marais quarter of Paris is a cozy network of boutiques and bistros, made all the more charming by cobbled streets and hidden courtyards that reveal treasures from another era. Wander through the north side of the quarter and you'll find the Pavillion de la Riene, a five-story mansion festooned in glossy green ivy like a bygone palace. Inside, the ceilings are outfitted with heavy wood beams, and the walls are painted in rich golden hues to contrast with the heavy crimson drapes. Crackling fireplaces with deep leather chairs in front complete the ambience. This is a warm, romantic retreat, made to make you feel like you're stepping back into a more elegant time.
Hotel Costes
People have been talking about this hot spot for a while now, but it's still tres chic, and we get the shivers just walking inside. The décor is over-the-top Napoleon III, with thick brocades and lush velvets, dark woods and hazy mirrors. Beautiful faces flash beneath the smoky lights, while the air pulses with lush world beats from the hotel's resident DJ. A note of warning: after an hour or so, you may suddenly have the impulse to wear blood-red lipstick and high stiletto heels and dangle a cigar between your fingers. Inside the rooms (should you be able to tear yourself away from the restaurant or lounge), you'll find generous claw-footed tubs in the bathroom and scrumptious linens on the bed. But don't stay upstairs too long… the night is young and the party is just beginning…
One little note: do not expect undue warmth and gracious attendance by the staff at Hotel Costes. You will be taken care of, but only just. A place so incredibly hip and sought-after inevitably must maintain that bit of arrogant distance, oui? Don't worry; it's all part of the fun.
Le Hotel Bristol
For a private hotel that is distinctly Parisian but has all the latest amenities, look no further than Le Hotel Bristol. The hotel was founded in 1924, and still retains many of the original furnishings; original oils grace the walls, fine carpets lie underfoot and delicate antiques are scattered throughout. The feeling is old-world glamour, with a decidedly gracious sensibility. Think crisp stripes, fanciful wrought iron and window boxes overflowing with bright red geraniums. Service at Le Hotel Bristol is impeccable; whatever your question or concern, the staff will find every way possible to accommodate you. Fancy a swim? The poolroom has sloping sides and wood-paneled windows, with nautical scenes painted on the walls and cushy wicker chairs scattered poolside, made to emulate a classic cruise liner. The deluxe suites are appointed with classic antique reproductions and chandeliers. Most have a lounge with a fireplace, and some look out onto a terrace.
As a special treat, the hotel is currently hosting Fashion Saturdays, a stylish hour or so in which a prominent designer showcases an upcoming collection in the Bristol Bar. Escada, Yves St. Laurent and V. Dupontreue are some of the designers on the calendar for the latter part of 2003.
Rather have your own private apartment?
You'd rather snuggle in your quarters in lieu of the morning knock by housekeeping? We don't blame you; there's something enchanting about the idea of living like a real Parisian…shopping for your bread and cheese and wine at night and slipping out for pain au chocolate in the morning. If you're inclined to rent an apartment for your stay in the City of Lights, we suggest you explore one of the following excellent resources:
http://ParisLuxuryRentals.com
http://www.chezvous.com
http://www.regentsuites.com
Additional Information:
George V
31, avenue George V
Phone: 01 49 52 70 10
Pavillon de la Reine
28 Place des Vosges
Phone: 01 40 29 19 19
Hotel Costes
239 rue St.-Honoré, 1st arr.
Phone: 01 42 44 50 00
Le Hotel Bristol
112 Rue Du Faubourg
Phone: 01 53 43 43 00
---
The Most Romantic Restaurants in Paris:
Le Violin d'Ingres
Perhaps the deep red carpet puts us in a frisky mood when we walk into Le Violin d'Ingres, or perhaps we're mesmerized by the sumptuous crimson-hued beauties hanging on the wall… or wait: it's the food. Chef Christian Constant and his lovely wife Catherine are the vibrant human beings behind this marvelous restaurant. The flavors are comforting without being predictable; the presentation is opulent without being annoyingly fussy. Constant is a genius with seafood, and his gorgeous desserts might have something to do with the fact that he started out as a pastry chef (with stints at the Ritz and the Crillon…). Oh, and did we mention the ambience? Here's a little hint: eat slowwwly so that you can soak every bit of it in. If all of that wasn't good enough, now for the best part: if you loved the silverware or the dishes or the olive oil, simply walk next door to La Boutique du Violon d'Ingres, and you'll find it all there… you never want to leave this city, do you?! Oh, we've never said that before.
Restaurant Le Truffiere
The flavor, aroma and texture of truffles have been likened to many things; one of the most commonly used descriptors is… sex. There is something in the dark, velvety must of the truffle that is sensuous beyond description. We could not, therefore, overlook this most charming Left Bank restaurant devoted entirely to the truffle. From the slightest drizzle of truffle oil on a salad of greens, walnuts and pecorino cheese to a port wine and truffle sauce served with a juicy fillet, the menu here is full of rich flavors and spectacular taste sensations. The glowing, candlelit dining rooms and low, arching ceilings with original wood beams create a warm, ambient feel. Voluptuous floral arrangements and elegant table settings complete the mood. As you conclude the meal, go ahead and let yourselves be tempted by a selection of fine liquor; armagnac is the house specialty, with some dating back nearly 100 years.
Le Grand Colbert
This delightful brasserie feels like authentic Paris, whatever that might mean…
the building dates back to 1830, and the cheerful, dark red exterior with floor-to-ceiling windows and gleaming brass details makes it seem like you've stepped back in time. The food is impeccably prepared, with an emphasis on French favorites like coq a vin, chocorute and a fabulous fresh seafood platter. The buzz is high, with people chattering excitedly at every hour. You'll know you're in Paris when you're eating here. A perfect spot for lunch!
Nirvana
If Le Grand Colbert is old school, Nirvana is the new girl in town, dressed to kill and grooving to her own glamorous beat. Renowned DJ Claude Challe is behind this spectacular effort, a blend of feel-good vibes and plush urban chic. The space pulsates good energy with bright colors and surprising textures, from the irregular pieces of glass pressed into the walls to the dazzling array of different light fixtures that dangle from the ceiling. Downstairs from the restaurant, a nightclub plays the latest sounds in exotic world music until all hours of the night. But if it sounds like all style and no substance, don't worry: the food is superb. Chef Maurice Guillouet used to be at the Ritz, and it shows; the food is an eclectic mix of cultures, from Indian to Thai to French, and most of the combinations work surprisingly well. A perfectly yummy spot to have a cocktail and watch the pretty people.
The Hemingway Bar at the Ritz Paris
After dinner, while you're strolling through the neighborhoods before returning to your hotel room, duck into the Hemingway Bar for a nightcap. Tucked unobtrusively into the oh-so-posh Ritz Paris, the bar gets its name from the famous author who made this his headquarters back in the day. Today, chief bartender Colin Field is an icon around Paris, a warm and witty fellow who takes ample time to chat with regulars and mixes up concoctions that he names after his favorite clients. Try a Violane, made with champagne and wild strawberry liqueur or opt for a Highland Cream, made with Scottish whisky and espresso. Better yet, ask Colin to mix up something special just for you. Drinks for the madames and mademoiselles are often accompanied by a single rose or an orchid; oh, don't the French know a thing or two about class?
Hint: While you're planning your trip, pick up a copy of Colin Field's newly released book Cocktails of the Ritz Paris …it is written in Colin's delightful conversational style, packed with tasty recipes that are fun to try at home!
Additional Information:
Le Violin d'Ingres
135, rue Saint-Dominique
Phone: 01 45 55 15 05
Restaurant Le Truffiere
4, rue Blainville
5th Arrondissement
Phone: 01 46 33 29 82
Le Grand Colbert
2 Rue Vivienne
Phone: 01 42 86 87 88
Nirvana
4, avenue Matignon
8th Arrondissement
Phone: 01 53 89 18 91
The Hemingway Bar at the Ritz Paris
15 Palace Vendôme
1st Arrondissement
Phone: 01 43 33 65
---
Be Sure Not To Miss in Paris:
Musee du Louvre
The Louvre Museum is enormous and overwhelming and…absolutely wonderful. It is one of the largest museums in the world, and stocked full of awe-inspiring pieces that are often only glimpsed in the pages of art history books. Remember the Mona Lisa? She is so much smaller than you might imagine… The Louvre, which was originally conceived as a palace for royalty, not an art museum, is a monument to grace and style. Long hallways, arching ceilings and wide, breathtaking staircases are just some of what awaits you. The building is divided into sections based on style and time period; choose the one you love best, and take your time wandering through. There's even a café where you can restore your energy with a cappuccino at necessary intervals. Enjoy!
Chateau de Versailles
The Chateau and the gardens at Versailles are located outside of Paris, a trip of about 30-40 minutes by car. If you can tear yourself out of the city for a long afternoon, this would be the place to go. The grounds have a long and extensive history, winding through the reign of several kings and many revolutions. It is an enormous place, with many building and much to see; do not attempt it all in one visit! In 1682, Versailles became the official residence of the Court of France, and much of the chateau was built at that time. The sheer volume of precious items – tapestries, sculpture, furniture, art – makes a staggering impression. Take a close look at the bedchambers; can you imagine ever falling asleep amid the dizzying array of prints and curtains? Out in the breathtaking Hall of Mirrors, close your eyes for just a moment and you can almost hear a band striking up a tune as well-dressed ladies and gentlemen break into an after-dinner dance… Ooh-la-la!
Marie-Anne Cantin
We are a site dedicated to food, and we do assume that you adore cheese as all decent people should, and therefore we must send you straight to one of the best cheese shops in all of Paris: Marie-Ann Cantin. Tucked into a tiny space off of the rue du Champs, this aromatic shop is filled to the brim with delightful bits and pieces of fromage, some of them made by Madame Cantin herself. The wonderful thing about France is that you can buy raw milk cheeses that are (bafflingly) banned from the U.S., and so we recommend indulging in this creamy, decadent, utterly sigh-inducing contraband every day for as long as you are in Paris. Write this down: Epoisses de Bourgogne. Good. And don't forget to request a wedge of the house special, a triple-cream cows milk's cheese called Saint-Antoine. Now, cheese in hand, all you need is a hunk of good bread, silky red wine or bright, sparkly champagne, and you have a feast fit for royalty! Life is very, very good.
Ladurée

One of the most delightful things about Paris is the patisseries, a charming blend of pastry shop and coffeehouse that feel like a little slice of heaven on earth. To find one, simply follow your nose towards the smell of sugar, butter and cream... we recommend that you try as many as you can, especially Laduree. There are three Ladurée salons in Paris; 16 rue Royale, 75 avenue des Champs-Elysées and at the ''Printemps'' department store on boulevard Haussmann. Here you will discover intricately painted ceilings, gleaming pastry cases and gorgeous mint-green boxes so tenderly tied with ribbons that you are reminded just how special the contents are. The macaroon is the specialty of the house. Let us pay homage to this intricate treat: two crispy cookies with a brittle crust and a soft, chewy interior, sandwiching an airy filling that melts on the tongue. Ahh. We're fond of pistachio and chocolate and rose, and… oh, just try them all! The pastries are divine, but the hot chocolate must be given equal praise. It arrives in a silver teapot; tip the pot and a thick, fragrant river of chocolate pours out. Nothing compares. Nothing. Every time afterwards that you walk into the cold confines of a Starbucks for an excuse of a latte and a rubbery croissant, you will sigh a little sigh…
Tip: Ladurée just released a line of scented candles that compliment their line of pastries. Be sure to take home one of these exquisite candles, or all four, if you can't decide between brioche, orange, chocolate and wild strawberries…
Additional Information:
Musee du Louvre
Cour Napoléon, A.P. 34, 36 quai du Louvre
Phone: 01 40 20 51 51
Chateau de Versailles
http://www.chateauversailles.fr/en/
Marie-Anne Cantin Fromagerie
12, rue du Champs-de-Mars
7th Arrondissement
Phone: 01 45 50 43 94
Ladurée
- 16 rue Royale
- 75 avenue des Champs-Elysées
- ''Printemps'' department store on boulevard Haussmann

© 2002-2011, Sex and the Kitchen, Inc. All rights reserved. This Site and the contents of the Site are intended for your personal, noncommercial use.