George V – Four Seasons
In describing the George V, one is tempted to use every fanciful word in the dictionary. Palatial, opulent, outstanding: this magnificent hotel is all of that and more. From the heady displays of thick-petaled flowers that spill out of every crevice to the chandeliers that make every corner wink and sparkle, this is the kind of place you might never want to leave. And why should you? The rooms are lavishly appointed, from floor to ceiling to rustling, silken curtain. The toiletries (Bulgari) are perfect, the robes soft and cushy. You don't even need to leave the hotel to enjoy a posh drink or two; the George V has two brilliant lounges to choose between. La Galerie boasts a collection of Flemish tapestries and many rare objets d'art; slip down for a cocktail around 3pm when the pianist sits down to play, and soak in the view of the street from one of the French windows as the music serenades you. If you're feeling like something a bit more cozy, head to Le Bar, where dark woods and cocoa-hued fabrics make intimate conversation a given.
For dinner, nothing is more exquisite than the hotel's venerable restaurant, Le Cinq, which received its third Michelin star in 2003. Dress in your best and prepare to be dazzled with each and every course. You'll be pampered like royalty throughout the whole delectable meal.
If you should decide to venture from the wide, velvety lap of George V, merely step out on to the street, and you're in the 8th arrondissement, just a short distance from the Champs-Elysees. We can't think of a finer place to stay.
And one more note about the flowers (just because!): the hotel employs a flower artiste, a certain Jeff Leatham, who purportedly ships in 14,000 blooms each and every week. What he does with these beauties – exploding with color, bursting with fragrance - is truly beyond compare.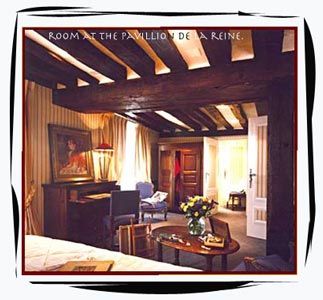 Pavillion de la Reine
The Marais quarter of Paris is a cozy network of boutiques and bistros, made all the more charming by cobbled streets and hidden courtyards that reveal treasures from another era. Wander through the north side of the quarter and you'll find the Pavillion de la Riene, a five-story mansion festooned in glossy green ivy like a bygone palace. Inside, the ceilings are outfitted with heavy wood beams, and the walls are painted in rich golden hues to contrast with the heavy crimson drapes. Crackling fireplaces with deep leather chairs in front complete the ambience. This is a warm, romantic retreat, made to make you feel like you're stepping back into a more elegant time.
Hotel Costes
People have been talking about this hot spot for a while now, but it's still tres chic, and we get the shivers just walking inside. The décor is over-the-top Napoleon III, with thick brocades and lush velvets, dark woods and hazy mirrors. Beautiful faces flash beneath the smoky lights, while the air pulses with lush world beats from the hotel's resident DJ. A note of warning: after an hour or so, you may suddenly have the impulse to wear blood-red lipstick and high stiletto heels and dangle a cigar between your fingers. Inside the rooms (should you be able to tear yourself away from the restaurant or lounge), you'll find generous claw-footed tubs in the bathroom and scrumptious linens on the bed. But don't stay upstairs too long… the night is young and the party is just beginning…
One little note: do not expect undue warmth and gracious attendance by the staff at Hotel Costes. You will be taken care of, but only just. A place so incredibly hip and sought-after inevitably must maintain that bit of arrogant distance, oui? Don't worry; it's all part of the fun.
Le Hotel Bristol
For a private hotel that is distinctly Parisian but has all the latest amenities, look no further than Le Hotel Bristol. The hotel was founded in 1924, and still retains many of the original furnishings; original oils grace the walls, fine carpets lie underfoot and delicate antiques are scattered throughout. The feeling is old-world glamour, with a decidedly gracious sensibility. Think crisp stripes, fanciful wrought iron and window boxes overflowing with bright red geraniums. Service at Le Hotel Bristol is impeccable; whatever your question or concern, the staff will find every way possible to accommodate you. Fancy a swim? The poolroom has sloping sides and wood-paneled windows, with nautical scenes painted on the walls and cushy wicker chairs scattered poolside, made to emulate a classic cruise liner. The deluxe suites are appointed with classic antique reproductions and chandeliers. Most have a lounge with a fireplace, and some look out onto a terrace.
As a special treat, the hotel is currently hosting Fashion Saturdays, a stylish hour or so in which a prominent designer showcases an upcoming collection in the Bristol Bar. Escada, Yves St. Laurent and V. Dupontreue are some of the designers on the calendar for the latter part of 2003.
Rather have your own private apartment?
You'd rather snuggle in your quarters in lieu of the morning knock by housekeeping? We don't blame you; there's something enchanting about the idea of living like a real Parisian…shopping for your bread and cheese and wine at night and slipping out for pain au chocolate in the morning. If you're inclined to rent an apartment for your stay in the City of Lights, we suggest you explore one of the following excellent resources: