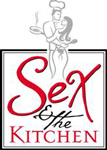 Sex and the Kitchen's Best Places in Las Vegas List
Las Vegas might not seem like the ideal place for romance. With a reputation for wild bachelorette parties and thrill-seeking boys, the city that never sleeps might be your last choice for a snuggle-inducing weekend. But wait! Amid the flurry of spandex and rhinestones, we've found that the glamour capital does indeed have many remarkable spots for dining and romancing. Stay away from the gambling tables long enough and you'll find a breathtaking assortment of world-class art, gourmet food and decadent spa treatments. Who knows? Las Vegas just might the perfect place fall in love all over again.


Our romantic guide to Las Vegas is just a beginning point. The city is positively packed with magic and sparkle, and you'll no doubt find your own romantic nooks and crannies as you explore the town with your sweetheart. There's a lot that's not in this guide, but that's part of the fun! So book that cheapie flight and prepare for a couple of days of fun and games. There's nothing quite as romantic as playing together, after all. Just don't spend it all in one place...


Best Places to Kiss


The Fountain in front of the Bellagio

Here's what you absolutely must do while in Las Vegas: sometime after sunset, take your darling by the hand and walk to a spot in front of the fountain at the Bellagio Hotel. Stand close to one another and wait for the show to begin. As you watch the powerful jets of water that dance to the strains of Andrea Bocelli, you'll experience a sense of awe at the perfect juxtaposition between yin and yang, beauty and force, serenity and power. Stay for the entire song, complete with a crashing crescendo at the end. Enjoy the few drops of water that splashed on your arm. Smile at one another afterwards, and think about how your own love mimics the dance of the fountain...

On a gondola in the Venetian

No, you won't accidentally think you're in Venice. The water is too blue, the air too warm and the gondola too shiny. But that doesn't make this ride any less romantic: suspend your critical mind for a moment and surrender to the fantasy. Close your eyes and lean close to your partner while the gondolier cheerfully maneuvers the little craft through the make-believe canals. Enjoy the warbling vibrato of his voice as he sings an Italian operetta, and pretend that he's singing for your ears only. The fact that you're with the person you love, participating in this grand act of grown-up make believe, is sweet enough to make your heart beat harder. And that's nothing to sniff at.

On top of the Eiffel Tower in Paris!

It's not a convincing substitute for the real thing, but it's not awful... the Eiffel Tower in the Paris Hotel gives you a little flimmer of joy as you go up, up, up, and an even bigger one if you're standing at the top with someone you love. Take in the view, and huddle close to each other while you whisper plans for the real trip you're going to take to that most romantic city someday soon (right?!). Consider this to be a warm-up.



Best Place to Stay


Bellagio

Unlike many places in Las Vegas where the glitter seems a bit tarnished, the Bellagio is a monument of true opulence. We admit it: this is our favorite hotel in Las Vegas, no questions asked. The restaurants are first class flights of fancy, featuring world-renowned chefs like Jean-George Vongerichten (Prime), Mark Poidevin (Le Cirque) and Julian Serrano (Picasso). The shopping is among the best you'll find anywhere, from Tiffany to Prada to Chanel. Even the coffee shop is a delight: Italian flags line the walls, cappuccinos are served in steaming ceramic cups, and a delectable assortment of pastries truly melt in your mouth. Oh, and have we mentioned the fine art museum? Bottom line: even if you can't stay at the Bellagio, at least come for dinner at Picasso, or to watch "O" or to enjoy a cool cup of gelato... whatever you see and do, you won't regret it, and that's a promise!

The Venetian

The candy-striped poles and hat-wearing valets that greet you upon entrance to the Venetian are your first clue that you're in for a special treat. Make your way past the huge chandelier and the sparkling blackjack tables, and you'll find an assortment of restaurants, clubs and stores that will give you the tiniest hint of what it would be like to visit Italy. From the "patio" of the restaurant Caravaggio, you'll have a front-row view on the square, where singers and actors dressed in period regalia dance and sing and enact miniature dramas throughout the day, while gondoliers whisk lucky passengers up the canals on either side.

Mandalay Bay

If the Bellagio seems too grand and the Venetian too put-upon, you need to head straight for the Mandalay Bay Resort. With a relaxed atmosphere that includes a shark reef and a for-real beach with a taco stand, the Mandalay manages to be both luxurious and great fun at the same time. From romping stomping club-like spots such as Rum Jungle, where sheets of water cascade down the walls to the pulsing beat of the music, to sophisticated restaurants like Charlie Palmer's Aureole, the Mandalay will keep you guessing. Eat, play or swim to your heart's content - oh, and a mid-afternoon snooze on the sand isn't so bad, either!

Most Romantic Restaurants


Picasso

Tucked downstairs in the Bellagio Hotel is a little haven of Mediterranean gastronomy that you'll not want to miss, so as soon as you begin planning a trip to Las Vegas, call for a reservation. Do it now. With your booking firmly in hand, here's what you have to look forward to: upon walking in to the warm, dimly-lit space, you'll notice several original Picassos placed in discreet intervals on the walls. While the affable hostess leads you to your table, you'll see that the main room is divided by a huge wooden table festooned with flowers and wine glasses and stacks of extra plates and silverware. When you sit down, you'll be greeted no less graciously by your waiter and other assorted persons all retained to make your dining experience a memorable one. And it will be: Chef Julian Serrano has created a world-renowned menu that blends Spanish and French cuisine into dazzling array of offerings. As if that weren't enough, the restaurant is on level with the giant fountain just outside, and you'll be treated to several spectacular shows as you eat. Step outside to the patio afterwards with your after-dinner drink and watch it one last time...


Caviarteria

Call us uncool, but there's something alluring about Caesar's Palace, even if it does have that tacky old-glam Las Vegas feeling. We're not sure what's more frightening: the cocktail waitresses in their unflattering costume of tan pantyhose and black bowties, or the endless procession of fawning, David-esque statues that seem to loom everywhere, but still: a trip to Vegas isn't complete without a stop at Caesar's. In the Forum Shops, just to the left of the huge fountain where every hour, on the hour, the story of Apollo is reenacted, complete with a booming voice-over and moving statues, you'll find a little spot called Caviarteria. Don't be fooled by its' cafe-like appearance; this champagne and caviar bar is decadence at it's best. Take a seat on the outside, just in front of the fountain, and order the works: ice-cold vodka in slim glass flutes, caviar on ice, and soft round bellinis with creme fraiche and capers. After a few sips of the vodka, the moving fountain doesn't seem so hokey, and in fact, you even kind of like it.

Red Square

Don't tell anyone, but there's a frosty little nugget of perestrojka buried inside the Mandalay Bay Hotel. Well, maybe not. This is Russia lite, as Walt Disney might have imagined it, with plenty of food and plush red seats and smiling faces. What fun. The long skinny bar counter is inlaid with a frosty sheet of ice, where the bartender plunks down martini glasses in order to keep their contents chilly. The vodka selection, as you might imagine, is nothing short of comprehensive. Be daring and ask the bartender for a special drink; as befits a restaurant hailing from a country where they frequently tip them back, these boys and girls know how to mix 'em up. The menu is a czar's dream, from caviar to lobster to salmon, with a few more conventional dishes tossed in for good measure. You may not be any closer to understanding the angst of that vast land by the time you leave, but at least you'll be deliriously satiated.


Be Sure Not To Miss

"O"

The brochure for "O" promises a feast for the senses:. We assure you: it delivers. This Cirque du Soliel extravaganza is sold out months in advance for a very good reason: the costumes are a dizzying array of feather and fluff, a mix of diverse cultures and past and present periods like nothing you've ever seen: a little bit street fair, a little bit opera, a little bit enchanted dreamscape. The music is likewise a blend of disparate sources, from rhythmic African chants to wailing Celtic vocals to ethereal Indian melodies, all designed to take you to places far, far away from the desert. So call ahead and reserve those tickets: the two hours you spend in that seat will be among the most enchanting of your whole trip. Bonus tip: pick up the CD on your way out. It will take you back to that magical mood, if ever so slightly, once you're safely home again...

The Rasul Room at the Canyon Ranch Spa

Most spa treatments are solitary excursions to bliss, designed to take you away to that wonderful "other" state of mind all by yourself. This one is different: book the Rasul Ceremony treatment at the Canyon Ranch Spa in the Venetian, and you'll be transported to a Middle Eastern fantasyland for two in the blink of an eye. The treatment room might have been designed by Aladdin himself: cobalt blue tiles line the walls and a bubble shape dome crowns the ceiling. The attendant will courteously take leave of you after delivering materials and instructions. First, you'll daub each other with clays made from rare minerals in shades of mustard and terracotta, while heady incense threads through the air. Next you'll each sit in a throne-like chair while the clays do their work, and later, you'll watch in amazement as the star-studded ceiling begins to drip warm water like rain, rinsing your skin and leaving you in a otherworldly state of mind and body.



Gospel Brunch at the House of Blues

You might not be terribly eager to crawl out of bed on Sunday morning to eat grits and listen to gospel music. You stayed out too late, your feet are tired from all that walking, you don't really like breakfast anyway... hey! Enough excuses already! Set the alarm: get up: go. How many opportunities will you get to sit in a place covered with bottle caps and hot sauce and funky Latin-African-American art while downing buttery gravy-colored biscuits with cheesy grits and clapping in tune to the rousing sound of King Jesus is All? That's what we thought. Set that alarm.


© 2002-2011, Sex and the Kitchen, Inc. All rights reserved. This Site and the contents of the Site are intended for your personal, noncommercial use.