Most Romantic Restaurants: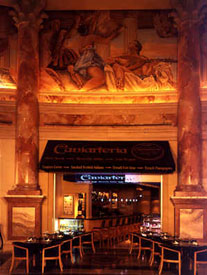 Caviarteria

Picasso

Tucked downstairs in the Bellagio Hotel is a little haven of Mediterranean gastronomy that you'll not want to miss, so as soon as you begin planning a trip to Las Vegas, call for a reservation. Do it now. With your booking firmly in hand, here's what you have to look forward to: upon walking in to the warm, dimly-lit space, you'll notice several original Picassos placed in discreet intervals on the walls. While the affable hostess leads you to your table, you'll see that the main room is divided by a huge wooden table festooned with flowers and wine glasses and stacks of extra plates and silverware.
When you sit down, you'll be greeted no less graciously by your waiter and other assorted persons all retained to make your dining experience a memorable one. And it will be: Chef Julian Serrano has created a world-renowned menu that blends Spanish and French cuisine into dazzling array of offerings. As if that weren't enough, the restaurant is on level with the giant fountain just outside, and you'll be treated to several spectacular shows as you eat. Step outside to the patio afterwards with your after-dinner drink and watch it one last time...


Caviarteria


Call us uncool, but there's something alluring about Caesar's Palace, even if it does have that tacky old-glam Las Vegas feeling. We're not sure what's more frightening: the cocktail waitresses in their unflattering costume of tan pantyhose and black bowties, or the endless procession of fawning, David-esque statues that seem to loom everywhere, but still: a trip to Vegas isn't complete without a stop at Caesar's. In the Forum Shops, just to the left of the huge fountain where every hour, on the hour, the story of Apollo is reenacted, complete with a booming voice-over and moving statues, you'll find a little spot called Caviarteria. Don't be fooled by its' cafe-like appearance; this champagne and caviar bar is decadence at it's best. Take a seat on the outside, just in front of the fountain, and order the works: ice-cold vodka in slim glass flutes, caviar on ice, and soft round bellinis with creme fraiche and capers. After a few sips of the vodka, the moving fountain doesn't seem so hokey, and in fact, you even kind of like it.

Red Square

Don't tell anyone, but there's a frosty little nugget of perestrojka buried inside the Mandalay Bay Hotel. Well, maybe not. This is Russia lite, as Walt Disney might have imagined it, with plenty of food and plush red seats and smiling faces. What fun. The long skinny bar counter is inlaid with a frosty sheet of ice, where the bartender plunks down martini glasses in order to keep their contents chilly. The vodka selection, as you might imagine, is nothing short of comprehensive. Be daring and ask the bartender for a special drink; as befits a restaurant hailing from a country where they frequently tip them back, these boys and girls know how to mix 'em up. The menu is a czar's dream, from caviar to lobster to salmon, with a few more conventional dishes tossed in for good measure. You may not be any closer to understanding the angst of that vast land by the time you leave, but at least you'll be deliriously satiated.