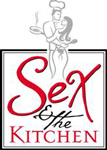 Sex and the Kitchen's Best Places in Los Angeles List

The City of Angels sprawls out over a hazy, sun-baked valley, bordered by the Pacific Ocean on one side and the outer limits of imagination on the rest. This is the land of dreamers, visionaries and stars, a place where anything can happen.

Our concept of romance owes a lot to Hollywood: we watched Bergman and Bogart pine for each other in Casablanca; we cried with Demi in Ghost; we cheered for Julia in Pretty Woman. No matter what the obstacles between lovers, the movies made us believe that it all works out in the end. And who knows? Maybe it does.

Los Angeles is a wonderful destination for a romantic vacation. Make up an intinerary using our guide, then pack your startlet outfits - big sunglasses, red lipstick and expensive cologne are good starters – and cast you and your sweetheart in a passionate drama of your own. Go ahead, get swept away in the magic; suspend disbelief for a couple of days and dream a little. You just might find yourself walking hand-in-hand into a happily ever after…

Peruse our listings for the most romantic things to see and do, and then add your own! We often update these guides, so if you come across something that made you and your honey swoon, let us know! (e-mail link)

Most Romantic Restaurants
La Boheme
Sparkly chandeliers, crackling fireplaces and crushed velvet drapes are just some of the dramatic accoutrements of La Boheme. This is fine dining in grand, operatic style, assembled as only a good set designer could; if you're hoping to impress your date, you can do no better than this. Soaring ceilings and huge mirrors complete the atmosphere, making you feel as if you've just stepped into an elaborate gothic castle. Chef Peter Maher has created a menu to match the ambience; flavors of the Mediterranean and France are evident everywhere, deftly blended with seasonal California ingredients. His seafood dishes in particular are not to be missed, and don't leave without sharing the warm chocolate soufflé cake, so meltingly rich that you'll nearly swoon. One order of Hollywood make-believe… coming right up!
Il Cielo
Sometimes a place sweeps you off your feet, and other times it delights you with its careful attention to detail. Il Cielo is the latter, a cozy haven perfect for sharing an intimate, satisfying meal with the person you love. The charismatic owner, Pasquale Vericella, has created a menu inspired by his Northern Italian roots –creamy risottos, homemade pastas and savory meat dishes, all accented with farm-fresh vegetables like eggplant, zucchini and tomatoes. The flavor combinations are comforting and rustic, without the pretension found at so many "hip" restaurants. The two outdoor dining patios are covered with ivy and flowering vines, peppered with little white lights that add twinkly, romantic warmth. Nearly every table is a good one, whether inside or out, a perfect spot to hold hands and whisper sweet nothings. No wonder this is such a coveted spot for weddings and receptions. Insider tip: if by some chance you're staying at the Beverly Hills Four Seasons across the street, take advantage of the complimentary limousine service that will deliver you right to the ivy-covered front door of Il Cielo.
The Little Door
Part of fun in dining at the Little Door lies in finding the hidden, unmarked entrance that gives the restaurant its name. Slip inside the battered, wooden Third St. doors and you'll discover an enchanted courtyard with flickering candles and a gently bubbling fountain, like something out of a Spanish-Mediterranean dream. The menu changes frequently, but always employs aromatic, sensual ingredients, replete with herbs and aromatic spices, from basil to lemon verbena to star anise. The food is an artful blend of French, Moroccan and Spanish flavors and the wine list is excellent; even better, nearly every selection is offered by the glass. Do note that the seating is exceedingly cozy, so if you're looking for privacy, go on a Sunday night – Friday and Saturday are hectic and might not be the best choice for you. Warning: the restaurant charges a hefty fee for no-shows, so don't make the mistake of changing your mind at the last minute!
Restaurant Halie
If your idea of romance does not include twinkling lights and lots of ivy, we'd like to suggest a sleek alternative: Restaurant Halie. This restaurant is housed in a historic red brick building, erected in 1929, which Einstein used to haunt when he worked on various projects with the U.S. Navy. The interior is cool and polished, with gleaming wood walls, plush booths and moody photography. The minimalist décor feels more opulent than sparse, with a distinctly urban feel. Chef Claud Beltran, formerly with Thomas Keller of French Laundry fame, has brought a northern California sensibility to the menu; unsurprisingly, it has a noticeable French accent. Watch for deft stylings with seasonal vegetables, from velvety soups to colorful salads, and dare to try some of the unusual fish that pops up, always assembled in unusually delicious ways. The wine list is satisfactory, with the best values to be found in the California section.
L'Orangerie
For an opulent, indulgent, expensive dinner, you can do no better than L'Orangerie. Located on the north end of La Cienega, the entrance is bedecked with trailing vines and warm lights, and the inside is a feast of lavish color and texture and sound. Even the most discerning Frenchman could find little to sniff at here; the dining room feels as if it is in the middle of a garden. A piano nestles into one corner, and its ivories are tickled all evening long for the enjoyment of diners; opulent displays of fresh flowers are placed in several locations throughout the rooms; each linen-covered table is adorned with a flickering candle. The menu is filled with sensual treats, as befits such a lavish setting; from caviar to foie gras to lobster, it's all here. We recommend that you and your amour make a night out of it; dress up in your finest, walk arm-in-arm through the glass doors, and begin your feast with champagne and caviar, taking care that your toast involves the word "love." As you wind down your slow, leisurely dinner, deliberate over the dessert selection – the towering chocolate soufflé is highly recommended – and linger over your espresso as you gaze into each others eyes… Because if you can't actually be in Versaille, this is most certainly the next best thing.
The Stinking Rose
How could the executive chef of the Stinking Rose fail to mention his own restaurant?! You might not consider garlic to be the most romantic food, but have you heard of its aphrodisiac qualities? Ooooh, that's right. The nutty, spicy flavor of these bulbs is bound to bring out the tiger in the most sedate of kittens. The Stinking Rose menu is filled with delectable goodies, from a savory, finger-licking garlic-roasted Dungeness Crab to a mouth-meltingly tender pork osso-bucco. The portions are generous and the ambience is fun and festive, perfect for a night of people-watching and good eating. When you arrive, head to the Gar-Bar to enjoy a cocktail around the crackling fireplace, then snuggle up in one of the plush booths in the Michelangelo room, or settle into the Chianti room, lit only by candlelight. The good news is that you're guaranteed to be safe from vampires during your evening here, so you can focus all of your attention on each other!
La Boheme
8400 Santa Monica Blvd
Los Angeles, CA 90069
323-848-2360
Il Cielo
9018 Burton Way
Beverly Hills, CA 90211
Phone: 310.276.9990
The Little Door
8164 W. Third St.
Los Angeles, CA 90048
Phone: 323-951-1210
L'Orangerie
903 North La Cienega Blvd.
Los Angeles, CA 90069
Phone: 310.652.9770
Restaurant Halie
1030 East Green Street
Pasadena, CA 91106
626.440.7067
The Stinking Rose
55 N. La Cienega Boulevard
Beverly Hills, CA 90211
Phone: 310.652.7673
Best Places to Stay
The Regent Beverly Wilshire
We're absolute suckers for romance, so how could we resist the Regent Beverly Wilshire, the site of the love nest on Pretty Woman? The hotel is the epitome of grand style, located at the famous intersection of Rodeo Drive and Wilshire Boulevard. The lobby and surrounding areas are suitably magnificent, with sparkly chandeliers, dark woods, rich carpets and lush plants. The staff is attentive and cordial to a fault, even if your name doesn't appear on the Who's-Who list in Hollywood. The rooms are luxuriously appointed, with more dark woods and thick, delicious robes. The pool is always heated to 82 degrees, and an on-site spa offers a full menu of treatments to soak, rub and steam away your most stubborn aches and pains. This is the perfect place to fall back in love… Hey! Why not charge a platter strawberries and a bucket of champagne to the room and spend a couple of hours giggling over old black and white movies? Hmm, we've seen this before.
The Argyle
For an elegant trip back to the 1930's, step into the Argyle Hotel on Sunset Boulevard. The clean Art Deco lines and crisp, sophisticated styling recall a time when men wore hats and tails and women tossed a silky stole over their shoulders before dinner. The Argyle has been featured in several movies over the years, including Get Shorty and The Player, and former residents included playboy Howard Hughes and the even original gangster himself, Bugsy Siegel. The rooms are polished and luxe, with stark geometric elements throughout, and careful attention to form and function. Look for the striking frosted glass light fixtures and wrought-iron palm trees. The restaurant in the hotel, the Fenix, has a menu that matches the distinctive cool of the place itself; from uni baked it its shell to red snapper baked in banana leaves, this is a true playground for your taste buds. And the unexpected something? Freshly baked cookies at your bedside turndown. Foil-wrapped chocolate, move over. So go ahead, babydolls. Book a room.
Beverly Hills Hotel
For classic, old-school Hollywood glamour, look no further than the Beverly Hills Hotel, located right in the center of the coveted "90210" area code. The so-called Pink Palace pink rises amid rows of towering palm trees, and you wouldn't be the first to glimpse the ghost of Gregory Peck or Marion Davis behind one of the marble pillars. The glimmering rectangular pool is lined with smartly striped lounge chairs, and comes complete with twenty-one private cabanas, each with telephone, television and fax, though we hope you won't mix business and romance if you can possibly help it. Not in the mood for a dip? How about a game of tennis? Two lighted outdoor courts give you the chance to rally with your sweetie anytime you desire. As you might imagine, the hotel offers a range of accommodations for the discerning guest – from well-endowed guest rooms to expansive suites to completely private bungalows, every single detail screams class and style. So toss on those big shades and slip on your sandals… you deserve to live like a star, if only for a while.
The Regent Beverly Wilshire
9500 Wilshire Boulevard
Beverly Hills, California 90212
Phone: (310)275-5200
Beverly Hills Hotel
9641 Sunset Boulevard
Beverly Hills, California 90210
Tel: 310.276.2251
Reservations: 800.283.8885
The Argyle Hotel
8358 Sunset Boulevard
West Hollywood CA US 90069
Phone: 800.225.2637
Best Places to Kiss
The Skybar at the Mondrian Hotel
The Skybar was the ultra-hip hangout of the swanky set for quite a while. Frankly, we're glad the buzz has died down, because the inside-out setting is truly beautiful. The bar is located off of the deck of the Mondrian Hotel, one of Ian Schrager's swishy urban gems. At night, the space becomes an outdoor lounge, with twinkling candles and scented flowers and oversized futons where you can sip drinks and relax. Take a stroll around the deck and look out on the view, and be sure to take a spin around the lobby, which is a true visual treat. You'll leave feeling like a true trendista.
The Ferris wheel on the Promenade in Santa Monica
Who says romance has to be all opulence and grown-up sophistication? We like the thought of couples sitting side-by-side in a Ferris wheel on a warm summer night, dangling their legs over the edge and looking down on the scene below. So if you're in the mood for some innocent summer fun, head down to the promenade on the Santa Monica Pier deck, and hop on board. The good news is, the wheel isn't even powered with electricity, but rather by solar energy, making it truly guilt-free! While you're soaking in the view of the ocean and the little people running here and there, don't forget that it's good luck to kiss at the top of the ride. Then, when you're finished going round and round, scout along the pier for ice cream cones or cotton candy or curly fries. Hot tip: If you're hungry for dinner, you can't do better than The Lobster, a waterfront restaurant with breathtaking views and oh-so-yummy seafood. Enjoy!
Huntington Library, Art Collections and Botanical Gardens
The Getty is grand and the Museum of Contemporary Art is impressive, but we prefer this private collection of gardens and art to all of the others. Henry Huntington began developing the Botanical Gardens in 1903, and today they span over 100 acres, an oasis of lawns and foliage and statuary. Thousands of plants from all over the world make up the botanical collections, and are divided into themes, including Japanese, lily ponds, jungle, desert, palm, subtropical, herb, and Australian gardens. But don't spend all of your time outside; the library and three art galleries are absolutely superb. Highlights of the collection include the Ellesmere manuscript of Chaucer's The Canterbury Tales (c.1410), a Gutenberg Bible (c.1455), Thomas Gainsborough's masterpiece The Blue Boy (c. 1770) and Sir Thomas Lawrence's Pinkie (1794). Many new pieces are added on a regular basis. After a few hours of browsing, refresh with a traditional English tea at the Rose Garden Tea room, overlooking the lush landscape. The central buffet table is weighed down with tasty bites such as finger sandwiches, miniature pastries, strawberries and cream, and many other goodies. Plan on spending an entire afternoon!
The Skybar at the Mondrian Hotel
8440 Sunset Boulevard
West Hollywood CA 90059
Phone: 213 650 8999
Huntington Library, Art Collections and Botanical Gardens
1151 Oxford Rd
San Marino, CA 91108
Tel: 626.405.2141
Be Sure Not To Miss
Pink's Famous Chili Dogs
Drive by this famous hotdog stand at nearly any time of the day or night, and you're likely to spot a lineup of assorted Los Angelians waiting to place an order for a hot, juicy sausage wrapped in a soft white bun. In this city known for its affinity to green salads and tofu, isn't this a bit odd? Ah, but that's the best part about it. These dogs are packed with fat and flavor, and they seem to illustrate the point that we all need to indulge now and then. And Pink's has been happy to supply the goods since 1939, when Paul Pink parked his hot dog wagon and set up shop. So why not stop by and see what all the fuss is about? A chili dog will set you back a whole $2.40, and besides - a trip to L.A. just wouldn't be complete without it! Fun, fun.
House of Blues on the Sunset Strip
So we've sent you to the Gospel Brunch at the House of Blues in Las Vegas, and now we're going to recommend that you check out the Hollywood version of the HOB. Mmm-hmm, child, that's right. Ya'll need to haul your behind out of bed on Sunday morning and head on down to the Sunset Strip to the most jammin' gospel session in the state, with more love and "amen's" than a hundred church choirs put together. The best bands show up here, so you're in for a real treat, from Al Green to the Blind Boys of Alabama, the show is always superb. And did we mention the food? Oh, darlin'. There's heaps of spicy shrimp and baskets of flaky biscuits and cheddar cheese grits galore… more than you can possibly fit in, we're willing to bet.
Mann's Chinese Theatre
So this just might be the most-visited spot in Los Angeles, but that doesn't mean you shouldn't go! Just once in your life, you need to stand with the one you love in front of this quintessential Hollywood icon and walk along the famous handprints that have captured a star-struck moment in concrete… go ahead, stand over Marilyn's little print and indulge in a big, wet smooch. Better yet, go all the way and actually see a movie in the theatre. The screen is enormous, and the atmosphere is truly unlike anything you can find anywhere else. So be a tourist for a few hours and have a blast doing it!
Mann's Chinese Theatre
6925 Hollywood Blvd
Hollywood, CA 90028
Movie times: 323.464.6266
House of Blues® Sunset Strip
8430 Sunset Blvd.
West Hollywood, CA 90069
Phone: 323.848.5100
Pink's Famous Chili Dogs
709 N. La Brea Ave.
Los Angeles, CA 90038
Phone: 323.931.4223

© 2002-2011, Sex and the Kitchen, Inc. All rights reserved. This Site and the contents of the Site are intended for your personal, noncommercial use.