Most Romantic Restaurants: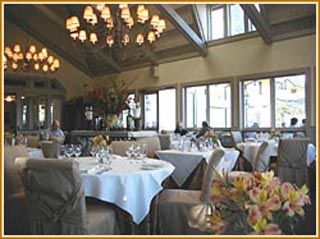 Café At The Winery Restaurant - Chateau Souverain


MANZANITA

When in Healdsburg, go with the flow and seek out the chic, pared down ambience that blends seamlessly with your surroundings: in other words, eat at Manzanita. This understated bistro is located just off of the main Square, with a row of perfectly stacked firewood at the entrance, presumably for the oven that takes up the better part of the back wall. The food is Mediterranean country with a California twist: you might start with a roasted beet salad studded with chevre, then move on to a creamy wild mushroom lasagna baked in a cassoulet, followed with grilled rabbit smothered in a garlicky herb paste. The menu changes often, as befits a place that arranges it's offerings around the local seasons. The wine list is, of course, impeccable, and the tables are small enough that you can hold hands with your sweetheart without wrenching your shoulder sockets.


CAFÉ AT THE WINERY RESTAURANT (Chateau Souverain)

Drive any direction from Healdsburg and you'll hit a winery - or two or three - within seconds. Each one has it's own distinct charm, and you can't go wrong exploring the lot of them. One of our favorite stops is Chateau Souverain, a winery and tasting room with a wonderful restaurant attached, the Cafe at Chateau Souverain. Executive Chef Martin Courtman takes special care to pair the menu with the wines of each season, together with the finest local ingredients; you'll find farm-fresh poultry and meat, artisan cheeses and organic fruits and vegetables arranged with exquisite care on this outstanding menu. Ask for a table on the deck for the best view in the county; vineyards and hills stretch out for miles all around, a breathtaking vista that makes everything taste even better! Here's a hint: ask your waiter to suggest the optimal food and wine pairings from the menu, and then prepare to be delighted with each and every bite. And just in case you wake up ravenous and in the mood for something yummy on the last day of your weekend, the restaurant also offers a delectable Sunday Brunch, complete with mimosas and fresh juice to enliven you as you watch the fog burn off the valley and glow beneath the rising sun...


FELIX & LOUIE'S

If you'd rather walk, not drive, on Sunday morning, crawl from the cozy confines of your hotel boudoir to the west edge of the Square, where you'll find Felix & Louie's, the perfect spot for Sunday brunch. The restaurant tables are unadorned wooden squares and the kitchen is partly open to expose a crackling brick oven, making you feel like you're sitting down to a generous family breakfast. Order the delectable Eggs Benedict and steaming cups of rich, dark coffee, or venture beyond breakfast food to try one of their crispy-crust pizzettas. If you'd rather eat here another night of the week, check the schedule in front for the jazz lineup, and hit the spot when the place is rocking. Whenever you deign to dine here, don't miss the pasta shop just behind the front counter, where you can find a package of freshly made papardelle or fettuccine to take home with you.


OAKVILLE GROCERY

Okay, okay, so this isn't a restaurant, but we had to include this market extraordinaire in the list of best places to eat... this teensy-tiny market has such slender aisles that you have to suck it in to slip around another person, but the overflowing shelves are well worth the effort. You'll find no less than a dozen flavored mustards, every kind of jam or jelly that was ever dreamed of, and an exotic selection of delights from teas to chocolate to pickles. Take a basket with you, and assemble your own grown-up picnic to go: choose one or two hunks of cheese from the generous assortment available, and pair it with a baguette (with olives? herbs? plain? you decide) and any of the cornucopia of condiments, then make a trip to the deli counter, where you can deliberate between roasted vegetable salads and herbed meats. Grab a handful of napkins and head off to your winery of choice, where you can purchase a bottle of your favorite vino and stretch out on some green swatch of countryside and while away the afternoon. Now this is living!