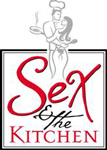 Sex and the Kitchen's Best Places in Healdsburg, California List


The tiny town of Healdsburg is situated a few miles north of Napa, beyond the strip malls and miles of highway that stretch around the Valley in all directions. The town is tucked away like an unexpected jewel, a surprising blend of European chic and rustic wine-country charm. Who knew? A delightful assortment of upscale boutiques, restaurants and coffee shops are arranged around a grassy center square, replete with trees and a duck pond and rimmed with street lamps that drip with hanging baskets of flowers. This is one place where you can feel simultaneously sophisticated and relaxed, so take a break from the ordinary and sneak away to this romantic hideaway for a dose of pastoral indulgence.



There are so many guides to wine country that we won't even attempt to go there. Nearly every gas station, coffee shop and hotel lobby has stacks of maps and brochures, and so we'll assume that you already have that covered. What you WILL find here is our picks for the most romantic things to do, see and eat during those breaks between sipping... so have fun, drink responsibly, and resolve to be more in love when you leave than when you arrived!


Best Places to Kiss:


AT 1,000 FEET...

There's no better place than wine country to take a romantic ride in a puffy, rainbow-striped air balloon. Picture it: the two of you are standing in a tiny wicker basket, bundled up in your fuzziest sweaters and holding on to each other as the balloon slowly rises into the air... you left just before sunrise, and so you get to watch the sun explode over the horizon and light up the whole valley - vineyards and farms and winding country roads - the whole beautiful, amazing world is stretched out in front of you like a Technicolor movie screen. If you're not kissing and sighing with delight by that time, you shoulda stayed home in the first place.


ON THE GRASS WHILE THE BAND PLAYS ON...

Every year, the Sonoma County Wineries Foundation hosts a three-day extravaganza called the Showcase of Food and Wine. Over the three days, guests are whisked from one delightful event to another: dinners, wine tastings, the whole wonderful works. Each event is held in an idyllic setting - the best wineries, the most stunning vineyard hideaways, the most scenic golf courses - it truly is as good as it sounds. On the last night, the San Francisco Symphony plays on a stage set against the backdrop of the rolling hills while guests sit on a cool green lawn, with packed picnic baskets and bottles of wine in hand... the symphony begins to heat up as the sun goes down, and soon couples are dancing and staring dreamily into each others' eyes... ahh, what a perfect end to an inspired weekend. This year's event runs from July 10-12, 2003. For more information, go to: http://www.sonomawine.com/showcase.html


Aerostat Adventures (hot air balloon rides)
toll free: 800-579-0183
aerostat@sonic.net




Best Places to Stay:

HONOR MANSION

As soon as you step inside the white picket fence that surrounds the Honor Mansion, you get the distinct feeling of coming home. This stunning two-story Victorian has a deep porch in the front, overhung with lush vines and surrounded with flowers, trees and fragrant herbs. Inside, dark wood paneling and turn-of-the-century furnishings create an atmosphere of elegant luxury. Owners Steve and Cathi Fowler have thought of all the extras: a big glass cookie jar in the parlor for whenever the sweet tooth strikes; a delicious array of wine and nibbles every evening; an extravagant multi-course breakfast served on delicate china each morning. The rooms are decorated to the hilt with beautiful furnishings and textiles, and the enormous suites (private Jacuzzi and all!) are so sumptuous that you might never want to venture outside. A lap pool is situated in the middle of a luscious green lawn, surrounded by a deck complete with loungers and umbrellas for those lazy afternoons when you need a break from wine tasting...


THE DUCHAMP

If lace doilies and chintz comforters aren't your thing, consider spending the night with Picasso instead. Located just two blocks from the main square, the Duchamp is an austere monument to modern art, a slick habitue for the wallpaper* set, with suites that honor the masters of cool: Man Ray, Miro, Warhol and, of course, Picasso himself. You'll find plenty of eye candy in the form of cowhide rugs and blonde wood desks and slate grey bathroom tiles, as befits a pair of swank hipsters such as yourselves. If you'd rather snooze sans Marilyn or the sultry neon lips, you're in luck: in addition to the aforementioned suites, there are eight theme-free villas trimmed in corrugated aluminum with cool concrete floors and fuzzy lambskin rugs, with enormous bathrooms to boot. A rectangular lozenge of a pool sits in the center of the compound, looking particularly spectacular at night, when bluish lights from beneath the water cast a surreal glow on the entire deck. So go ahead: slip on the Pradas, grab the Gucci and your sleek, chic honey and make like the city-worn jetsetters that you are. Ice, ice, baby.


HOTEL HEALDSBURG

Darling, have you seen the new Hotel Healdsburg? It's smashing, it really is. And the Dry Creek Kitchen, oh! Charlie Palmer, you know. Divine. The Hotel Healdsburg takes up half of an entire block in the Healdsburg Square, so it's not likely that you'll miss it, but just in case you want the scoop before you arrive, we have the goods. The Hotel is a paragon of understated elegance, awash in subtle hues of sage and mustard and oyster grey, surrounded with a latticework patio that sports a canopy of leafy green vines. The rooms are comfortably outfitted with goose down comforters and a deep soaking tub, with DVD and CD players for the electronically inclined. A suitably austere spa is tucked to one side of the hotel, allowing guests to pad back and forth in sandals and a Frette robe between deep tissue treatments. The hotel is surrounded by its associated properties: the restaurant-du-jour Dry Creek Kitchen, a precious flower shop and an itty-bitty deli where you can grab a cantaloupe, a wedge of fromage and a salami to take with you on your picnic. While unquestionably charming, the place has the faintest whiff of calculated sophistication about it, as though the planners sat down with the editor of Town and Country for a quick breakdown of what moneyed forty-somethings were willing to plunk down the big bucks for. But don't let our jaded view slow you down: recline in one of the polished Adirondack chairs on the outside-in patio, or hunker in front of the slick fireplace in the lobby and play a smart game of chess with your darling while sipping a Martini. Dry, of course. Extra olives.



Honor Mansion
14891 Grove St.
Healdsburg, CA 95448
Phone: 800.554.4667

Duchamp Hotel
421 Foss St.
Healdsburg, CA 95448
Phone: 707.431.1300

Healdsburg Inn on the Plaza
110 Matheson St.,
Healdsburg, CA 95448
Phone: 800.431.8663




Most Romantic Restaurants:

MANZANITA

When in Healdsburg, go with the flow and seek out the chic, pared down ambience that blends seamlessly with your surroundings: in other words, eat at Manzanita. This understated bistro is located just off of the main Square, with a row of perfectly stacked firewood at the entrance, presumably for the oven that takes up the better part of the back wall. The food is Mediterranean country with a California twist: you might start with a roasted beet salad studded with chevre, then move on to a creamy wild mushroom lasagna baked in a cassoulet, followed with grilled rabbit smothered in a garlicky herb paste. The menu changes often, as befits a place that arranges it's offerings around the local seasons. The wine list is, of course, impeccable, and the tables are small enough that you can hold hands with your sweetheart without wrenching your shoulder sockets.


CAFÉ AT THE WINERY RESTAURANT (Chateau Souverain)

Drive any direction from Healdsburg and you'll hit a winery - or two or three - within seconds. Each one has it's own distinct charm, and you can't go wrong exploring the lot of them. One of our favorite stops is Chateau Souverain, a winery and tasting room with a wonderful restaurant attached, the Cafe at Chateau Souverain. Executive Chef Martin Courtman takes special care to pair the menu with the wines of each season, together with the finest local ingredients; you'll find farm-fresh poultry and meat, artisan cheeses and organic fruits and vegetables arranged with exquisite care on this outstanding menu. Ask for a table on the deck for the best view in the county; vineyards and hills stretch out for miles all around, a breathtaking vista that makes everything taste even better! Here's a hint: ask your waiter to suggest the optimal food and wine pairings from the menu, and then prepare to be delighted with each and every bite. And just in case you wake up ravenous and in the mood for something yummy on the last day of your weekend, the restaurant also offers a delectable Sunday Brunch, complete with mimosas and fresh juice to enliven you as you watch the fog burn off the valley and glow beneath the rising sun...


FELIX & LOUIE'S

If you'd rather walk, not drive, on Sunday morning, crawl from the cozy confines of your hotel boudoir to the west edge of the Square, where you'll find Felix & Louie's, the perfect spot for Sunday brunch. The restaurant tables are unadorned wooden squares and the kitchen is partly open to expose a crackling brick oven, making you feel like you're sitting down to a generous family breakfast. Order the delectable Eggs Benedict and steaming cups of rich, dark coffee, or venture beyond breakfast food to try one of their crispy-crust pizzettas. If you'd rather eat here another night of the week, check the schedule in front for the jazz lineup, and hit the spot when the place is rocking. Whenever you deign to dine here, don't miss the pasta shop just behind the front counter, where you can find a package of freshly made papardelle or fettuccine to take home with you.


OAKVILLE GROCERY

Okay, okay, so this isn't a restaurant, but we had to include this market extraordinaire in the list of best places to eat... this teensy-tiny market has such slender aisles that you have to suck it in to slip around another person, but the overflowing shelves are well worth the effort. You'll find no less than a dozen flavored mustards, every kind of jam or jelly that was ever dreamed of, and an exotic selection of delights from teas to chocolate to pickles. Take a basket with you, and assemble your own grown-up picnic to go: choose one or two hunks of cheese from the generous assortment available, and pair it with a baguette (with olives? herbs? plain? you decide) and any of the cornucopia of condiments, then make a trip to the deli counter, where you can deliberate between roasted vegetable salads and herbed meats. Grab a handful of napkins and head off to your winery of choice, where you can purchase a bottle of your favorite vino and stretch out on some green swatch of countryside and while away the afternoon. Now this is living!


Manzanita
336 Healdsburg Ave
Healdsburg, CA 95448
Phone: (707) 433-8111

The Café at the Winery
Chateau Souverain
400 Souverain Rd.
Geyserville, CA
Phone: 707.433.3141

Felix & Louie's
106 Matheson St.,
Healdsburg, CA 95448
Phone: 707.433.6999

Oakville Grocery
124 Matheson Street
Healdsburg, CA 95448
Phone: 707-433-3200



Be Sure Not To Miss:


OSMOSIS ENZYME BATH & MASSAGE

We probably shouldn't be giving away one of our best-kept secrets, but here it is (we love you, we really do!). We know what it feels like to be tired and sore after a busy day of shopping and eating and wine tasting, and we think you deserve a bit of pampering after all of that. What your feet and back and spirit all need is located just a few minutes outside of Healdsburg. Trust us: the short drive is well worth it. Upon walking into Osmosis, you'll feel as though you've stumbled upon a secluded Japanese garden. Bubbling water fountains, soothing music and sleek Asian furnishings make you feel better even before you've donned the white robe and checked in for your treatment. May we suggest arriving a bit early so that you have time to soak in the bonsai and bamboo gardens? And please: don't merely schedule a massage. The luxurious enzyme baths are famous for their restorative powers, and these are some of the best we've found. Enjoy!


ANTIQUE SHOPPING

There's something so cozy about prowling around amid dusty oil paintings and knick-knacks from yesteryear... and Healdsburg is nearly bursting with charming little antique shops where you can find that odd piece you never knew you wanted! It's also a great way to have a giggle at the sometimes zany bits and pieces that were created over the years (can you believe the sheer variety of salt and pepper shakers?!). Our favorites are Jimtown Store (which also has a darling little café where you can pick up a snack!), Mill Street Antiques and Healdsburg Classics. Picking out that one-of-a-kind memento of your trip together is something we highly recommend.


HEALDSBURG JAZZ FESTIVAL

Mixing wine and music is nearly always a great idea... and Healdsburg makes it happen in style with their annual jazz festival. Over the course of four days, an assortment of jazz bands play at various venues throughout the town. The music is great, the energy is infectious, and the surroundings couldn't be more ideal. It's worth planning a trip around, but be sure to get tickets early!

Osmosis Enzyme Bath and Massage
209 Bohemian Hwy.
Freestone, CA 95472
Phone: 707.823.8231

Jimtown Store
6706 Hwy 128
Healdsburg, CA 95448
Phone: 707.433.1212

Healsburg Classics
226 Healdsburg Ave
Healdsburg, CA 95448
Phone: 707.433.4315

Healdsburg Jazz Festival information
http://www.healdsburgjazzfestival.com
Phone: 707.433.4633

© 2002-2003, Sex and the Kitchen, Inc. All rights reserved. This Site and the contents of the Site are intended for your personal, noncommercial use.