Best Places to Stay: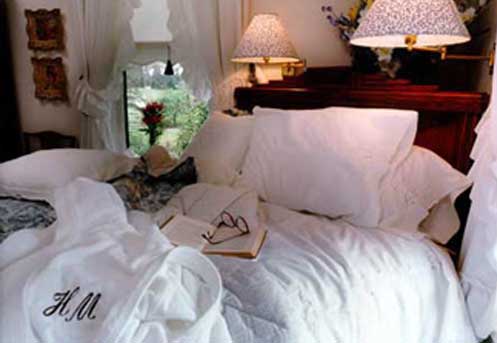 Honor Mansion, Healdsburg
HONOR MANSION

As soon as you step inside the white picket fence that surrounds the Honor Mansion, you get the distinct feeling of coming home. This stunning two-story Victorian has a deep porch in the front, overhung with lush vines and surrounded with flowers, trees and fragrant herbs. Inside, dark wood paneling and turn-of-the-century furnishings create an atmosphere of elegant luxury. Owners Steve and Cathi Fowler have thought of all the extras: a big glass cookie jar in the parlor for whenever the sweet tooth strikes; a delicious array of wine and nibbles every evening; an extravagant multi-course breakfast served on delicate china each morning. You might be treated to fluffy scones filled with fresh fruit, or heavenly egg-drenched asparagus toasts, or some other decadent specialty of the house, but one thing is certain: every single dish is a treat. The rooms are decorated to the hilt with beautiful furnishings and textiles, and the enormous suites (private Jacuzzi and all!) are so sumptuous that you might never want to venture outside. A lap pool is situated in the middle of a luscious green lawn, surrounded by a deck complete with loungers and umbrellas for those lazy afternoons when you need a break from wine tasting... If you're longing to be pampered, look no further.


THE DUCHAMP

If lace doilies and chintz comforters aren't your thing, consider spending the night with Picasso instead. Located just two blocks from the main square, the Duchamp is an austere monument to modern art, a slick habitue for the wallpaper* set, with suites that honor the masters of cool: Man Ray, Miro, Warhol and, of course, Picasso himself. You'll find plenty of eye candy in the form of cowhide rugs and blonde wood desks and slate grey bathroom tiles, as befits a pair of swank hipsters such as yourselves. If you'd rather snooze sans Marilyn or the sultry neon lips, you're in luck: in addition to the aforementioned suites, there are eight theme-free villas trimmed in corrugated aluminum with cool concrete floors and fuzzy lambskin rugs, with enormous bathrooms to boot. A long, narrow table graces the entrance building, with leggy chairs arranged around it, complete with a menu of wines by the glass and exotic teas for when you need a little something to get you out the door. A rectangular lozenge of a pool sits in the center of the compound, looking particularly spectacular at night, when bluish lights from beneath the water cast a surreal glow on the entire deck. So go ahead: slip on the Pradas, grab the Gucci and your sleek, chic honey and make like the city-worn jetsetters that you are. Ice, ice, baby.


HOTEL HEALDSBURG

Darling, have you seen the new Hotel Healdsburg? It's smashing, it really is. And the Dry Creek Kitchen, oh! Charlie Palmer, you know. Divine. The Hotel Healdsburg takes up half of an entire block in the Healdsburg Square, so it's not likely that you'll miss it, but just in case you want the scoop before you arrive, we have the goods. The Hotel is a paragon of understated elegance, awash in subtle hues of sage and mustard and oyster grey, surrounded with a latticework patio that sports a canopy of leafy green vines. The rooms are comfortably outfitted with goose down comforters and a deep soaking tub, with DVD and CD players for the electronically inclined. A suitably austere spa is tucked to one side of the hotel, allowing guests to pad back and forth in sandals and a Frette robe between deep tissue treatments. The hotel is surrounded by its associated properties: the restaurant-du-jour Dry Creek Kitchen, a precious flower shop and an itty-bitty deli where you can grab a cantaloupe, a wedge of fromage and a salami to take with you on your picnic. While unquestionably charming, the place has the faintest whiff of calculated sophistication about it, as though the planners sat down with the editor of Town and Country for a quick breakdown of what moneyed forty-somethings were willing to plunk down the big bucks for. But don't let our jaded view slow you down: recline in one of the polished Adirondack chairs on the outside-in patio, or hunker in front of the slick fireplace in the lobby and play a smart game of chess with your darling while sipping a Martini. Dry, of course. Extra olives.




Honor Mansion
14891 Grove St.
Healdsburg, CA 95448
Phone: 800.554.4667



Duchamp Hotel
421 Foss St.
Healdsburg, CA 95448
Phone: 707.431.1300



Healdsburg Inn on the Plaza
110 Matheson St.,
Healdsburg, CA 95448
Phone: 800.431.8663




Find hotel rooms discounted up to 65% off or locate rooms for sold out dates in over 8000 cities worldwide.




Example: Las Vegas, NV, US

Check rates from more than 60 different rental companies at nearly every major airport.

Enter a search city

Example: Las Vegas, NV, US

Search for international and domestic flights with discounts direct from our consolidators!

Departure City

Depart:

Arrival City

Return: