Best Places to Kiss: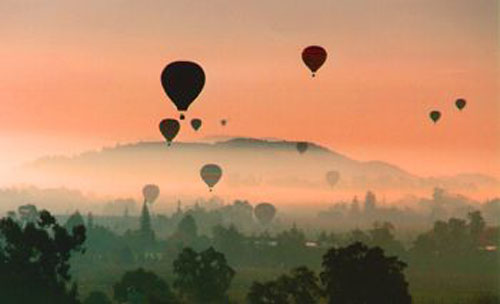 Photo by Bonaventura Balloons



AT 1,000 FEET...

There's no better place than wine country to take a romantic ride in a puffy, rainbow-striped air balloon. Picture it: the two of you are standing in a tiny wicker basket, bundled up in your fuzziest sweaters and holding on to each other as the balloon slowly rises into the air... you left just before sunrise, and so you get to watch the sun explode over the horizon and light up the whole valley - vineyards and farms and winding country roads - the whole beautiful, amazing world is stretched out in front of you like a Technicolor movie screen. If you're not kissing and sighing with delight by that time, you shoulda stayed home in the first place. The optimal season for hot air ballooning in Northern California is April through mid-November, when weather and air conditions are fairly stable.




ON THE GRASS WHILE THE BAND PLAYS ON...

Every year, the Sonoma County Wineries Foundation hosts a three-day extravaganza called the Showcase of Food and Wine. Over the three days, guests are whisked from one delightful event to another: dinners, wine tastings, the whole wonderful works. Each event is held in an idyllic setting - the best wineries, the most stunning vineyard hideaways, the most scenic golf courses - it truly is as good as it sounds. On the last night, the San Francisco Symphony plays on a stage set against the backdrop of the rolling hills while guests sit on a cool green lawn, with packed picnic baskets and bottles of wine in hand... the symphony begins to heat up as the sun goes down, and soon couples are dancing and staring dreamily into each others' eyes... ahh, what a perfect end to an inspired weekend. This year's event runs from July 10-12, 2003. For more information, go to: http://www.sonomawine.com/showcase.html



We Recommend:

Bonaventura Balloon Company of Napa Valley
1.800.FLY.NAPA
Ask about the Sweetheart Flight!