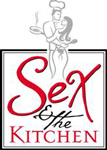 Sex and the Kitchen's Carmel-By-The-Sea Romantic Guide



17 Mile Drive
If you only do one thing during your visit to Carmel Valley, take a trip along 17 Mile Drive. Arguably one of the most famous stretches of road anywhere, this legendary bit of highway winds around a breathtaking tract of the Pacific coastline. Travel it at the risk of becoming intoxicated with the sheer beauty and magic of it all: crooked cypress trees, blown into submission by searing winds, arch over the land, and magnificent icy blue waves smash violently against rocky scraps of beach. You're likely to spot the elegant silhouette of a deer (or five) prancing elegantly along the edge of the forest. The houses that line the road aren't too shabby, either; stone mansions and dramatic castles make the most of the amazing view, but visitors get a suitable piece of it, too: there are several viewing spots along the road where you can easily pull your car over and jump out to snap a few photos or simply breathe in a few lungfuls of sea air. The immediate surrounding area is called Pebble Beach, so named because people used to collect shiny pebbles that washed ashore on the beaches. Those pebbles attracted quite a following, and now this area is a destination spot for wealthy golfers from around the world who tee up for the most awe-inspiring eighteen holes on the West Coast. The water and air and ambience combine to create a kind of tonic that people travel thousands of miles for, so enjoy every single inch of it. We wouldn't think remiss of you if you chose to dawdle over these precious seventeen miles for an entire day…

Carmel Mission Basilica
The Carmen Mission Basilica has an important place in California history: it was founded by Padre Junipero Serra, a monk from the order of the Franciscan Friars who came over from in the late 1700's and was later named "The Apostle of California." The mission is set on stunning grounds, with views of the ocean from all directions. Several rooms have been restored to their bygone glory, including the original library that was supposedly the first library in California, containing over 2,000 volumes by 1820. Mass is still served in the chapel, and grounds make a spectacular place to explore and reflect.
Monarch butterflies in the fall

Every fall, the monarch butterflies travel 2,500 miles to Pacific Grove, a tiny town situated just north of Carmel, where an elaborate mating ritual commences. The brightly colored pairs find each other and join for a glorious (but brief) few moments, and then separate. The females lay their eggs on the many milkweed bushes that are scattered throughout the San Joaquin Valley, an exhausting process that ends in the death of the female when all the eggs have been properly placed. And then the cycle begins again… The annual aggregation of the butterflies (usually during the first couple weeks of October) is a vision not to be missed, and the town of Pacific Grove commemorates the event with a festival in their honor.
List of Addresses & Contact Information:
Carmel Mission Basilica
3080 Rio Road
Carmel, CA 93923
831.624.1271
Friends of the Monarchs
1.888.746.6627
http://www.pgmonarchs.org/fomh.html

The Cypress Inn
Doris Day is just one of the celebrities who has made her home in this charming swatch of Northern California Coast. She was involved in building The Cypress Inn in 1929, and this stylish and elegant hotel is still a much-desired place to lodge. It isn't hard to see why: the building looks like something that might be found on a grand Spanish hacienda, all thick walls and rustic, exposed beams. Vibrantly colored bougainvillea covers the outside walls and courtyard, and the lobby floor is paved with ornate ceramic tiles. The front room has soaring ceilings, striking artwork and a cheerful fireplace where you can warm your hands after the chill of the beach. Afternoon tea, should you be so inclined, is served daily between 2:00-3:45pm. For pre-dinner cocktails, don't miss the charming Library Bar, nestled just beyond the front desk and beautifully decorated with framed movie posters of Doris in her heyday. The rooms are tastefully decorated, with plush bedding and plenty of little extras. Bonus: don't want to leave your darling pooch behind? Amazingly enough, this grand hotel is dog-friendly, so Fluffy can join you.
The Briarwood Inn
If you like complete privacy, you'll love The Briarwood Inn. Located smack in the heart of Carmel, the Inn is actually a network of seven separate suites, each with it's own entrance. It feels as if you were renting a mini-cottage, and though this arrangement might not sound posh, the suites are quite well-appointed with luxury bed linens and extras like CD players and fireplaces. Some even have full kitchens, stocked with wineglasses, corkscrews and basic utensils, perfect for whipping up that midnight snack. In the morning, the office cottage offers a continental breakfast spread (which they will also deliver to your room, if desired) that includes fresh seasonal fruit, a selection of breads and pastries, and freshly brewed coffee. The Inn is perfectly situated for walking to nearly everything in Carmel, so if you're so inclined, you can park the car and not get in again until you're ready to leave!
Bernardus Lodge
If you're on the hunt for sumptuous luxury, look no further than the Bernadus Lodge. Situated outside of town on Carmel Valley Road, this spot will pamper, wine and dine you in fabulous style. The suites are oversized havens, decorated with warm woods, soft prints and cushy feather beds. The idyllic setting is rimmed with trees and sloping hills, giving visitors the feeling of being miles away from it all. Be a lazybones and soak in the sun at poolside, or make like the English and play a game of croquet on the well-manicured lawn. For an extra special treat, book a massage – or two - in the sumptuous adjacent spa. There's even a gorgeous restaurant on the premises, complete with a huge stone fireplace and a sweeping view of the grounds. Executive chef Cal Stamenov combines local ingredients and a European flair to create inventive, farm-fresh dishes that ooze charm and goodness. The lodge is owned by the same people who make Bernadus wine, so you'll have a fabulous wine list to choose from. Soak, sun and smooch… what more could you ask for?!
The Lodge At Pebble Beach & The Inn at Spanish Head
These properties are last on the list, not because of grandeur or style (they have both, in abundance), but because the price tag is ever-so-steep. And yet. Sometimes it's worth it to go all out, and over-the-top extravagance is just what you'll get at these properties. The Lodge presides over the most prime property on 17 Mile Drive in the exclusive community of Pebble Beach, the Inn at Spanish Head is tucked deeper into the pines. The impact of the ocean view from either of these luxury resorts simply can't be understated – the rocky coastline twists and wraps into a craggy squiggle around the edges of the grounds, and the ocean sends tremendous waves crashing into the cliffs, spraying white, foamy water high into the air. You will be transfixed, but not enough to overlook the other non-natural amenities: four golf courses, tennis courts, and hiking trails are just some of the offerings. The Inn at Spanish Head features a 22,000-square-foot, full-service spa and salon, nestled in the fragrant heart of the Del Monte Forest. The suites are generously appointed and the furnishings are grand and elegant, accented with overstuffed pillows and lush potted plants. First-class restaurants and cafés are on-premises of each property, and a bevy of courteous staff is happy to attend to your every need. We can't imagine a much more beautiful place to unwind and relax in the whole wide world. Romantic? Oh, baby.
List of Addresses & Contact Information:
The Cypress Inn
Lincoln & 7th
Carmel-By-The-Sea, CA
1.800.443.7443
The Briarwood Inn
San Carlos St.
Between 4th & 5th St.
Carmel-by-the-Sea, CA 93921
1.831.626.9056 or Toll Free: 800.999.8788
http://www.briarwood-inn-carmel.com

Bernadus Lodge
415 Carmel Valley Road
Carmel Valley, CA 93924
831-658-3400
http://www.bernardus.com/bl/index.html
The Lodge At Pebble Beach
1700 17-Mile Drive
Pebble Beach, CA 93953
800-654-9300

Casanova
The legendary Casanova was renowned for his seductive prowess, and we suspect that one of his talents was knowing how to wine and dine. This charming Carmel restaurant was named after the famous romancer, and it lives up to the fantasy: the tables are small and cozy, the lighting is warm and soft, and the food is delicious without being pretentious. You'll feel as though you've stepped into a rustic European lodge as you make your way to a table in one of the four well-appointed rooms. We recommend the Fountain Patio, which has a tree growing straight up through the middle, festooned with miniature twinkling lights. The restaurant also features a hand-dug wine cellar, 14 feet beneath the floor, which is home to an astounding number of bottles. Even more exciting is the restaurant's recent acquisition of the table used by Vincent Van Gogh during the last days of his life at the Auberge Ravoux in Auvers-Sur-Oise. So book a table and take a leisurely walk to dinner with your darling, where you'll enjoy a meal made up of rustic European flavors culled from France to Italy, and a magnificent bottle of vino to accompany your selections. And who knows? If you're lucky, you just may catch some of that fabled Casanova spirit…
Le Coq D'Or
Keep an eye out for a flamboyant red rooster carved into a thick wooden sign, and stay put when you find it! Le Coq D'Or is an intimate European hideaway with an intriguing menu of German and French specialties. Their heated outdoor patio is lush with vines and flowers, a charming setting for a romantic twilight repast. Start out with the savory, roasty sweetness of the tarte de l'onion, and enjoy the sensation of those onion-y layers melting in your mouth. Then, if you're feeling a little French, don't miss the rich Cordon Bleu, stuffed with Guyere cheese and Black Forest Ham. If you're hankering for a more German experience, try the Rahm Schnitzel, swimming in a luscious pool of Madera Cream Sauce. And since you're already headfirst in butter and cream, why not go all the way and order the Marillen Knodel at the end, a sweet, apricot-filled dumpling drizzled with clarified butter and cinnamon sugar? Mmmm.
Breakfast at Il Fornaio (the big round wooden table)
The Pine Inn is located near the middle of Ocean Avenue, a classic hotel with lots of polished mahogany and wine-red velvet. The Italian restaurant, Il Fornaio, is attached to the hotel. Brunch here is a treat, with pots of dark, rich coffee, sparking mimosas, a basket of warm breads and a choice of entrees. It's easily within walking distance of most Carmel Valley hotels, so it makes a perfect destination for those lazy mornings. Not hungry for a big breakfast? Head to the sunny café nook, which sports a huge, round wooden table, perfect for sipping an espresso and perusing the morning papers.
Hog's Breath Inn

How could anything named the Hog's Breath Inn possibly be romantic? First, start with a wide-open patio graced with polished wood tables and stone fireplaces, presided over by heaps of glossy green ivy and tall, arching trees. Then toss in a brew-pub style menu, with thick, juicy burgers and a dripping French Dip sandwich made with sliced prime rib, and you've got the perfect place to send your ravenous tummies on a cool Saturday afternoon. The restaurant was founded by none other than Clint Eastwood, who presided as mayor over this small town for several years, and some of the menu names recall his movie roles: the Dirty Harry Bacon Cheeseburger, for instance, recalls that tall, handsome drink of water who captured our hearts and made our day. Don't miss it.


Bruno's Market
What restaurant could be more romantic than Nature herself? The beach at Carmel is nothing short of spectacular, and you may decide that you'd like to dine on that soft white sand with an up-close view of the blue, blue ocean, and we don't blame you at all. Stop by Bruno's Market before you head out, and assemble a picnic lunch with one of their delicious sandwiches or other deli items and a selection of fruit and cheese. Grab a bottle of wine, and you're all set. They've even got those little extras like paper napkins and plastic cutlery to make it simple. One last thing: once you reach the great dining room of the Pacific coastline, take off your shoes and wiggle your toes in that delicious warm sand. It's a sensation that will take you back to the days when sand and summer held infinite possibilities, and perhaps you'll be reminded that anything can indeed happen...
List of Addresses & Contact Information:
Casanova Restaurant
5th Street between Mission and San Carlos
Carmel, CA 93921
Phone: 831.625.0501
Open Every Day.
http://www.casanovarestaurant.com
Le Coq D'Or
Mission between 4th & 5th
Carmel 93921
Phone: 831.626.9319
Il Fornaio
Ocean Avenue at Monte Verde (at The Pine Inn)
Carmel-by-the-Sea, CA 93921
Phone: 831.622.5100
Hog's Breath Inn
San Carlos & Fifth Street
Carmel-By-The-Sea
Open Monday-Sunday 11:30-10:00pm.
Bruno's Market & Deli
6th & Junipero Ave.
Carmel-by-the-Sea, CA 93921
Phone: 831.624.3821

Art Galleries
It's not as if you could miss the galleries, since they're positively everywhere in Carmel, but here are a couple of our favorites, should you feel overwhelmed by all of the choices:
The Weston Gallery – fans of photography should head directly to this gorgeous collection of photos by the famed American photographer. His pieces are interspersed with the work of other incredible artists, including Ansel Adams & Alfred Stieglitz in a charming setting off on Dolores Avenue between 6th & 7th.
The Avalon Gallery – the stunning, sensual mezzotints of Mikio Wantabe are showcased in this gallery. Wantabe's work is filled with delicately rendered images of the female body in smoky, sepia-toned settings; his wife was the model for many of the pieces. Other artists featured at this gallery include Michael Parkes, the renowned painter of sensual fantasies, and Daniel Merriman, whose intricate scenes of butterflies and castles and flower petals will make you wish you could step into the painting.
Gallery Twenty One - The Eyvind Earle Gallery. Renowned artist Eyvind Earle was born in 1916 and spent most of his life in California. In 1951, he began working with Walt Disney to paint backgrounds for several films, including For Whom the Bell Tolls. He later worked on other groundbreaking animated films, including Sleeping Beauty and The Lady and The Tramp. Anyone who has seen these early pieces will instantly recognize Eyvind's fanciful, dark style, depicting trees whose branches drip down to the ground and strangely shadowed landscapes that seem to go on forever. Earle produced a huge body of work, and this gallery represents some of his most significant pieces. He died in 2000, and spent the previous twelve years of his life in Carmel Valley, making the gallery location particularly meaningful. His work was truly exceptional, and must not be missed!
Monterey Bay Aquarium
Once you're snuggled into the heart of Carmel, you won't want to get back in the car and drive out, but trust us: this is well worth it. Just a short fifteen-minute jaunt down the freeway, you'll see the signs for the Monterey Bay Aquarium. Follow the signs and run, don't walk, to the jellyfish exhibit. Be prepared to stand in awe in front of these magnificent creatures. They are nothing short of breathtaking, and their fragile grace will dazzle your senses for days to come. They're the best kind of live art, shifting shape and waving wavy tentacles into the water as they slowly drift along. Of course the building is packed with other wonderful things, too: sea otters and penguins and spidery kelp and all sorts other living, floating swimming things. So go: the aquarium, the jellyfish. They're waiting.
Galante Vineyards
Monterey County plays host to several distinguished wineries. The temperature variations and cool coastal air combine to make an environment perfectly suited for grape growing, and some notable varietals have come from this area throughout the past few years. Of note is Galante Vineyards, founded by Jack Galante, the grandson of J.F. Devendorf, who founded the town of Carmel. How's that for roots. Galante is known for their Cabernet Sauvignon, and does not use pesticides or herbicides in the vineyards. The winery plays host to several events every year, including the popular Summer Sounds Concert. The vineyard, with on-site tasting room, is about half an hour drive from Carmel Valley. What a nice way to spend an afternoon!
The Monterey County Events Database
From the dazzling Paraiso Airshow (a flying circus, oh my!) to the Annual Days of Wine & Roses (dancing on rose petals…mmm… how reckless! how decadent! how fun!) at Galante Vineyards, this is the ultimate events database. Plan your trip around a festival that suits your fancy! The URL is: http://www.montereyinfo.org/?p=4374
For Additional Information About Carmel Valley…
… contact the Chamber of Commerce! Their comprehensive web site is located at: http://www.carmelvalleychamber.com
List of Addresses & Contact Information:
The Weston Gallery
Sixth Avenue, between Dolores & Lincoln
Carmel, CA 93921
831.624.4453
The Avalon Gallery
9 Morgan Court
Lincoln Street between Ocean and 7th
Carmel, California 93923
831.622.0830
Gallery Twenty-One
Dolores St. Btwn. Ocean Ave. & 7th
Carmel, CA, 93921
831.626.2700
Monterey Bay Aquarium
886 Cannery Row
Monterey, CA 93940
24 Hr. Info Line: 831.648.4888
Main Number: 831.64.4800
Regular Hours: 10:00 a.m. - 6:00 p.m.
http://www.montereybayaquarium.com
Galante Vineyards
18181 Cachagua Rd.,
Carmel Valley, CA 93924
800.425.2683

© 2002-2011, Sex and the Kitchen, Inc. All rights reserved. This Site and the contents of the Site are intended for your personal, noncommercial use.