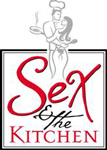 Sex and the Kitchen's Best Places in Capri Island List
Situated opposite the Bay of Naples off of the Southern tip of Italy, the island of Capri is perhaps one of the most idyllic destinations in the world. It was a favorite of Jacqueline Kennedy Onassis, and many celebrities and lovers have hidden away there over the years. Brightly colored bouganevilla spills over onto the streets, and narrow stone steps lead from one curving passageway to the next, hiding an assortment of quaint cafes, opulent shops and secluded restaurants. Capri Island is at once breathtakingly beautiful, charmingly secluded and wonderfully restorative, the perfect place to start a new romance or rekindle an old one...


How you get to Capri is part of the fun! Perhaps you'd like to touch down in Rome for a day first, and flutter your eyelashes over a plate of pasta with the old ruins in the background to set the mood, or maybe you want to stop in Venice first and take a gondola ride through the narrow canals... Whatever your itinerary, make your final destination Napoli, and hop on the ferry bound for Capri. Pack your sunglasses... your swimsuit... and your sense of adventure! But leave your sandals behind: Capri is famous for its sandals - from simple leather straps to gaudy concoctions of shells and turquoise - you'll want to pick out a pair (or two) to wear for the entire time you're on the island.

We've compiled a list of things to do once you arrive, so use our guide to start your planning process. Or, if you're miles away, just click and read and dream!


Best Places to Kiss

The Blue Grotto

A visit to the Blue Grotto is a truly magical experience. From Anacapri, small signs point the way to a narrow staircase that leads down to a landing in front of which tiny boats bob in the water, waiting for passengers. Hail one of the boats, and the driver will join the que to the legendary cave, where you'll have to duck down in order to pass through the slim entrance. Once inside, you'll gasp at the sight: sunlight passes through an underwater cavity and shines back up through the water, creating a blue reflection that illuminates the cavern, as if someone was holding a flashlight beneath the water. The blue glow is ethereal, bathing the whole space in a soft, misty light. If you're lucky, the boat driver will sing an Italian operetta as he rows you around the cave, and his voice will resonate off of the walls and straight into your heart. Bellissimo!


Villa San Michele

In the late1800's, a doctor named Axel Munthe visited Capri Island, and never left. He built a lovely Greek-inspired villa set atop a bluff on Anacapri, with a 360 degree view of the island, and became a respected writer while cultivating a lively interest in art, culture and the local flora and fauna. His home and grounds are now open to tourists, and we heartily recommend that you stop by. The tiny street that leads to the Villa is dotted with charming shops and perfumeries, but make sure you reach the end! Once there, take a leisurely walk around the grounds, where you'll find part of Munthe's breathtaking sculpture collection, a tiny chapel and a bird sanctuary. There's no way you'll be able to stop yourself from kissing the lucky person next to you.

Viale Axel Munthe - 80071 Anacapri
Tel. +39 081 8371401 - Fax: +39 081 8373279


Ride the chair lift to Monte Solaro

Situated just beneath the Capri Palace Hotel in Anacapri is a slender chair lift that glides up to Monte Salaro. The vista on top provides an incredible panoramic view of the island and the entire expanse of Technicolor Blue water that stretches out far as the eye can see. So jump into one of the swinging chairs (sorry, one person per seat - you'll have to forsake your honey for just a little bit) - swing your legs and soak in the view as you climb up, up to the top, where you'll have your breath taken away by what you see there. Bring your camera!
Best Places to Stay

Capri Palace Hotel

For travelers with a taste for luxury and a fat bank account, look no further than the Capri Palace. Built like a Mediterranean fortress, this hotel is nothing short of opulent. A bubbling fountain greets you at the entrance, and the foyer is light and airy, criss-crossed with curving arches and doorways. The walls are hung with striking artwork, and the common areas are decorated with carefully selected antiques and sculptures from several periods, from decadent gilt-edged candleholders to smooth marble forms. A grand piano sits next to the bar, where you can request your favorite love songs as you sip your evening cocktail.

Via Capodimonte, 2/b - 80071 Anacapri
Tel. +39 081 9780111 - Fax: +39 081 8373191


For an extensive listing of places to stay on Capri Island, we recommend that you visit Capri Online: www.capri.net


Most Romantic Restaurants


da Paolino

If you weren't in love before you arrived at this restaurant, you will be before you leave. Upon arrival, you'll be escorted to a small table on a terrace beneath a lemon grove. The lemons are close enough to pluck, and they perfume the air with a divine citrus-y essence that will have your mouth watering for a tiny glass of the house Limoncello. The food is rustic and delicious, from an assortment of fresh seafood to a dazzling array of Italian desserts.

Though Goethe didn't have the good fortune to visit da Paolino, his words are perfectly apropos of this magical place: "Under that sky of lemons as big as stars I'd like to go with you, my love," he wrote, and we wholeheartedly agree.

Via Palazzo a Mare, 11 - 80073 Capri
Tel. +39 081 8376102 - Fax: +39 081 837561


Il Cucciolo

Call the restaurant and schedule a pickup from the complimentary shuttle, then jump inside and get ready for a wonderful evening. This charming eatery is tucked away on a little street in Anacapri like a hidden treasure. We recommend a seat on the terrace, which is strung with tiny, romantic lights, and offers a stunning, panoramic view of the water. Ask the waiter for recommendations on what to order, and whatever comes out of the kitchen will be spectacular.

Via La Fabbrica, 52 - 80071 Anacapri
Tel. +39 081 8371917


Aurora

Just a few meters from the main square, La Piazzetta, you'll find the oldest restaurant on the island, the Ristorante Pizzeria Aurora. But don't be fooled by its age or the word "Pizzeria" in the title: the food has garnered reviews from Wine Spectator and Gourmet, and is among the best places to eat on the island. From delectable and surprising seafood dishes to local Italian specialties, the cuisine is a gourmet's delight. Even better, the restaurant has an impressive 250-label wine list, so you're sure to find a bottle or two that strike your fancy. Mangia!


Via Fuorlovado, 18-22 - 80073 Capri
Tel. +39 0818370181 - Fax: +39 0818376533



Be Sure Not To Miss


Ride in a red convertible

Some obscure piece of law prohibits visitors to Capri from renting a car, but this doesn't upset us in the slightest. There are a bevy of dapper convertibles with drivers for hire on nearly every corner, and a mere wave is enough to bring one to your service. Tie a scarf 'round your head, jump into the backseat, and hold hands with your darling as you're driven around the island in style. We're big suckers for the cherry red ones, which are so dashing that you can be sure Katharine Hepburn and Howard Hughes never had it better...


Take a boat ride to Positano

Capri is ever-so close to the Amalfi Coast... and though you'll be loathe to leave the island for even a moment, we recommend that you take a day trip across the water to Positano. One of the frequent ferries from Capri will provide a short and picturesque jaunt to this tiny, famous town located on sparkling stretch of beach. You'll have to catch your breath once you arrive: it truly looks like a vision straight out of a picture postcard, complete with the paint-spattered artist working away on a canvas propped on an easel.


Dance and sing at the Taverna 'O Guarracino

Just a few yards from the center of La Piazzetta is a low doorway partly covered in ivy. Duck inside after 9pm, and you'll discover the most charming nightspot you've ever set foot in. A group of musicians sit on a tiny stage and strum away on guitars and drums, belting out a mix of traditional Neapolitan songs and modern love songs that you can't help but sing along with. Throughout the evening, they invite audience members up on the stage, and often the whole crowd gets into the act, standing on tables and clapping their hands to the beat. Drinks are poured liberally, everyone is having a ball, and you're absolutely guaranteed to enjoy a glorious, romantic night of singing and dancing that you won't soon forget!

Via Castello, 7 - 80073 Capri
Tel. +39 081 8370514

© 2002-2011, Sex and the Kitchen, Inc. All rights reserved. This Site and the contents of the Site are intended for your personal, noncommercial use.