Be Sure Not To Miss: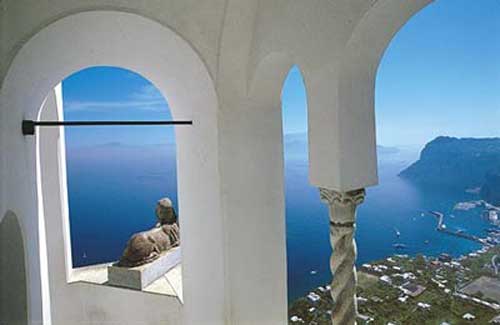 Villa San Michele


Ride in a red convertible

Some obscure piece of law prohibits visitors to Capri from renting a car, but this doesn't upset us in the slightest. There are a bevy of dapper convertibles with drivers for hire on nearly every corner, and a mere wave is enough to bring one to your service. Tie a scarf 'round your head, jump into the backseat, and hold hands with your darling as you're driven around the island in style. We're big suckers for the cherry red ones, which are so dashing that you can be sure Katharine Hepburn and Howard Hughes never had it better...


Take a boat ride to Positano

Capri is ever-so close to the Amalfi Coast... and though you'll be loathe to leave the island for even a moment, we recommend that you take a day trip across the water to Positano. One of the frequent ferries from Capri will provide a short and picturesque jaunt to this tiny, famous town located on sparkling stretch of beach. You'll have to catch your breath once you arrive: it truly looks like a vision straight out of a picture postcard, complete with the paint-spattered artist working away on a canvas propped on an easel.


Dance and sing at the Taverna 'O Guarracino

Just a few yards from the center of La Piazzetta is a low doorway partly covered in ivy. Duck inside after 9pm, and you'll discover the most charming nightspot you've ever set foot in. A group of musicians sit on a tiny stage and strum away on guitars and drums, belting out a mix of traditional Neapolitan songs and modern love songs that you can't help but sing along with. Throughout the evening, they invite audience members up on the stage, and often the whole crowd gets into the act, standing on tables and clapping their hands to the beat. Drinks are poured liberally, everyone is having a ball, and you're absolutely guaranteed to enjoy a glorious, romantic night of singing and dancing that you won't soon forget!

Via Castello, 7 - 80073 Capri
Tel. +39 081 8370514